The Ivy Bush, Cwmtwrch
The Ivy Bush was located in Upper Cwmtwrch, located on the left-hand side when coming from Lower Cwmtwrch, just before where the road now splits in two.
From the Llais
From the Labour Voice newspaper, 10th December 1927:-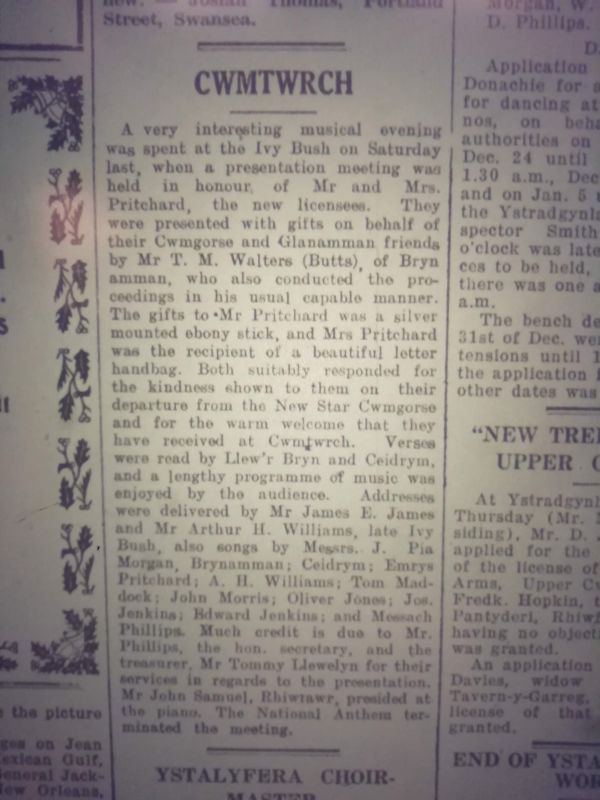 CWMTWRCH

A very interesting msical evening was spent at the Ivy Bush on Saturday last, when a presentation meeting was held in honour of Mr and Mrs Pritchard, the new licensees. They were presented with gifts on behalf of their Cwmgorse and Glanamman friends by Mr T M Walters (Butts) of Brynamman, who also conducted the proceedings in his usual capable manner. The gifts to Mr Pritchard was a silver ebony stick, and Mrs Pritchard was the recipient of a beautiful letter handbag. Both suitably responded for the kindness shown to them on their departure from the New Star, Cwmgorse and for the warm welcome that they have received at Cwmtwrch. Verses were read by Llew'r Bryn and Ceidrym, and a lengthy programme of music was enjoyed by the audience. Addresses were delivered by Mr James E James and Mr Arthur H Williams, late Ivy Bush, also songs by Messrs J Pia Morgan, Brynamman; Ceidrym; Emrys Pritchard; A H Williams; Tom Maddock; John Morris; Oliver Jones; Jos. Philipps. Much credit is due to Mr Phillips, the hon. secretary, and the treasurer, Mr Tommy Llewelyn for their services in regards to the presentation. Mr John Samuel, Rhiwfawr, presided at the piano. The National Anthem terminated the meeting.
---
Some of the details about pubs in the Swansea Valley and Coelbren were sourced from 'The Village Pub' by William T. Davies,a detailed history of brewing in the Neath and Swansea valleys and the history and heritage of the local pubs of the area. All proceeds from sale of this book go towards Ystradgynlais Community Hospital. Published by Dinewfr Press, copies of the book can be ordered either by telephoning them on 01269-850576 or emailing the author direct on WilliamTD@yahoo.co.uk.