New Tredegar Arms, Upper Cwmtwrch
The New Tredegar Arms is located just along from Ebenezer Chapel, and this pub remains open for food and drink.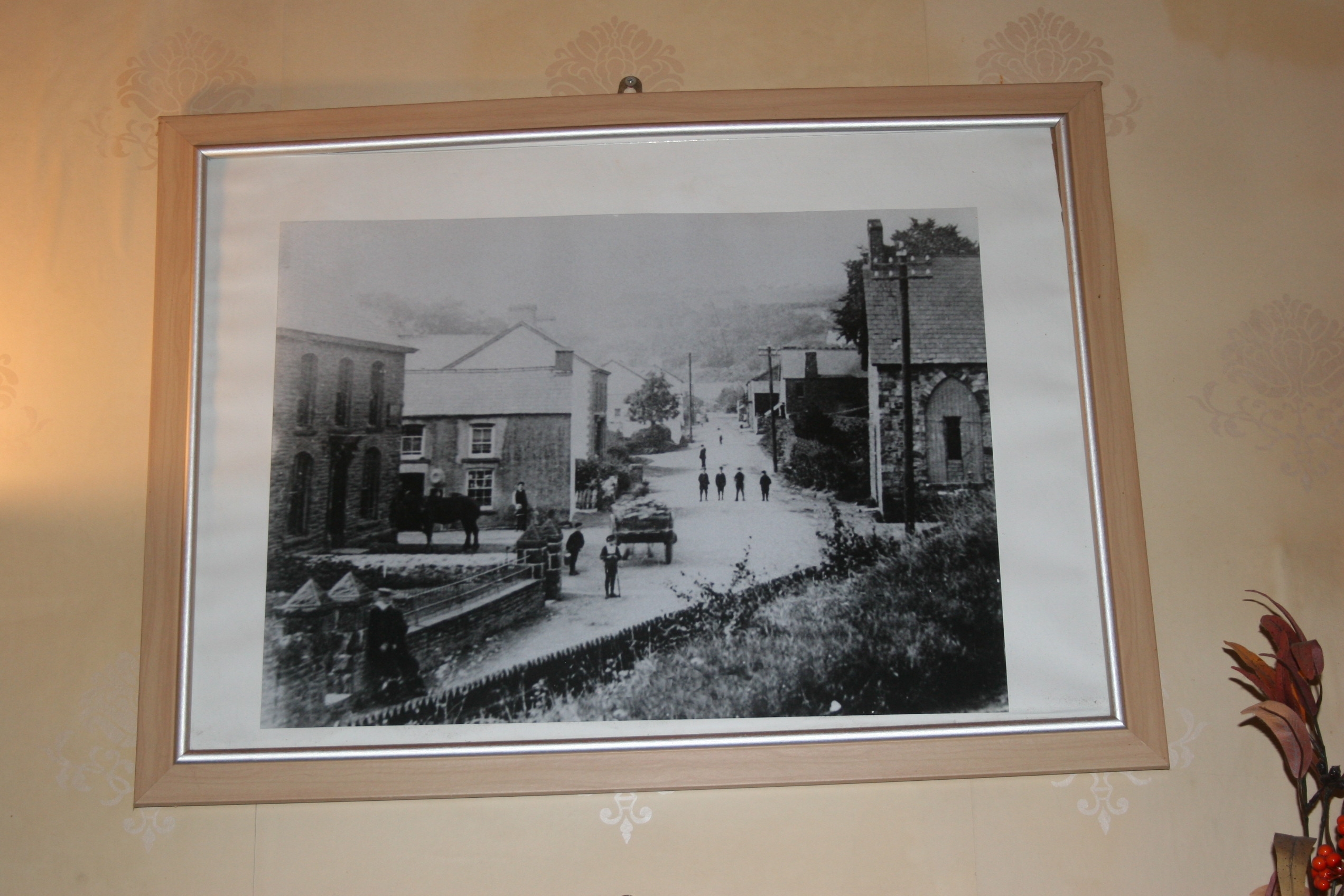 This photograph of the New Tredegar Arms, on the left, shown as opposite Saint Peters's Church hangs on the wall of the New Tredegar Arms today, and we have used it with permission of the pub.
From the Llais
From the Labour Voice newspaper, 6th March 1926 came a report on the renewal of licenses for Upper Cwmtwrch at Ystradgynlais Police Court. There were three pubs in the village (The New Tredegar, The Old Tredegar, and the Lamb Inn) and the police wanted to close one of them down, initially trying to single out the New Tredegar, thinking there was too many pubs for the population:-
CWMTWRCH PUBLIC HOUSES ONE LICENSE REFERRED FOR COMPENSATION

NEW TREDEGAR ARMS
At Ystradgynlais Police Court on Thursday, Mr C F Gilbertson presiding, Mr Morgan Davies Pontardawe applied for the renewal of the New Tredegar Arms Upper Cwmtwrch.
PC Thomas gave evidence of serving the notices of objection on the owner. He had been stationed at Cwmtwrch for 12 years and had taken a census of the population between: Upper Brynmorgan Bridge to the Carmarthen boundary. The population was 600. In his opinion there was no need for three public houses in the district.
Questioned by Mr Davies, witness said the census was confirmed. This house was a good one and well constructed and convenient to the station
Inspector Evans said he had been 12 years in this district and was acquainted with the neighbourhood where the house was situated. The annual value was gross, £38 and rateable value £30 10s. The owner was Mrs Watkins Sketty and Messrs Hancocks held the lease on it. It was a tied house for all purposes. There was no complaint against the management. Giving the size of the rooms witness said they were well lighted and aired. Lodgings were never given and no meals with the exception of bread and cheese. The distance between this and the Old Tredegar Arms, was 88 yards and 209 yards to the Lamb Inn. There were two houses in the Carmarthen County and within 299 yards. The trade consisted of five barrels and 250 flagons a week.
Questioned by Mr Davies, the inspector said this was an estimate.
Clerk: what is the spirit trade?
Mr Davies: 61 gallons
Clerk: a week! Laughter
Mr Davies: A year more laughter

MAGISTRATES DECISION:

The chairman said the bench decided to renew the licence of the New Tredegar subject to sanitary arrangements being made in a satisfactory manner and at a six-foot brick wall be erected between the house and the cottages at the side.
The licence of the Lamb Inn would also be renewed subject to the carrying out of sanitary improvements.
The Old Tredegar Arms' licence would be referred for compensation

The statement "There were two houses in the Carmarthen County and within 299 yards" would refer to additional pubs in the immediate locality, but located over the then-county boundary, and probably refer to the George IV, and the Berrington Arms.
The following selection of articles refer to Mr William Newton and his wife Mrs Rose Mary Newton, who had kept the New Tredegar Arms up to c1958:-
From The Voice newspaper, 15th January 1960:-
MRS ROSE M NEWTON

The death took place on Sunday of Mrs Rose Mary Newton Tro'r Gleien Upper Cwmtwrch. She was 72 years of age.
Mr and Mrs Newton came to Cwmtwrch from Pontycymmer 36 years ago. They kept the New Tredegar Arms, until Mr William Newton retired as Colliery Mechanic two years ago.
Mrs Newton is survived by her husband and 2 sons.
Interment took place on Wednesday at St Margaret's Cemetery Cwmllynfell.
From The Voice newspaper, 22nd January 1960:-
MRS R M NEWTON

The funeral of Mrs Rose Mary Newton, of Tro'r Gleien Upper Cwmtwrch took place at St Margaret's' Church Cwmllynfell.
Mrs Newton was 72 years of age.
Mourners at the funeral: William Newton husband; Robert and Charlie sons; Herbie Hiscott brother; Albert Newton, Francis Newton, Dai Rees, Dai Keast brothers in law; Herbie Newton, Harold Newton, Reginald Brown, Lindsay Hiscott nephews.
Mourners at the house: Eileen Newton, Betty Newton daughters in law; Glenys Mary Harries, Brenda Colley granddaughters; Win Rees, Harriet Oakley, Mary Newton, Elsie Newton, Irene Newton, Gladys Newton sisters in law; Betty Newton niece.

From The Voice newspaper, 6th July 1967:-
MR WILLIAM NEWTON

The death occurred on Saturday at Morriston Hospital of Mr William Newton Tro'r Gleien. Aged 80 Mr Newton had enjoyed good health and was active until he entered hospital last week. He was employed as a mechanic at Brynhenllys Colliery for many years and for a period was licensee of the New Tredegar Hotel. Two married sons survive.
Interment took place on Wednesday at St Margaret's Church Cwmllynfell.

From The Voice newspaper, 13th July 1967:-
The funeral of Mr William Newton of Gleien House Upper Cwmtwrch, who died at the age of 80, took place at Cwmllynfell Church. Mr Newton was employed for a number of years at Brynhenllys Colliery and he is remembered as licensee of the New Tredegar Hotel.
Mourners at the funeral: Robert, Charlie sons; Eileen, Betty daughters in law; Albert, Francis, Herbie brothers; Mary and Winnie sisters; Dai, Dai Rees brothers in law; Edith, Harriet, Gladys, Irene sisters in law; Maggie, Ethel cousins; Glenys, John, Brenda, Jack grandchildren; Jeffrey, Linda great grandchildren; Albert, Charlie, John Newton, Sid, Harold, Gwyn, Ted, John Rees, Glyn, Gordon nephews; Muriel, Betty, Shirley Newton, Pam, Shirley nieces.

William Robert Newton (born 9th February 1887) married Rose Mary Newton (nee Escott or Hiscott), who was born on 10th April 1887.
Rose Mary Newton died on 10th January 1962, aged 72, and was buried on 13th January 1962 in St Margaret's Cemetery Cwmllynfell.
William Robert Newton died 1st July 1967 in Morriston Hospital, aged 80 and was buried on 5th July 1967.
Their children were Robert J Newton (born 15th December 1908) William Charles Newton (born 18th November 1911).
Robert J Newton married Eileen (born on 9th April 1906). Their children were Glenys Mary Newton, who married John Cope Harries on 21st March 1953, and Brenda E Newton, born 19th October 1953, who married John Colley in Bridgend in 1953.
William Charles Newton married Betty.

The Llais of April 3rd 1953 recorded the marriage of the licensees's grand-daughter, Glenys Newton to Mr John Cope Harries. She is the Glenys who appears in the list of mourners above under this married name. The newspaper of a fortnight later, 17th April 1953, carried the photograph below, shown alongside the earlier article.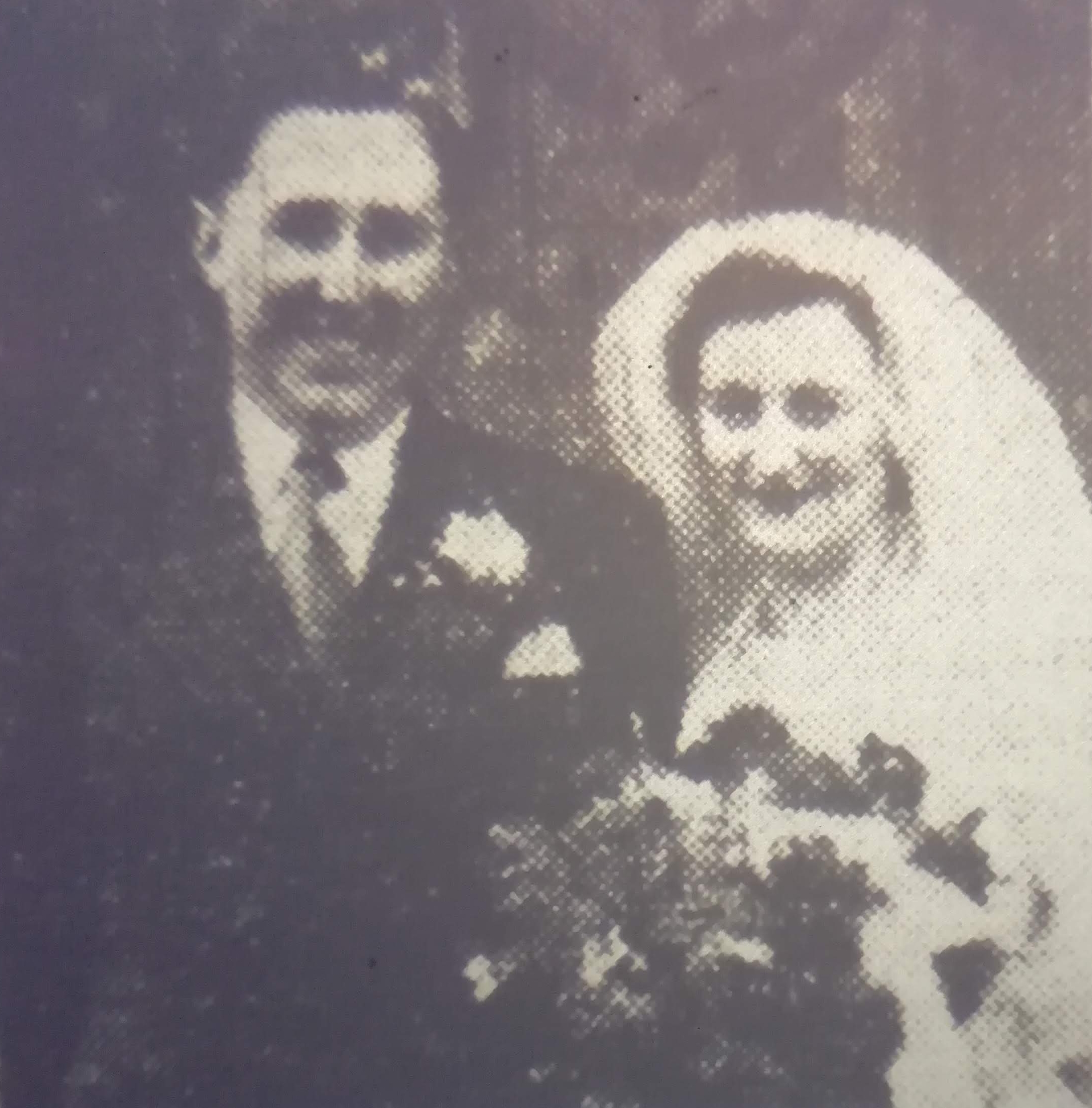 NEWTON-HARRIES

The wedding of Miss Glenys Mary Newton, daughter of Mr and Mrs R.J. Newton, 23 Tai Gwalia, Lower Cwmtwrch, and Mr John Cope Harries, son of Mrs Agnes Harries and the late Mr Glyn Harries, 23 Wade Avenue, Ystalyfera, was solemnised at St. Cynog's Church, Ystradgynlais, on March 21st.
The officiating clergy was the Rev D.L. Williams, assisted by Rev Walter James, Vicar of Pontardawe. At the organ was Madam Carrie Walters Herbert.
The bride, who was given away by her father, wore a dress of white lace with sequin panniers, a bridal veil with coronet of orange blossom, bouquet of red carnations and lilies of the valley.
The bridesmaids were Miss Brenda Newton, sister of the bride, and Miss Nan Harries, bridegroom's sister. Both wore gowns of lavender lace and net over taffeta, with lavenda Juliet cape and shoulder veils. They carried bouquets of anemones.
The best man was Mr Harry Bowen, bridegroom's cousin. Groomsmen were Mr Harry Chesby, brother-in-law of the bridegroom, and Mr Charles Newton, bride's uncle.
---
---
Some of the details about pubs in the Swansea Valley and Coelbren were sourced from 'The Village Pub' by William T. Davies,a detailed history of brewing in the Neath and Swansea valleys and the history and heritage of the local pubs of the area. All proceeds from sale of this book go towards Ystradgynlais Community Hospital. Published by Dinewfr Press, copies of the book can be ordered either by telephoning them on 01269-850576 or emailing the author direct on WilliamTD@yahoo.co.uk.