The Aubrey Arms, Ystradgynlais
---
From the Llais
From time-to-time local public houses featured in the Llais newspaper, sometimes when the licensee changes, or where the licensing authority requests changes, or where something dramatic, or noteworthy, happens at the establishment.
The Labour Voice newspaper of Saturday January 1st 1927 covered the transfer of the license for The Aubrey Arms:-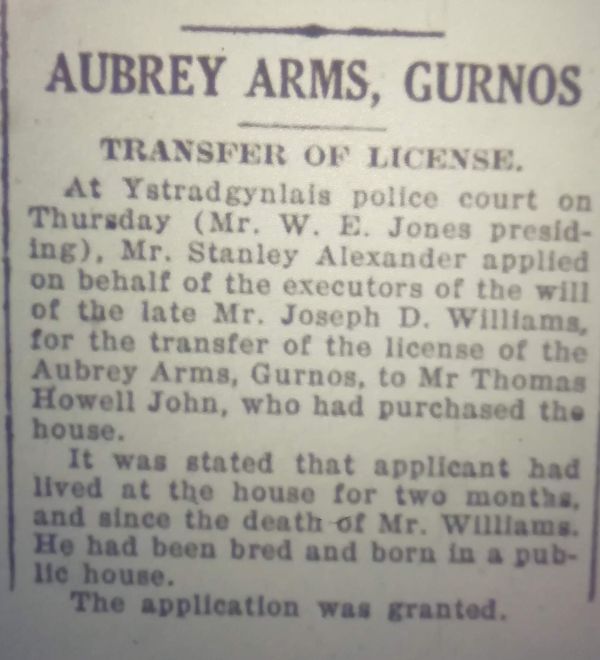 AUBREY ARMS, GURNOS
TRANSFER OF LICENSE

At Ystradgynlais police court on Thrsday (Mr W E Jones presiding), Mr Stanley Alexander applied on behalf of the executors of the will of the late Mr Joseph D Williams for the transfer of the license of the Aubrey Arms, Gurnos, to Mr Howell John, who had purchased the house.
It was stated that applicant had lived at the house for two months and since the death of Mr Williams. He had been bred and born in a public house.
The application was granted.

The South Wales Voice 5th February 1927 records the completion of the transfer:-
AUBREY ARMS:

Application was made by Mr Stanley Alexander for the complete transfer of the license of the Aubrey Arms Gurnos to Mr J H John. This was granted.