History and Heritage
Ystradgynlais and District
Ystradgynlais - South Wales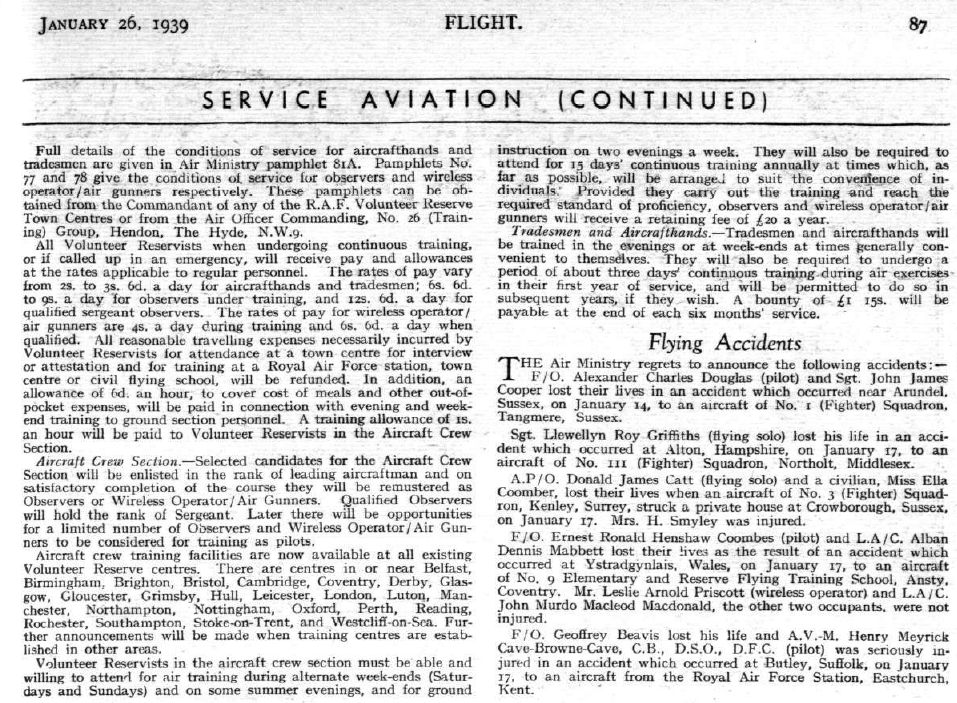 Flight magazine, January 26th 1939
Ystradgynlais Aircraft Crash Site
2) Anson L9149
Crashed 17th January 1939
The Anson aircraft, with the designation L9149, crashed in the Brecon Beacons on 17th January 1939. The table below explains the circumstances and location of the crash, as well as access details and a generic photograph of this kind of aircraft.
Type of Aircraft
Anson
Designation
L9149
Date of Crash
17th January 1939 (pre-WW2)
Location of Crash
South of Fan Brycheiniog, at about 770m
Reason for Flight
Navigation and Observers Instruction Course out of Hamble, near Southampton
Reason for Crash
Crashed into the mountain due to disorientation
Fate of the Aircrew
The 2 air crew died from injuries received
- Flying Officer E.R.N Coombes
- Aircraftsman M. Mabbott
But the 2 civilians aboard survived
- Mr John McDonald
- Mr Leonard Priscott *
* The BBNP booklet erroneously has this as Prescott
Wreckage Notes
Wreckage on site, with more towards the summit of Fan Brycheiniog
Memorial Notes
There is a memorial stone and plaque in the churchyard of St. John the Baptist, Church-in-Wales church, Callwen, erected by the Southampton Training Aviation Company for the men of the village who risked their lives searching for the aircraft, after it was lost on the mountain.

Originally there were 2 plaques, erected in the 1940s, one in Cwmgiedd and one by The Gwynn Arms. After the one in Cwmgiedd was vandalised, the county council moved the one by The Gwynn Arms to the churchyard of Callwen St John The Baptist church.
Access Information
A visit to here can be combined with 3 and 4 below, from the Tafarn y Garreg
Photo of Aircraft Type
Map Information
From
Flight
magazine, 26th January 1939 :-
FLYING ACCIDENTS
The Air Ministry regrets to announce the following accidents :-
...F/O. Ernest Ronald Henshaw Coombes (pilot) and L.A/C. Alban Dennis Mabbett lost their lives as the result of an accident, which occurred at Ystradgynlais. Wales, on January 17, to an aircraft of No. 9 Elementary and Reserve Flying Training School, Ansty, Coventry. Mr. Leslie Arnold Priscott (wireless operator) and L.A/C. John Murdo Macleod Macdonald, the other two occupants, were not injured.
From the
South Wales Voice
newspaper, 21st June 1947 :-
On a visit to Mr. and Mrs. H. T. Morris, Chapel House, Cwmgiedd, is Mr. Leslie Priscott. He will be remembered as one of the survivors of the Anson aeroplane that crashed on the Black Mountain in January 1939. He feels very attached to the people of Cwmgiedd and Ystradgynlais for their kindness after his harrowing experience of that time.
Return to the Brecon Beacons Aircraft Crash Index.