National Eisteddfod 1954, Ystradgynlais
The National Eisteddfod of Wales was held in Ystradgynlais in August 1954. The main event took place in the playing fields, which now form part of the Ystradgynlais Rugby Club. The druid ceremonies were held in what is now Gorsedd Park, Ystradgynlais.

Below, you can find some of the memorabilia for the Eisteddfod, courtesy of Ystradgynlais Library. Click on any of the photographs to view them full-sized.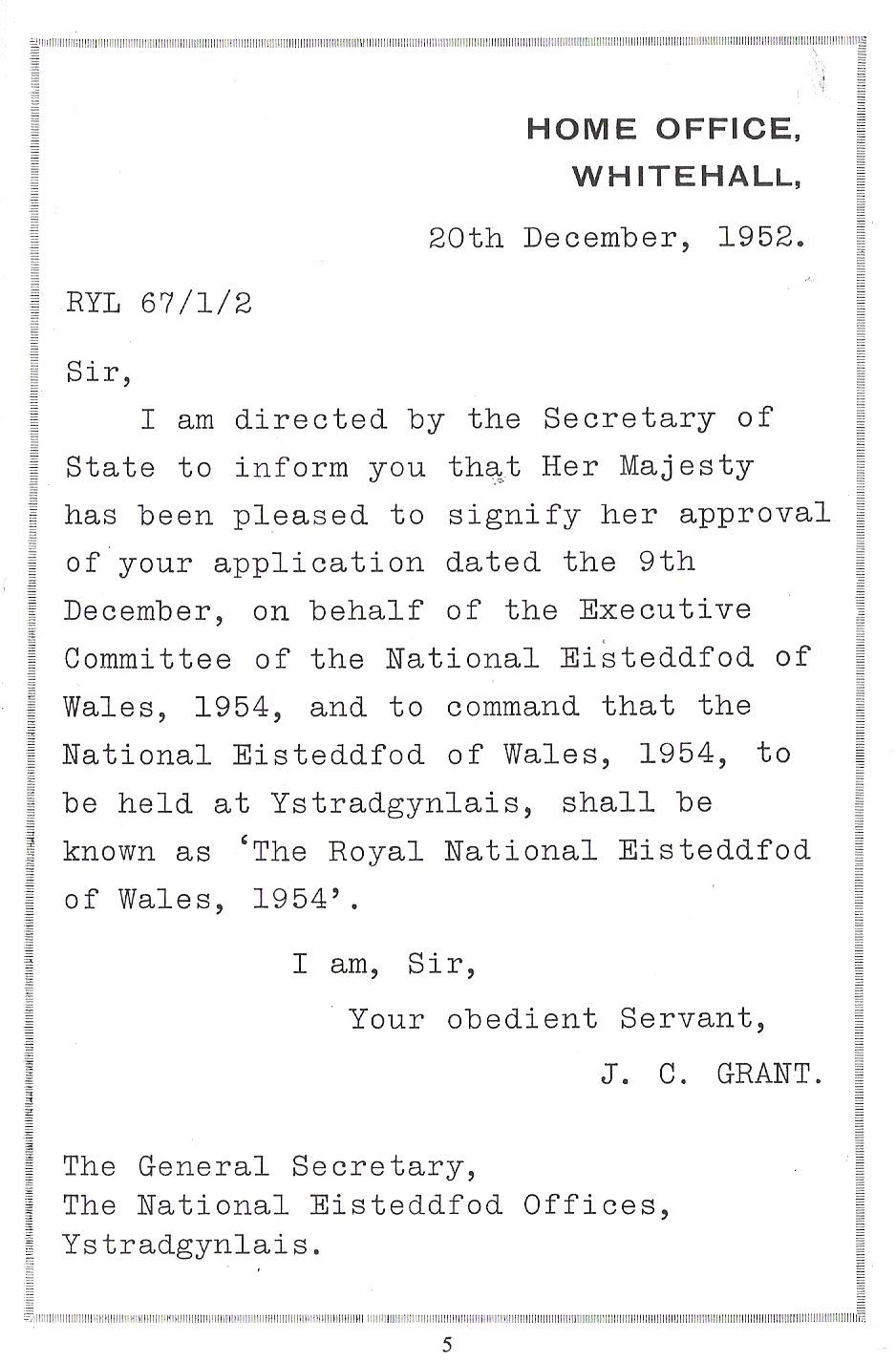 Above is a facsimile of the letter approving the Eisteddfod for Ystradgynlais, to be held in 1954. It was reproduced as the frontispiece of the programme sold to the public at the event.

The programme can be viewed at Ystradgynlais Library on request.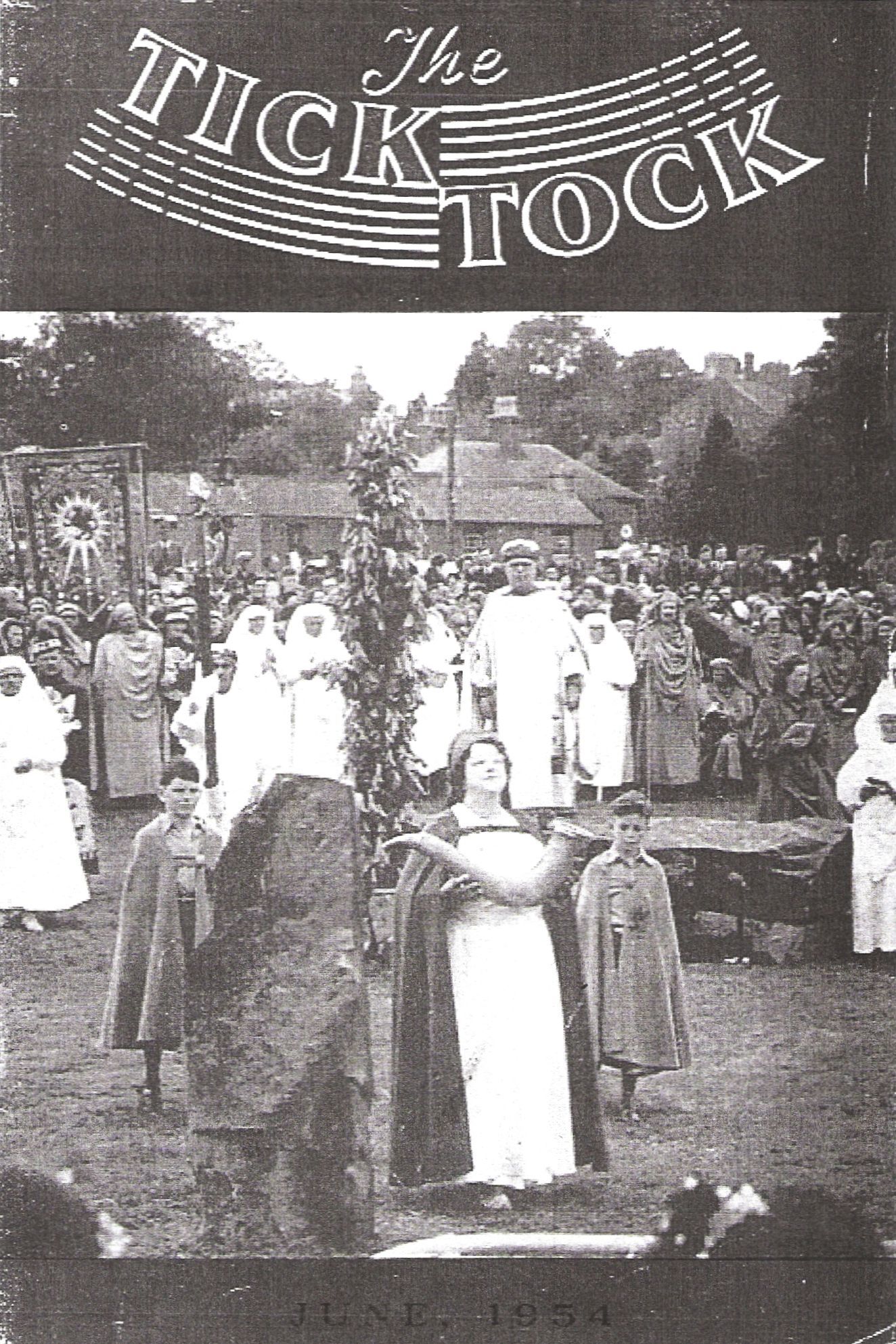 Smiths' Industries was the clock and watch manufacturer based in Glanrhyd (where the new Tesco is now). Known locally as 'The Tick Tock' they produced their own in-house magazine. The issue above was to celebrate the Eisteddfod having happened in Ystradgynlais.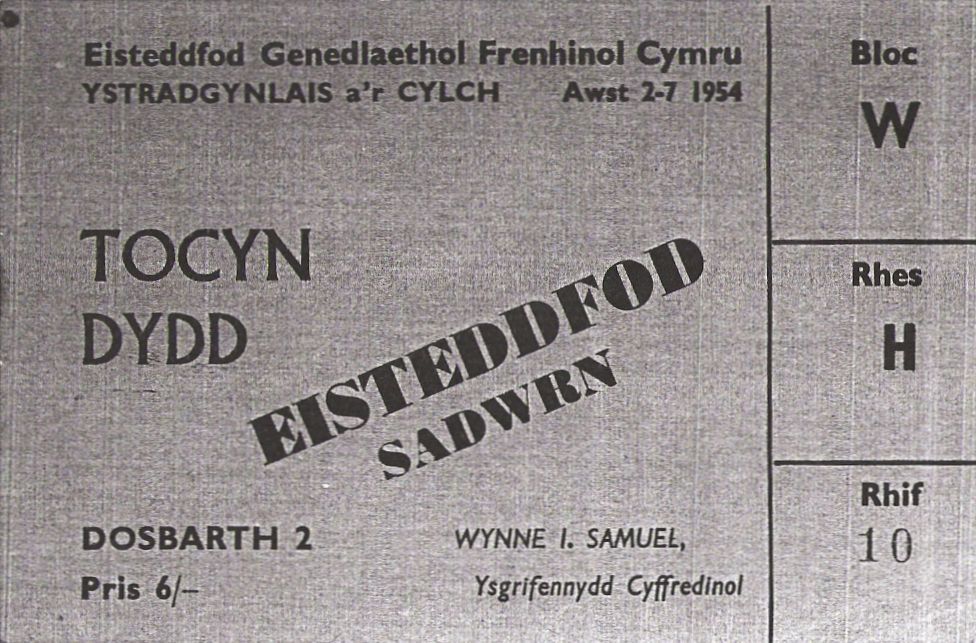 Class 2 Day Ticket for the Saturday for the Royal National Eisteddfod of Wales. The name at the bottom, Wynne I. Samuel is the Secretary General and appeared on all tickets. The Eisteddfod was held from Monday 2nd to Saturday 7th August 1954, so this ticket, priced 6 shillings, was for the events of the closing finale.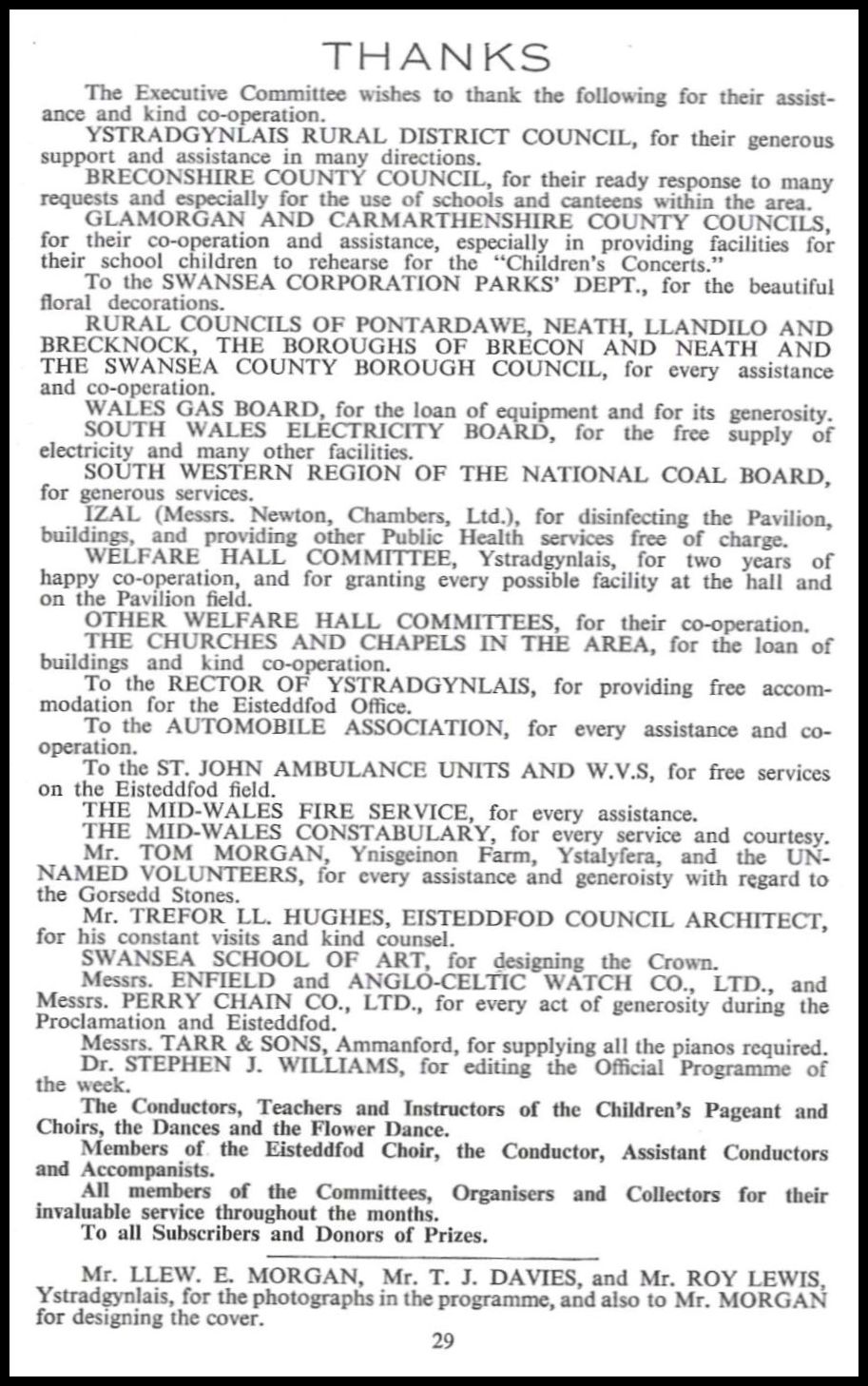 The Eisteddfod programme's list of thanks is an interesting insight into the town of Ystradgynlais and the nation of Wales in the mid 1950s.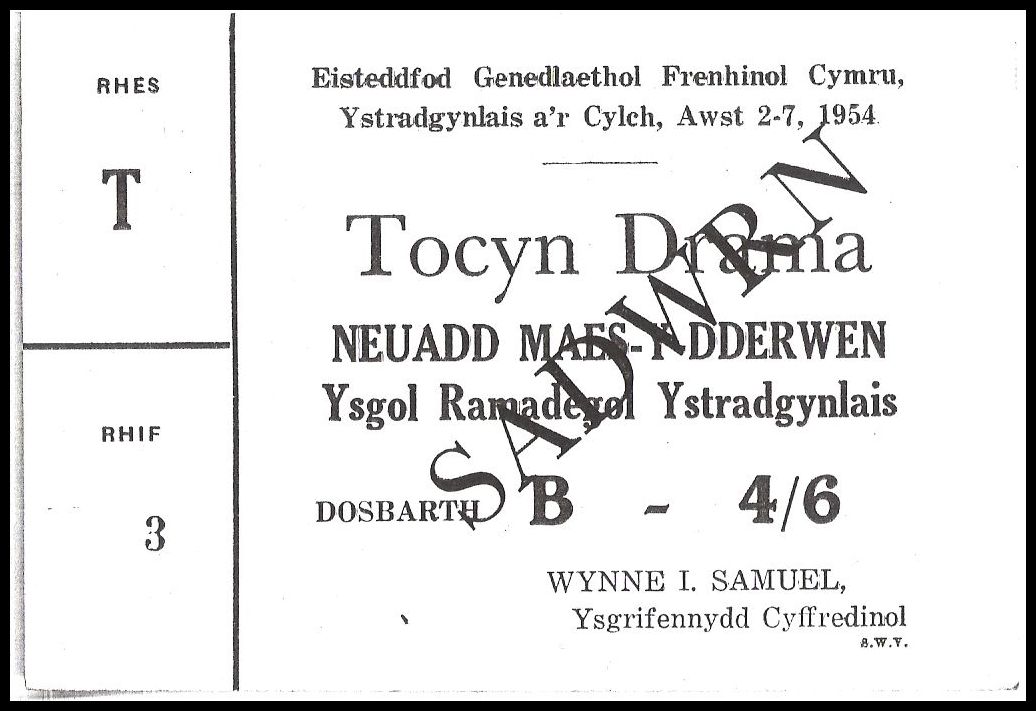 This ticket is for the closing Saturday, for the Drama held at Maes-y-dderwen's hall. Maesydderwen School is still classified on the ticket as Grammar School (ysgol ramadegol) though from the September of 1954 it would be organised along Comprehensive lines with the completion of the new building work, and the absorption of pupils from a couple of other local schools, which were then closed.

Read more of the history of Maesydderwen School.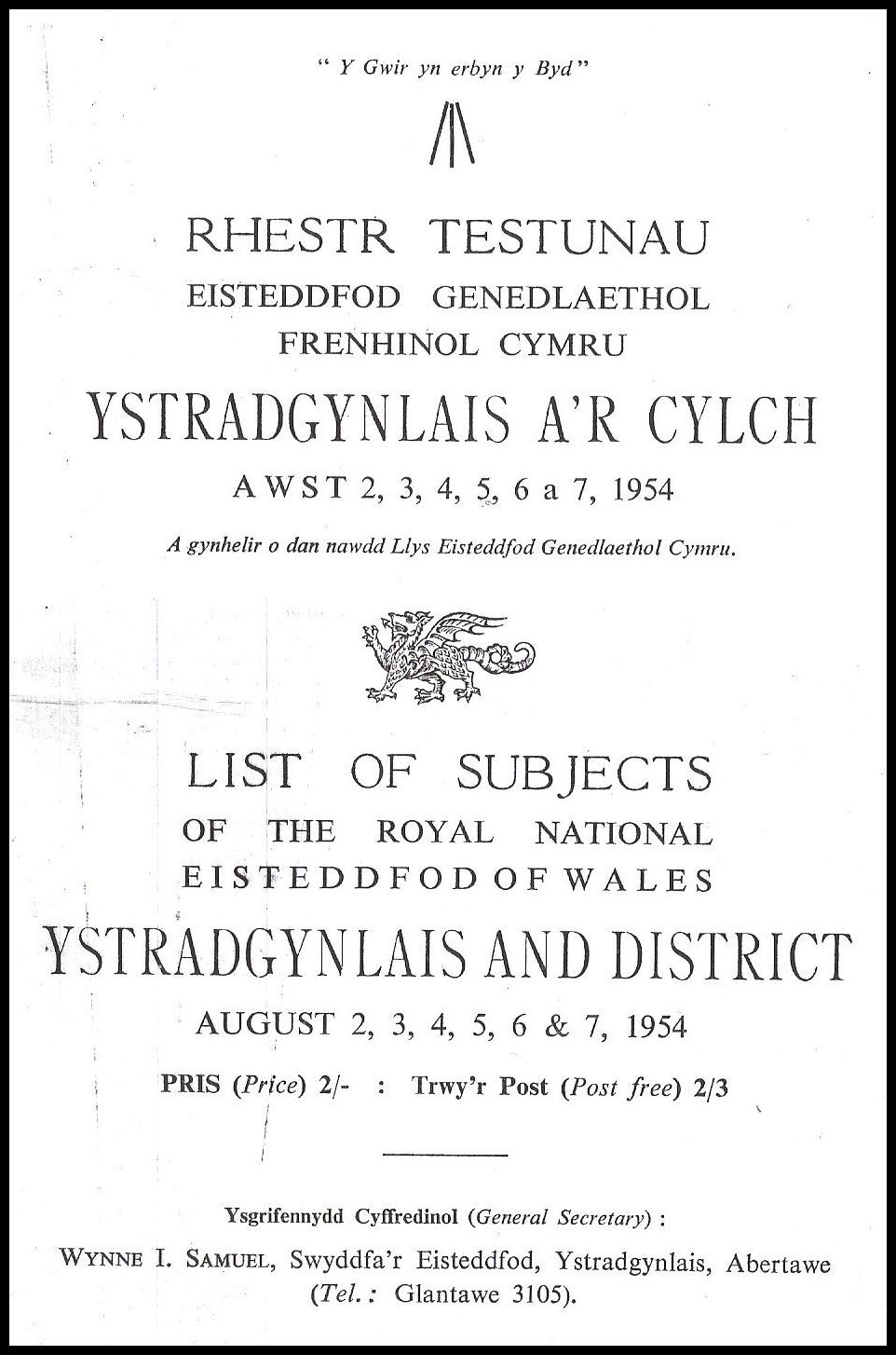 Another section of the official programme, which was followed by a list of the events forming part of the Eisteddfod. These are listed as 'subjects' due to the fact that many of them were examined competitions, especially the bardic poetry which always results in an official winner, crowned on a chair made specifically for the Eisteddfod.
Here is the crown for the 1954 National Eisteddfod of Wales, held in Ystradgynlais.
---
From the Llais
The Llais newspaper had a lot of articles on the National Eisteddfod in the run-up to, and during, the time of the performance in August 1954. A fair few of these occurred in months, or many months, prior to it.
From the Llais October 23rd 1953 came this story on the creation of the pavilion for the National Eisteddfod, and a mock-up of how the pavilion would look when completed:-