Brynawel Chapel, Ystradgynlais
Brynawel Chapel was a Welsh Congregational Chapel, constructed on Brecon Road in 1911. It was sold to Bethany Chapel in 1946.

Brynawel would thus appear to have been the first chapel in the town to close, being a separate legal entity from Bethany, who had their own history, in different locations, going back to 1902.

The location of the chapel is now occupied by a large private house, opposite Derwen Road.
The South Wales Voice's 3rd December 1932 edition, focused on the centenary of Sardis Chapel, Ystradgynlais includes the information that Brynawel, as well as Peniel, Penrhos and the English Congregational Church, Ystrdgynlais, was a daughter church of Sardis:-
The church is the mother of 3 churches; Peniel, English Congregational, and Brynawel, and in 1905 when these were formed, 250 members left Sardis.
---
Ministers of Brynawel Chapel
Ellis Parry
In 1915, the Rev Ellis Parry, who had been minister of Godrergraig Chapel since 1913, also took on the ministry of Brynawel Chapel, Ystradgynlais, in a joint pastorate. From the Llais, 6th February 1915:-
The Rev Ellis Parry pastor of the Godre'rgraig Congregational Church has accepted the joint pastorate of Brynawel Ystradgynlais but this will not materially interfere with his work at Godre'rgraig, which will be carried on as before. The local church has made great progress under his care, there having been an almost constant monthly increase in membership. YSTRADGYNLAIS The Brynawel Church has extended a unanimous invitation to the Rev Ellis Parry of Godre'rgraig to become joint minister of the Godre'rgraig and Brynawel Ystradgynlais Churches. We are informed that Mr Parry has accepted the call. The induction services will take place next month when local ministers will officiate.
Rev Ellis Parry left Godrergraig Chapel some time in 1918 to work for the YMCA, and it might be presumed he also left Brynawel Chapel at the same time.
D M Davies
The Llais newspaper for 31st July 1921, reports on the death of "Dafydd Enoch Jones, a deacon at Sardis and Brynawel chapels for over 30 years and had also been a Sunday School teacher for 40 years." and that a memorial service for him was held at Brynawel Chapel, conducted by his pastor there, Rev D. M. Davies. The full article can be read on the People of Sardis Chapel page.
The Rev D M Davies died suddenly in July 1934, being found collapsed and seriously ill in Swansea, and passing away before help had arrived. These extracts are from the South Wales Voice newspaper, 7th July 1934:-
DEATH OF REV D.M. DAVIES

A painful sensation was caused at Ystradgynlais on Wednesday when it became known that the Rev D Morgan Davies, pastor of Brynawel Chapel, had died suddenly at his home at Chaddesley-terrace, Swansea. Mr Davies was 72 years of age and was found lying critically ill on the lawn outside the Congregational Bookroom, Swansea. A doctor was sent for, but on his arrival, Mr Davies was found to be dead.
YSTRADGYNLAIS PASTOR'S SUDDEN DEATH
PASSING OF REV D.M. DAVIES, BRYNAWEL

We regret to report the death of the Rev D. Morgan Davies, Chaddesley-terrace, Swansea, pastor of Brynawel Chapel, Ystradgynlais, and secretary of the Congregational Union of Wales, who passed away on Tuesday with tragic suddenness at the age of 72.
He was seen to enter the garden gate leading to the Bookroom i Northampton-place during the evening, and a few minutes later was found critically ill on the lawn outside the shop. Medical assistancce was speedily summoned, but when Dr Joseph Lloyd arrived, he found that Mr Davies was dead.

A BRILLIANT CAREER

The Rev D.M. Davies was a native of Felingwm, Carmarthen, and commenced preaching at Pontargothi. After only 18 months at a grammar school, he entered the Presbyterian College in 1884, and secured the first prize of the class each year, sharing the English literature award, takng French and Science as extra subjects.
Mr Davies was ordained at Bryn Seion, Cwmbach, Aberdare, in July 1888 and served for nearly 20 years, leaving in 1907 to take over the duties of Bookroom Superintendent and Sunday School Committee secretary at Swansea. While he was at Cwmbach he had a membership of 550, and he was also secretary of the Glamorgan Sunday School Union. He later became secretary of the Glamorgan Union, and successor to the late Dr Oliver, of Holywell, as secretary of the Denominational Sunday School Union at the London "Undeb" in 1895.
Mr Davies was also the first paid secretary of the Union of Welsh Independents; was also secretary of the Caniedydd Committee; the Bulding Fund, Sustenation Fund, and was editor of the children's magazine "Tywysydd y Plant".
From the South Wales Voice 14th July 1934:-
THE LATE REV D. MORGAN DAVIES
MEMORIAL SERVICE AT SWANSEA

There was a large and representative gathering at a memorial service at Swansea on Saaturday, prior to the burial at Aberdare of the Rev D. Morgan Davies, general secretary of the Welsh Congregational Union, and pastor of Brynawel Chapel, Ystradgynlais.
The service was conducted by Revs Edward Jones, J.H. Hughes, J.J. Williams, Morriston, and Mr E. Brinley Jones.
Principal mourners were: Mr B Oswald Davies, son; Messrs David Isaac Davies, Swansea, and Emrys Davies, nephews; Turner Thomas and Albert Williams, brothers-in-law; Victor Evans, Clifford Thomas, and John Isaac, Cwmdare.
The Congregational Union of Wales was represented by Sir J.E. Lloyd, Bangor (chairman), the Rev Gwilym Rees (Moderator), and Mr Isaac Edwards, Merthyr (secretary).

Singing and Recitals
The Llais newspaper for 9th May 1914 reported on a Singing Festival at Sardis Chapel, which included a large choir including singers from Sardis, Brynawel, and "the Penrhos Churches" which would be Peniel, and Moriah. Organ play and recitals were also shared between members of all of the churches, and we can see some extracts below:-
The organists were: Morning service, Mr Nimrod Jones. A.C., Peniel; Afternoon, Mr Azariah Williams, Brynawel and evening, Mr Idris Williams, A.C.P.T., Sardis

The recitals of passages of scripture were given by Charlotte Mathias, Elizabeth Williams, Brynawel, and Nancy Davies, respectively.

Professor Dan Price, A.R.C.M., London, conducted a combined chair of over 300 voices drawn from the Sardis, Brynawel and Penrhos Chapels.
From this, we can see that Mr Azariah Williams is named as the, or at least an, organist of Brynawel Chapel in 1914.
From the Llais
From the Labour Voice newspaper, 21st January 1922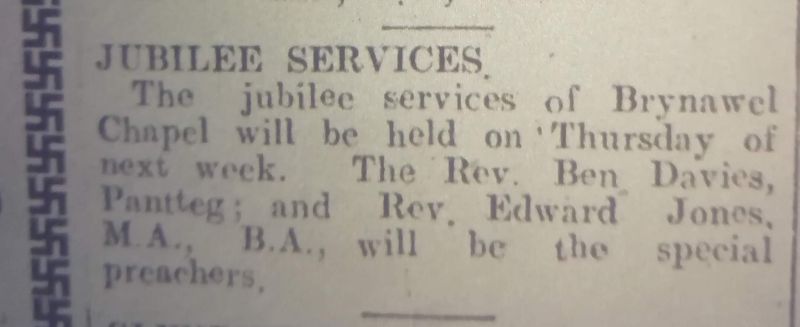 JUBILEE SERVICES

The jubilee services of Brynawel Chapel will be held on Thursday of next week. The Rev Ben Davies, Pantteg; and Rev Edward Jones, MA, BA, will be the special preachers.
From the Labour Voice February 16th 1924:-
QUARTERLY MEETING AT BRYNAWEL

A highly successful quarterly meeting was held at Brynawel Chapel on Sunday evening, with Mr Arthur Morris in the chair. The following contributed to a splendid programme: Solos: Master T Lewis Williams, Walter Phillips, Aldwyn Thomas, Tom Michael, Mr Gwyn Jones, Misses Doris Davies, Mira Pearceshall, Hannah Morris, Eluned Williams, Rachel Jones, Tanwen Rowlands. Duetts: Misses Hannah Morris and Mira Pearceshall, Harriet Michael and Eirlys Thomas, Susie and Albert Terry, Messrs George Whiting and Gwyn Jones. Trios: Miss Rachel Jones and friends. Quartettes: Miss Mattie Davies and party; Mr John Williams and party. Octette [?]: Mr Tom Phillips and party. Recitations: Masters T Lewis Williams, Noel Davies, Alcwyn Williams, Cornwyn Williams, Willie Collins, George Terry, Misses Doris Davies, Nancy Collins, Maggue Hughes, Megan Jones, Doreen Price. Impromptu speeches: Mr Hywel Phillips. Miss Ceinwen Jones read a very interesting paper on "Hedd Wyn". Mr Azariah Williams presided at the organ, while the secretarial duties were ably carried out by Mr George Whiting, A.C.

From the Labour Voice newspaper, 7th February 1925:-
A most enjoyable evening was spent at Brynawel Chapel on Tuesday evening under the auspices of the Young People's Society, when Mr Arthur Morris presided. Solos were rendered by Misses May Tillery; Rachel Jones; and Mr Glyn Phillips; whilst Miss Maggie Hughes recited.
The subject for deebate was "That the country is better than the town" whilst Mr Hywel Phillips held the negative. The following took part in the discussion, which proved most intereting and very instructive :- Messrs D E Jones, Arthur Morris, Winston Phillips, Sidney Phillips, Mrs Whiting, Mrs Prosser, Mrs G Phillips and Misses Bessie Williams, Muriel Rowlands, Eirlys Thomas.

From the Labour Voice newspaper, 14th March 1925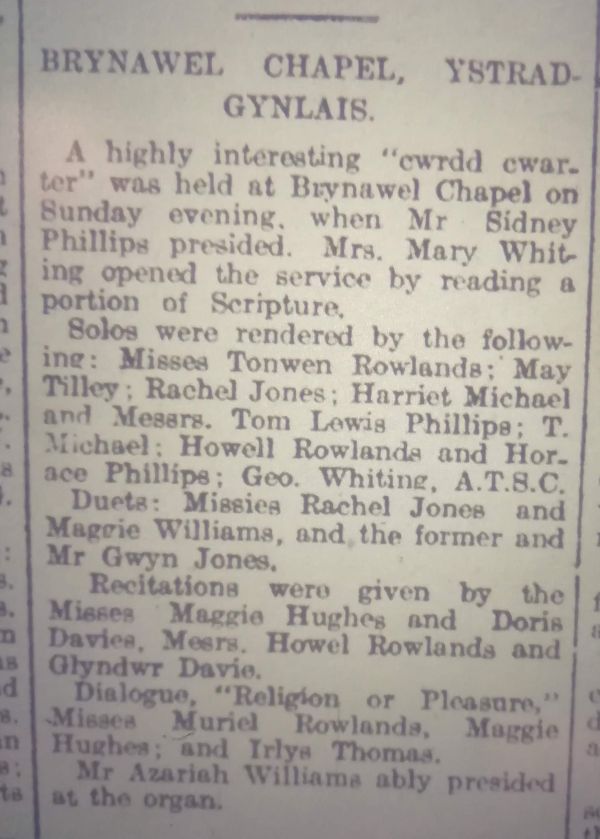 BRYNAWEL CHAPEL, YSTRADGYNLAIS

A highly interesting "cwrdd cwarter" was held at Brynawel Chapel on Sunday evening, when Mr Sidney Phillips presided. Mrs Mary Whiting opened the service by reading a portion of Scripture.
Solos were rendered by the following: Misses Tonwen Rowlands; May Tilley; Rachel Jones; Harriet Michael and Messrs Tom Lewis Phillips, T Michael, Howell Rowlands and Horace Phillips; George Whiting, A.T.S.C.
Duets: Missies Rachel Jones and Maggie Williams, and the former Mr Gwyn Jones
Recitations were given by the Misses Maggie Hughes and Doris Davies, Messrs Howel Rowlands and Glyndwr Davies.
Dialogue, "Religion or Pleasure", Misses Muriel Rowlands, Maggie Hughes, and Irlys Thomas.
Mr Azariah Williams ably presided at the organ.


From the Labour Voice newspaper, 9th January 1926:-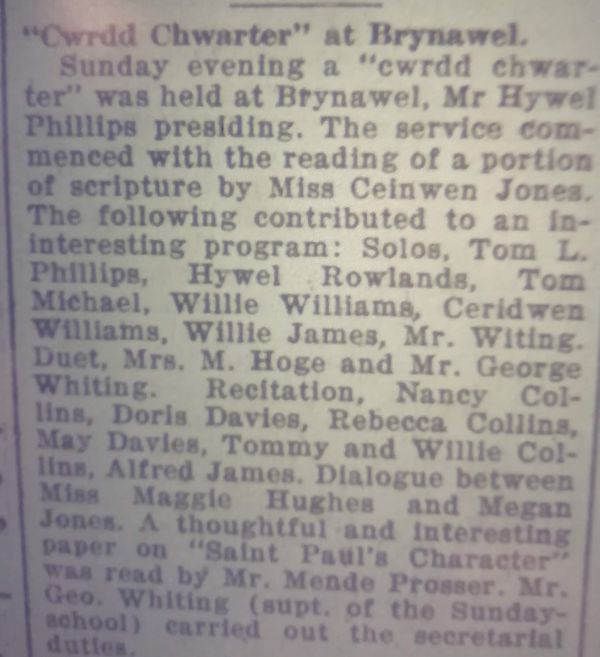 "CWRDD CHWARTER" AT BRYNAWEL

Sunday evening a "cwrdd chwarter" was held at Brynawel, Mr Hywe Phillips presiding. The service commenced with the reading of a portion of scripture by Miss Ceinwen Jones. The following contributed to an interesting program: Solos, Tom L Phillips, Hywel Rowlands, Tom Michael, Willie Williams, Ceridwen Williams, Willie James, Mr Witing. Duet, Mrs M Hoge and Mr George Whiting. Recitation, Nancy Collins, Doris Davies, Rebecca Collins, May Davies, Tommy and Willie Collins, Alfred James. Dialogue between Miss Maggie Hughes and Megan Jones. A thoughtful and interesting paper on "Saint Paul's Character" was read by Mr Mende Prosser. Mr George Whiting (superintendant of the Sunday school) carried out the secretarial duties.

The Labour Voice newspaper January 23rd 1926 reports:-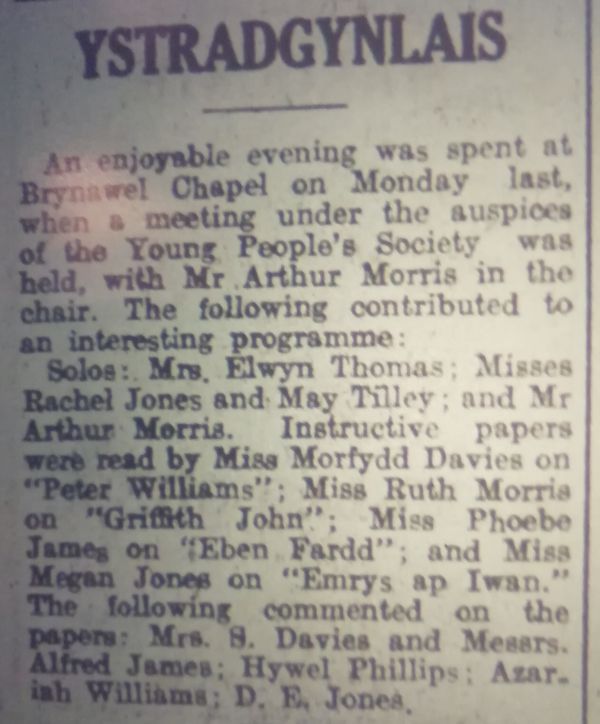 An enjoyable evening was spent at Brynawel Chapel on Monday last, when a meeting under the auspices of the Young People's Society was held, with Mr Arthur Morris in the chair. The following contributed to an interesting programme:
Solos: Mrs Elwyn Thomas; Misses Rachel Jones and May Tilley; and Mr Arthur Morris. Instructive papers were read by Miss Morfydd Davies on "Peter Williams"; Miss Ruth Morris on "Griffith John"; Miss Phoebe James on "Eben Fardd"; and Miss Megan Jones on "Emrys ap Iwan". The following commented on the papers: Mrs S Davies and Messrs Alfred James, Hywel Phillips; Azariah Williams; D E Jones


The Labour Voice newspaper February 20th 1926 reported:-
INTERESTING LECTURE AT BRYNAWEL CHAPEL

Under the auspices of the Young People's Society of Brynawel Chapel a highly interesting lantern lecture was given by Mr Charles Edwards (Myfyr Mai) on Monday evening. Mr Alfred James presided over a large and appreciative audience. The lecturers themes was John Bunyan, the Bedfordshire tinker and the author of the immortal classic "The Pilgrim's Progress" which incidentally was written during Bunyan's incarceration in Bedford prison for daring to preach God's word to his friends and neighbours.
Slides showing the author's birth place - Elstow - a charming retreat far from "the madding crowd"; the Norman tower of the village church bearing a striking resemblance to the tower of Llangyfelach Churchl an ancient Norman door, whereon were carved four figures ringing the church bell; Bunyan's house set in an old-world street were thrown on the screen with telling effect. The lecture concluded with the singing of "Rock of Ages" by Miss Rachel Jones, as slides illustrating the hymn were shown.
Mr Hywel Phillips proposed, and Mr D E Jones seconded, a vvote of thanks to the lecturer who in a few well chosen words suitably replied.

The Labour Voice newspaper March 27th 1926 reported:-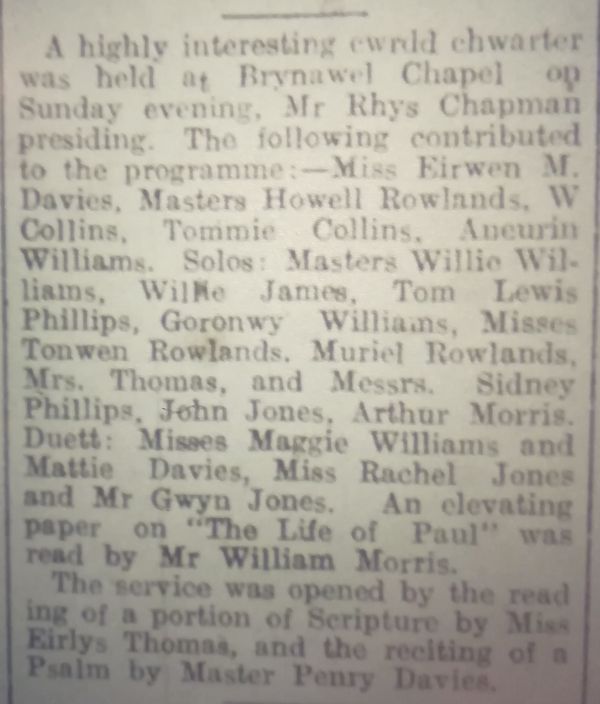 A highly interesting cwrdd chwarter was held at Brynawel Chapel on Sunday evening, Mr Rhys Chapman presiding. The following contributed to the programme:- Miss Eirwen M Davies, Masters Howell Rowlands, W Collins, Tommie Collins, Aneurin Williams. Solos: Master Willie Williams, Willie James, Tom Lewis Phillips, Goronwy Williams, Misses Tonwen Rolands, Muriel Rowlands, Mrs Thomas, and Messrs Sidney Phillips, John Jones, Arthur Morris. Duett: Misses Maggie Williams and Mattie Davies, Miss Rachel Jones and Mr Gwyn Jones. An elevating paper on "The Life of Paul" was read by Mr William Morris.
The service was opened by the reading of a portion of Scripture by Miss Eirlys Thomas, and the reciting of a Psalm by Master Penry Davies.

The Labour Voice newspaper, 15th January 1927 describes, in Welsh, a "cwrdd chwarter" held at Brynawel Chapel:-