DH Rowlands, Musician
From the Summer 1949 quarterly issue of Y Gurnosydd came an article on D H Rowlands, a musician of note from the local area.
---
From the latter end of the 18th century to the present day, the districts of Ystalyfera and Ystradgynlais have produced talented musicians, some of whom have reached the topmost peak of musical attainments. Perhaps you have heard of one of them - Dr Vaughan Thomas, composer of 'Nant Y Mynydd' who was born in Ystalyfera in 1873.

But there are several ones who wrote music which local people like to play and sing. Like the people of other parts of Wales, the folk of the district liked hymn tunes, anthems and cantatas, i.e. music which they could use in their chapel services and meetings. In the early days not many people could play a musical instrument; this was due to some extent that the people of Wales preferred vocal music i.e. singing.

Before 1800 when there were only a few farmsteads in the locality, we do not hear of any notable composers but as the century wore on and collieries and tinplate works were established in the district, the population increased. This increase of population inevitably brought with it the need for more chapels and churches, and large choirs were formed and we read of local men turning their attention to the composition of vocal music.

These composers use that sol-fa medium to write their music. Chief among them was D H Rowlands. D H Rowlands was born in a little cottage near the river Aberllynfell. He was one of 10 children and he left school very early to become a collier boy. For 10 years he worked at the coal face and then he was promoted to the position of checkweigher at Brynhenllys Colliery. A checkweigher with musical leanings is to us a contradiction in terms. To check up tons and hundred weights when his whole heart was set on the music of the Masters must have been a trying ordeal for our friend D H Rowlands. However, a life devoted to music was not to be for him, for he died in 1922 still a checkweigher.

Mr D H Rowlands lived as a time when there were no local music teachers. He never had a music lesson in his life and the music he knew he had learned from books. He composed many hymn tunes, anthems and one cantata called Gideon. Two operas of his are well-known. They are 'Olwen Plasgwyn' and 'Glaniad Y Francod yn Abergwaun'. He was founder of the Public Band in Cwmtwrch and leader of the successful Male Voice Party which earned first prize at the Mountain Ash Eisteddfod of 1901. Three of his pupils, Lewis Owen, Tom Rees and David Davies have since become well-known in the musical world.

Mr DW Rowlands was the locals secretary of the Tonic Sol-fa College and his work written in sol-fa include the Anthem 'Bendithiaf yr Arglwydd' and 'Y Cenadwr'.

This unassuming son of the Cwm broke away from the accepted musical tradition of his area by writing music which could be used outside religious services. In all his work he showed a thorough technical knowledge of his subject. In common with other anthem workers of his day, he uses the contra puntal style to good effect and in the chorus 'Gostyngodd Efe Fy Nerth' from his Gideon he introduces a (---) Passage:- see diagram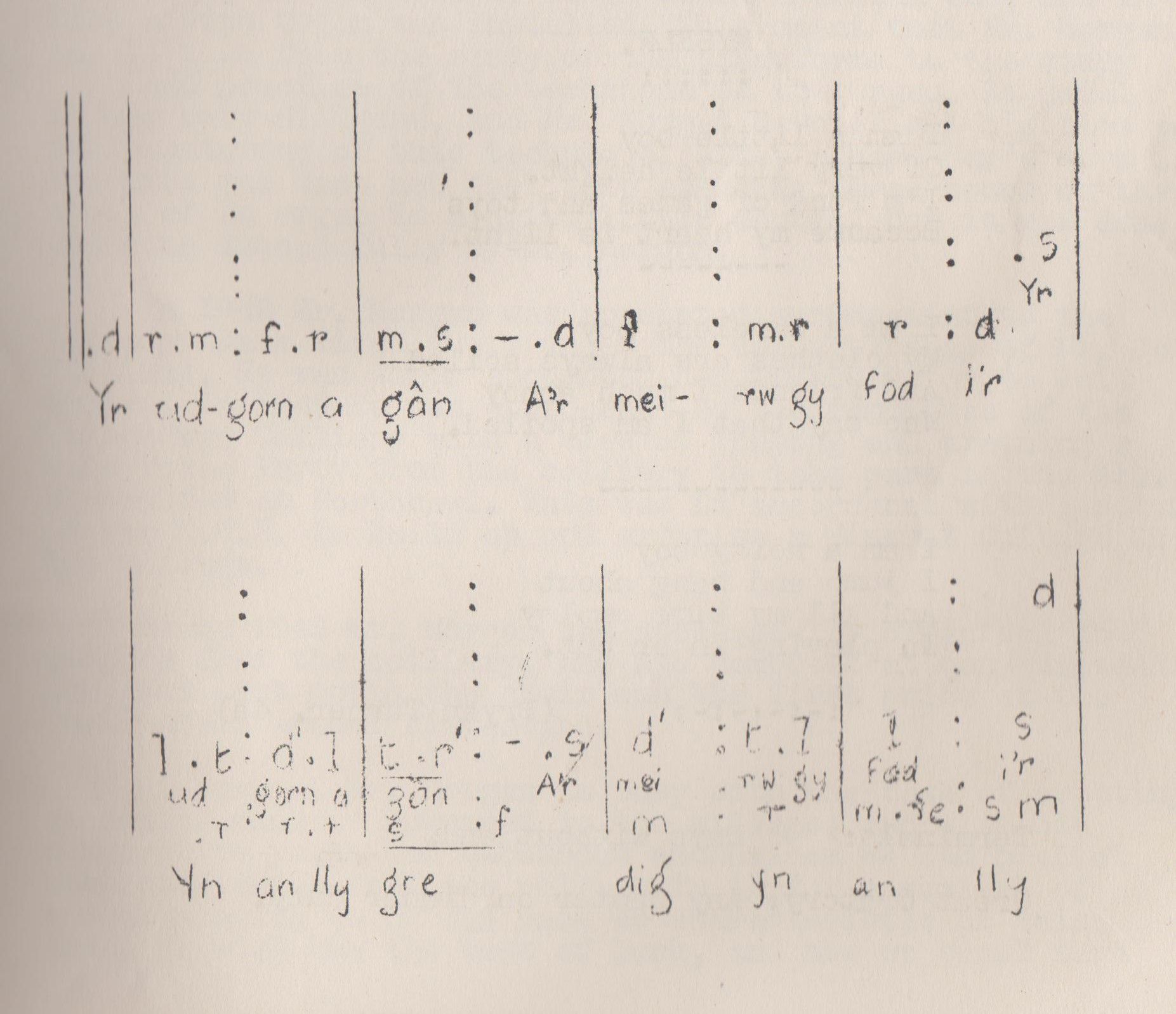 His style however was mainly lyrical. 'Y Cenadwr' is tuneful without any intricate intervals in the melody and his harmonical construction is pure and straightforward.

We find his best in the operetta 'Olwen Plasgwyn'. It is a lighter melodious composition in which the music admirably fits the mood of each scene.

Mr D W Rowlands is the best musician the locality has produced and given better opportunities he would have aspired to greater eminence among Welsh composers. The people of Cwmtwrch however can justly be proud of him because the music he wrote was good and much of it deserves to be sung after today.