History of Maesydderwen School

Walter Jones, Headmaster 1907-1917
J. Walter Jones was the first Headmaster of Maesydderwen School, from its founding in 1907 to 1917 when he moved to become headmaster of Neath County School. The articles below were written on occasion of that move, but serve as a retrospective to his life and career to that date.
From the Labour Voice newspaper, 21st April 1917:-
APPOINTMENT FOR LOCAL HEADMASTER

Mr J. Walter Jones, B.A. (London) headmaster of Maesydderwen County School, has been appointed headmaster of the Neath County School from among 53 candidates, obtaining a unanimous vote. Mr Jones is the son of the late Rev J. Cledwyn Jones, Methodist Minister at Ystradgynlais, who died when his son was only a few months old. Mr Jones was then brought up by his uncle, Mr Howell Walter, J.P. and was educated at the Yniscedwyn Board School, when Mr Philip Thomas was headmaster. By sheer perseverance and hard work Mr Jones has worked himself up to the position he now holds. He has been headmaster at the Ystradgynlais County School since its inception, ten years ago, and during that time has gainedd the respect of both parents and pupils. The school was started under many disadvantages at the Old Yniscedwyn School, but in spite of that fact, and also of financial weakness, the results of the school compared favourably with those of any other school in Wales. Through his efforts the Maesydderwen mansion was obtained, together with its spacious grounds, and converted into the most beautifully situated school in the principality.

In politics, Mr Jones is a keen liberal, and has taken a foremost part in the political struggles of the past in the neighbouring constituencies. We jaoin in wishiing him every success. He will not leave Ystradgynlais until September next.
The Labour Voice 21st July 1917 reported on a presentation to Mr J Walter Jones and Mrs Jones on the occasion of his leaving the district:-
YSTRADGYNLAIS HEAD MASTER HONOURED

There was a good muster of old pupils at Maesydderwen County School on Friday evening, when Mr J Walter Jones, B.A., and Mrs Jones were presented prior to leaving the district for Neath. The excellent gathering and the notes received from old boys on active service were eloquent testimony to the esteem in which Mr and Mrs Jones are held. Mr Jones organised the school at its inception ten year ago, and during that time a large number of pupils have passed through his hands, and become a credit to the school.
Mr W Ernest Rees, B.Sc. science master at the school, who will take over the headship on Mr Jones' departure, presided over the gathering, and after tea had been partaken of, an entertainment and the presentation were held. Mr Rees, in his opening address, paid a high tribute to the qualities and character of Mr Jones, and he and the pupils would be sorry to see their old associations severed.
Miss Miriam Williams then handed to Mr Jones on behalf of the old pupils, a beautiful gold watch, and made an appropriate speech.
Mrs Jones was afterwards presented by Lieut Ernest Williams with a silver afternoon set of knives and forks. Both Mr and Mrs Jones returned thanks.
Mr Jones expressed his heartfelt thanks at the way in which the Hen Fes had shown appreciation of his services to the school. He also gave those present, advices as to the future that was much appreciated.
Many of the pupils took advantage of the occasion to congratulate Mr Rees on his appointment to the headmastership of the school, and Mr Rees thanked those present for the sentiments expressed.
The following took part: Mr Sidney Morgan., B.A. speech; Miss Elsie Roblings, solo; Miss Nancy Jones, solo; Miss Rebecca Maddock speech; Mr Leyshon Griffiths, recitation; Miss M Williams, speech; Mr David Powell, speech Mr Tom James solo; Miss Ethel Williams and Mr Victor Morgan speeches; Messrs Victor and Elvet Morgan also gave a pianoforte duett and Mr Elvet Morgan was the accompanist for the evening.
Dancing and whist were afterwards indulged in, Mr Rees acting as M.C., and an enjoyable evening terminated with the singing of "Auld Lang Syne" "Hen Wlad fy Nhadau" and "God Save the King."

From the Labour Voice newspaper, 20th October 1917:-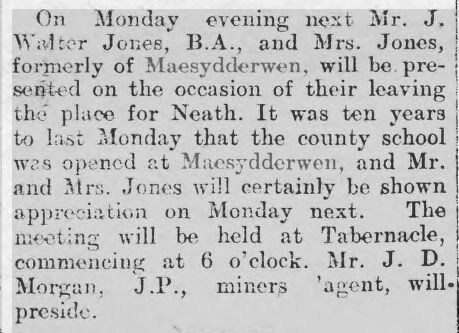 On Monday evening next Mr J. Walter Jones, B.A., and Mrs Jones, formerly of Maesydderwen, will be presented on the occasion of their leaving the place for Neath. It was ten years to last Monday that the county school was opened at Maesydderwen, and Mr and Mrs Jones will certainly be shown great appreciation on Monday next. The meeting will be held at Tabernacle, commencing at 6 o'clock. Mr J.D. Morgan, J.P., miners' agent will preside.
Although Mr J Walter Jones was well known throughout Wales in political and educational spheres he was best known to Swansea Valley people as the headmaster of Maesydderwen County School. Below are two tributes that I came across, which were published from two men who were closely connected with Mr Jones during that period: Mr W Ernest Rees B Sc., Bristol, Mr Jones' successor at Maesydderwen and Dr Stephen J Williams M.A., Swansea University.

Extracts taken from the South Wales Voice newspaper, February 1951, on the occasion of Walter Jones' death at the age of eighty.
A TRIBUTE TO MY FORMER 'HEAD'
There was laid to rest last week, a man, who will live long in the annals of Welsh Education in general and of Ystradgynlais Grammar School in particular.

Losing his parents at an early age, Mr John Walter Jones was brought up by his uncle, Mr Howel Walters, one of the great stalwarts of education in Ystradgynlais at that time. After many early vicissitudes of fortune, J W (as he was popularly known) became a pupil teacher and later, after graduating in the London University, was appointed to the staff of the Ystalyfera Intermediate School.

About this time all children of Ystradgynlais who desired secondary education were obliged to attend either the Brecon or the Ystalyfera Intermediate School.

This state of affairs stirred into action the pioneers of secondary education in Ystradgynlais (including amongst them the Rev Morgan, Sardis and Rev Griffiths, Bryngroes) and they eventually convinced the Breconshire County Council of the need for a secondary school in their own area. At its inception in 1907 Mr Walter Jones was appointed as the first headmaster.

FORTY PUPILS
The new secondary school was housed in the Old College School building and on the opening day rather more that 40 pupils were enrolled.

At the outset the school laboured under financial difficulties but under J W's able direction and guidance it continued to prosper and in 1911 it moved to the Old Maesydderwen. This fine mansion had long been in his mind and largely due to his practical vision and foresight; Ystradgynlais Grammar School now possesses a site that is the envy of many schools in the Principality.

It was my privilege to be one of John Walter's colleagues for ten years - truly years of happy companionship. Never were there happier relationships between himself, his staff and his pupils.

He captured the loyalty of his colleagues and he was beloved by his pupils. His cheery optimism, his quick wit and the swiftness of his repartee were always a delight: the scholarly outlook and devotion to literature that characterised his career inspired all who knew him.

With no inches to spare, he clearly demonstrated that greatness and personality do not depend upon physical height, for during the tenure of his headmastership some of the most brilliant pupils that have come from Ystradgynlais received their secondary education under him.

He was a man of unwavering loyalty and the wisdom of his counsel, his strong character and the firmness of his convictions contributed to his school a lasting impress.

I first got to know Mr Jones after I left Merthyr Intermediate School for Ystradgynlais, a young man of twenty two: he showed me great kindness and gave me valuable assistance and advice. A pleasant friendship ripened into close companionship: we worked, played, holidayed and for a time even lived together. His was an abiding influence and I shall always cherish his memory.

The activities that beguiled his leisure hours - music, golf, cycling and the public platform - helped to keep his life immune from the tedium of advancing years.

In his later days he gathered, I feel sure, from the garden of memories many a lovely flower redolent of the past.

His passing has meant the breaking of one of the great links in the chain of primary and secondary educational history in Ystradgynlais.

Mr W Ernest Rees B Sc., Bristol
The second also from the South Wales Voice newspaper, February 1951 entitled:-
JOHN WALTER JONES - AN APPRECIATION
When it became known in 1907 that Mr John Walter Jones B.A., was to be the first headmaster of a proposed secondary school in Ystradgynlais, the neighbourhood was by no means surprised. The appointment had almost been taken for granted as an inherent part of the progressive evolution which was so generally accepted as inevitable in those days. It was not merely that he held the normal qualifications - a university degree and a good record of experience as assistant and headmaster at various types of schools. His very special qualities as a teacher and the attractiveness of his personality had already become widely known. Long before this, some of his pupils at Ynyscedwyn Board School had wept on telling their parents of his impending departure - a rare tribute at that time to the influence of a teacher.

With his boundless energy and optimism, Mr Walter Jones would not hear of waiting for a new building to be erected before establishing the new school. The Ynyscedwyn Council School had just abandoned its old building, and in a few short weeks desperate efforts were made to equip it for use by the Ystradgynlais Secondary School. The almost complete inadequacy of the place for such a purpose would have daunted most headmasters, but Walter Jones, with his loyal staff of three and pupils (drawn largely from the Brecon and Ystalyfera County Schools), seemed to thrive on surmounting difficulties. I entered the school in 1908 and soon found myself in happy surroundings. The very defects of the accommodation and the lack of equipment etc became a standing joke. The exuberant puckishness of the headmaster was truly infectious and I doubt if there was a happier school in Wales.

In those early days the exigencies of the time table allowed the head master no 'free' time for administration and other non teaching work, but in addition to all his duties he found time and energy to train a school choir and to organise school concerts, plays etc. At the same time one frequently heard from outside sources of his political activities.

From the first time, we felt him to be an unusual and even unorthodox teacher, whose aim seemed to be to make us learn rather than to teach us. To some who had been accustomed to learning at a leisurely pace he appeared to be taxing our abilities unreasonably but his great human qualities were seldom obscured. He often held up the thoughtless and indolent to ridicule but his quips were never venomous.

The feeling of being a family in the early days of the school was undoubtedly partly engendered by the proximity of the headmaster's own family, who occupied an adjoining house and who played a real part in the life of the school. Mrs Walter Jones' thousand little kindnesses live long in the memories of my generation.

HIS UNUSUAL INFLUENCE
When one hears of much influence being exerted over a body of young people one assumes that it is done by a person of the domineering type. Mr Walter Jones's personal influence over his pupils is unquestioned but in his case it was never imposed under the weight of authority or aggressive force; it was a natural emanation. The feeling grew upon us that we were regarded by him, not so much as children who were in school to be taught, as young human beings who were participants in the adventures of trying to become educated and to understand life. The man's frankness and sincerity appealed to us. He abhorred hypocrisy, shamming and all sentimentality. In the upper forms he was sometimes called up to teach some branch in which he himself had received no special training and in after years the soundness of his approach to certain problems has seemed astounding. Difficulties often arose and if he had no ready solution he frankly admitted the fact. Sometimes he would return to a problem in a day or two after consulting some authority or other, to help us out of our difficulty.

Contrary to the tradition which is growing in most of the county secondary schools of Wales, Ystradgynlais County School was becoming Welsh in something more than sentiment. True enough, the medium of instruction was English but John Walter Jones was growing daily in admiration, not only of the Welsh political leaders of the 'Cymru Fydd' movement, but also of the leaders of the language and literature renaissance. The morning service was conducted alternately in Welsh and English: we were frequently asked (much to our consternation) to quote verses from the Welsh Bible when the headmaster was explaining some point of syntax, perhaps, in Latin or Welsh or English: public functions arranged by the school were largely conducted in Welsh: out of the St. David's Day celebrations grew the school eisteddfod. To Mr Walter Jones's mind no arguments were required to show that a Welsh cultural background was wholly compatible with true education in its wide variety. His perspective was true and his standards of judgment and taste could not therefore be false.

It was my privilege in later life to meet him frequently through our common interest in Welsh cultural movements. His convictions were always firm but his mind was receptive to the end. His passing after a full span of four score years has deprived Wales of a noble son and an outstanding personality.

Dr Stephen J Williams M.A., Swansea University.
These tributes followed the more usual reportage on his death, in the South Wales Voice on the 3rd February 1951:-
DEATH OF MR J WALTER JONES
SCHOLAR, POLITICIAN and SCHOOLMASTER

By the death of Mr John Walter Jones, former headmaster of Maesydderwen County School, Ystradgynlais, at his home in Neath on Saturday, Wales has lost one of its outstanding personalities.
An ardent Welshman, a true Liberal and a keen educationist, he abhorred anything which savoured of the slipshod in Welsh, and although not a Nationalist he was a great advocate of Welsh in the home.

POLITICAL CONNECTIONS
Throughout his life he was a staunch supporter of the Liberal party and he served for many years on the national executive, representing Wales until his death. On one occasion he unsuccessfully contested the Ogmore constituency but his loyalty to the party never faltered. He was chairman of the Neath Division Liberal party and was a familiar and powerful speaker on the party platforms throughout the country.

HIS WIDE INFLUENCE
His political connections were extensive; he counted Lloyd George as a close friend and was intimate with leading Liberals for over half a century. The effect of his personality was perhaps more important however in the educational world and he exerted an extraordinary influence on the thousands of pupils who came under his jurisdiction.
Although many a pupil trembled at his caustic tongue, especially in his early days, all grew to love and admire him for his human qualities and his ready wit, his enduring cheerfulness and his broad tolerance. Despite the fact that he had retired from school for 20 years, his influence remained and he was always delighted to meet former pupils who in turn never failed to find pleasure and encouragement in his company.
Mr Jones served in many sphere in the wider field of education. He was chairman and for a time secretary of the Glamorgan Head teachers' Association, and a member of the Central Welsh Board and on its executive committee. He was also a member of the executive committees of the Welsh Secondary Schools Association of which he was one time president. He was a past president of the Neath Cymrodorion and a member of the Cambrian Lodge of Freemasons.

HIS EARLY LIFE
Born at Ystradgynlais in 1871, John Walter Jones was the son of Reverend John Cledwyn Jones and his wife Elizabeth, a sister of Mr Howell Watkins J.P. Both parents died when he was an infant and he was brought up by his uncle. He received his education at the old Temperance School in Oddfellows Street, under the late Jenkin Jones, and became a pupil teacher in his early teens, teaching in various places in North and South Wales. Eventually he was appointed to the staff of Ystalyfera County School, where Mr Sully was headmaster and while there he took his B.A., degree with honours in classics as an external student of London University. In 1907 the Old College School was opened at Ystradgynlais for secondary education, and Mr Jones was appointed its first headmaster. The school flourished and the Governors acquired Maesydderwen House, which was adapted for use as a county school. Here he remained until 1917, when he accepted the headship of Neath Intermediate School, where he served for 14 years.
During this time great development took place and the number of pupils increased so that by 1928 when the new Neath Boys Intermediate School was completed with Mr Jones as its first headmaster there were two large secondary schools, entirely self contained.
Three years later he retired, still unusually active in mind and body and he devoted his remaining years to lecturing and working on behalf of Liberalism and his beloved Wales.
During the last war Mr and Mrs Jones went to live in Bristol but they returned to South Wales where they had a large circle of friends. Besides his widow, there are three children, Mr Alun Cledwyn, a London solicitor; Mrs Dilys James, wife of Professor Gwilym James of Bristol University and Mrs Nesta Williams, wife of Mr J Morris Williams, senior classics master at Swansea Grammar School.
There are six grandchildren.

---
All copyright remains with the original copyright holder, and all original research is copyright Val Trevallion, YEARGroup and is put online as a free community project by Wolfian Design.
You can contact the Ystradgynlais and Ystalyfera History and Heritage websites by emailing: webdesign@wolfianpress.com
or Val Trevallion by emailing yeargroup@hotmail.co.uk.