History of Maesydderwen School

Seth Owen, Headmaster 1937-1951
Seth Owen was Headmaster of Maesydderwen School from 1937 to 1951. He was a virtuoso violinist, and also the head of the Hen Fes Memorial Fund. The newspaper articles below start with his retirement, then go back over his career from his first mention in Ystradgynlais.
From the SOUTH WALES VOICE SATURDAY 15th SEPTEMBER 1951
MAESYDDERWEN HEADMASTER
MR SETH OWEN RETIRES

The retirement is announced, through ill health, of Mr W Seth Owen B.A., headmaster of Maesydderwen Grammar School, Ystradgynlais.
Mr Owen, who is 58 years of age, was born at Talysarn Caernarvon, and was a graduate of Bangor University.
From 1915 to 1918 he served with the Welsh Regiment and Royal Artillery and was twice wounded.
He came to Maesydderwen in 1919 as Senior English master and was appointed headmaster in 1937 in succession to Mr W E Rees, B.Sc. Since that time Mr Owen has considerably expanded the school curriculum, particularly in the Sixth Form which has greatly increased in number, and there has been much advancement in the social and athletic activities of the school.
Mr Owen was also instrumental in establishing a progressive and successful Technical School for Mining and Engineering students at Maesydderwen during the past three years.
Himself a violinist of great talent and repute, having won National Eisteddfod awards on two occasions, he devoted much of his energy to the building of a tradition in classical and chamber music in conjunction with the Arts Council of Great Britain.
His time was also unstintingly given to cultural and progressive movements outside the school. He is a member of the governing body of the Church in Wales and in local affairs has been chairman of the Operatic Society for many years, was chairman of the Ystradgynlais and District War Savings Committee and during the war was Head Warden and Commanding Officer of the Local A.T.C. Squadron.
His approachable manner, kindliness and unfailing courtesy have made him beloved by the many pupils who have passed through his hands, and his period as headmaster of Maesydderwen will be marked not only by the scholastic achievements of its students but by their considerable contribution to the cultural life and tradition of the district.
PAST ACHIEVEMENTS - AN ORCHESTRA
Tied in with the history of Seth Owen in Ysradgynlais, is the history of the development of an orchestra for the town. Sardis Chapel, one of the largest in the area, was host to concerts in this period, and would be important in the story. The clipping below is from the Llais newspaper, 5th July 1919:-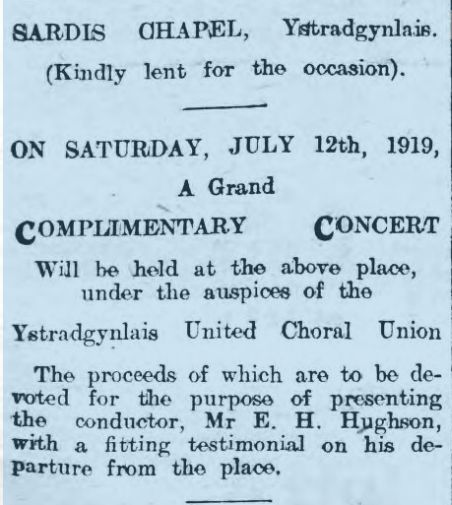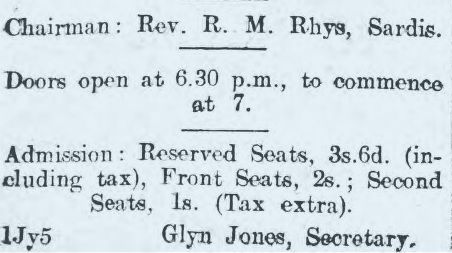 Further down, the article lists the artistes attending the concert, which include Solo Violinist, Mr Seth Owen, listed as being of Carnarvon at the time:-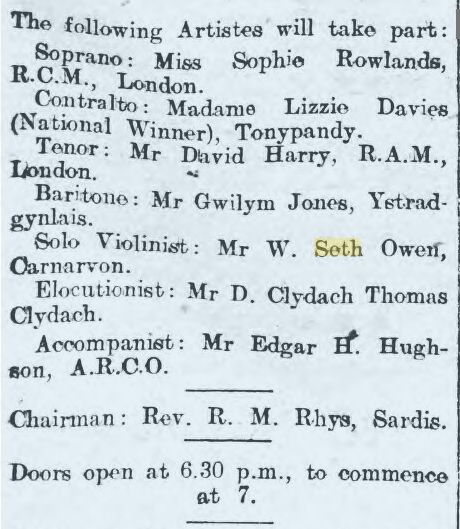 From the LLAIS 19th JULY 1919 comes the first detailed mention of Seth Owen, stating that he is now resident in the locality. This article shows in detail a large concert in Ystradgynlais and Seth Owen's part in it:-
SUCCESSFUL CONCERT AT YSTRADGYNLAIS

On Saturday evening last a large and appreciative audience gathered at Sardis Chapel Ystradgynlais, to listen to what one may safely describe as one of the most successful miscellaneous concerts ever held at Ystradgynlais. It was held under the auspices of the Ystradgynlais Choral Society, the object being to raise funds in order to present their late conductor, Mr Edgar H Hughson, A.R.C.O., who has recently been appointed conductor at Tabernacle Congregational Church Morriston, with a fitting testimonial as an indication of the esteem and appreciation with which he was held by the members of the choir whom he led for four years.
Eminent artistes had been engaged to take part, namely, soprano Miss Sophie Rowlands, R.C.M., London; contralto, Madame Lizzie Davies, Tonypandy; tenor, Mr David Harry, Llanelly and baritone, Mr Gwilym Jones.
Variety was added to the programme by the addition of Mr D Clydach Thomas in the role of elocutionist and Mr W Seth Owen, Carnarvon, solo violinist. Rev R M Rhys Sardis presided and Mr Hughson acted as accompanist throughout.
The chairman at the outset made a few appropriate remarks befitting the occasion, and recalled the magnificent performances given by the Choral Society of Mendelsohn's "Hymn of Praise", "St Paul" and "Elijah", under the conductorship of Mr Hughson. He also referred to the important position which Mr Hughson had succeeded to at Morriston, the largest congregational chapel in Wales, which in the past can boast of having as conductors such notabilities in the musical world as David Francis, Eos Morlais and latterly Mr W Penfro Rowlands. He wished Mr Hughson a long and prosperous career in his new vocation and hoped that he would prove worthy of the post he now held...........

The local favourite, Mr Gwilym Jones was in good voice and gave us fine interpretations of R.S. Hughes' "Y Dymhestl," and "Trumpeter". He was encored twice. He was joined by Madam L Davies in singing a duet, entitled "A Singing Lesson".
Mr Seth Owen is a violinist of no mean attainments, entertainments, and entertained the audience with some delightful playing on his violin. Mr Owen (now resident in the locality) should prove an acquisition to the place and his presence here should be taken advantage of. He produces a beautiful tone and has a soul for music.
This was particularly noticeable in his fine renderings of such beautiful Welsh airs as "Dafydd y Garreg Wen" and "Morfa Rhuddlan". His technique was shown to advantage in his renderings of classical pieces by Hubay and Kreisler. Mr Owen was encored each time. We sincerely hope that Ystradgynlais will have many further opportunities of hearing Mr Owen play the violin.
From the LLAIS LLAFUR 20th SEPTEMBER 1919 we learn that Seth Owen is now working at Maessydderwen County School:-
Ystradgynlais, with its tennis club, golf club, 'bus service and other attractions, is fast looking up and now a determined effort is being made to form a local orchestra. Mr W Seth Owen, B.A., of the Maesydderwen County School, who by the way, is a National violinist, is the prime mover and desires all who are interested to attend a meeting to be held at the Cynlais Cafe on Monday evening at 7.30. No one will deny that Ystradgynlais is rich in instrumental talent and an orchestra would be of considerable value in the district.
From the LLAIS LLAFUR 4th OCTOBER 1919 we learn that Seth Owen also acts as conductor at the practice sessions of the new orchestra, held in Sardis Chapel:-
The first practice of the orchestra took place at Sardis Vestry on Monday evening, when there was a god muster. The vestry has now been granted for the permanent use of the society and Mr W Seth Owen B.A., will act as conductor at the practices, which will be held on Friday nights in future.
---
All copyright remains with the original copyright holder, and all original research is copyright Val Trevallion, YEARGroup and is put online as a free community project by Wolfian Design.
You can contact the Ystradgynlais and Ystalyfera History and Heritage websites by emailing: webdesign@wolfianpress.com
or Val Trevallion by emailing yeargroup@hotmail.co.uk.