Vicars of Saint Cynog's, Ystradgynlais
While the modern church of Saint Cynog's in Ystradgynlais was constructed in 1861, there had long been a church in the town, perhaps as far back as the 5th or 6th century. The church which existed prior to the current one was of medieval construction, probably constructed in the 13th century. Thanks to Rev Dewi Roberts we have a list of the Vicars of the old church before it was replaced by the current one.
The centenary of St Cynog's Church, Ystradgynlais was celebrated in 1961, and The Voice newspaper printed a long article, articulating the history of the church over those 100 years, including the tenure of vicars, or rectors, of Ystradgynlais. We have fleshed it out to be a complete list of the incumbents from 1861 until the present day:-
---
Rev Thomas Walters (1861-1874)
(1861 is for the new church, he was appointed in 1856)
The Rev Thomas Walters who built the present church of St Cynog's was a native of Trallong, near Brecon, and was the Rector for 18 years. In 1874 he left to become Vicar of Llansamlet and it was he who also built the parish church there. At his death, his body was brought back from Trallong, where he had retired, to be buried in the Churchyard in Ystradgynlais.
Rev E.L.D. Glanley (1874-1912)
Rev. E.L.D. Glanley was incumbent in St Cynog's for 38 years and saw Ystradgynlais grow from a small village to a small township.
Rev James Jones (1912-1923)
In 1912, Rev James Jones became the Rector. He is still remembered as a devoted parish priest and left in 1923 to take a small country living in Pembrokeshire. His obituary produced below is from the South Wales Voice March 8th 1941.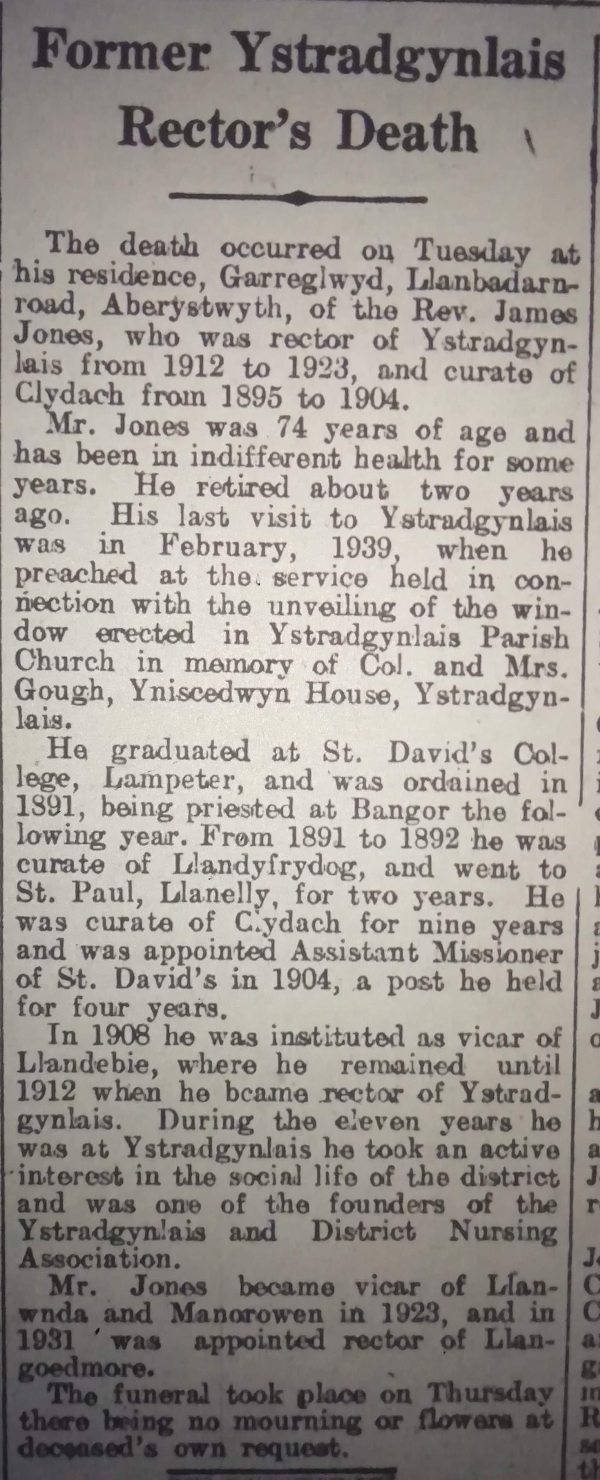 Former Ystradgynlais Rector's Death

The death occurred on Tuesday at his residence, Garreglwyd, Llanbadarnrad, Aberystwyth, of the Rev. James Jones, who was rector of Ystradgynlais from 1912 to 1923, and curate of Clydach from 1895 to 1904.
Mr Jones was 74 years of age and has been in indifferent health for some years. He retired about two years ago. His last visit to Ystradgynlais was in February 1939 when he preached at the service held in connection with the nveiling of the window erected in Ystradgynlais Parish Church of Col and Mrs Gough, Yniscedwyn House, Ystradgynlais.
He graduated at St. David's College, Lampeter, and was ordained in 1891, being priested at Bangor the following year. From 1891 to 1892 he was curate of Llandyfrydog, and went to St. Paul, Llanelly, for two years. He was curate of Clydach for nine years and was appointed Assistant Missioner of St. David's in 1904, a post he held for four years.
In 1908 he was instituted as vicar of Llandebie, where he remained until 1912 when he became rector of Ystradgynlais. During the eleven years, he was at Ystradgynlais he took an active interest is the social life of the distress and was one of the founders of the Ystradgynlais and District Nursing Association.
Mr Jones became vicar of Llanwnda and Manorowen in 1923, and in 1931 was appointed rector of Llangoedmore.
The funeral took place on Thursday there being no mourning or flowers at deceased's own request.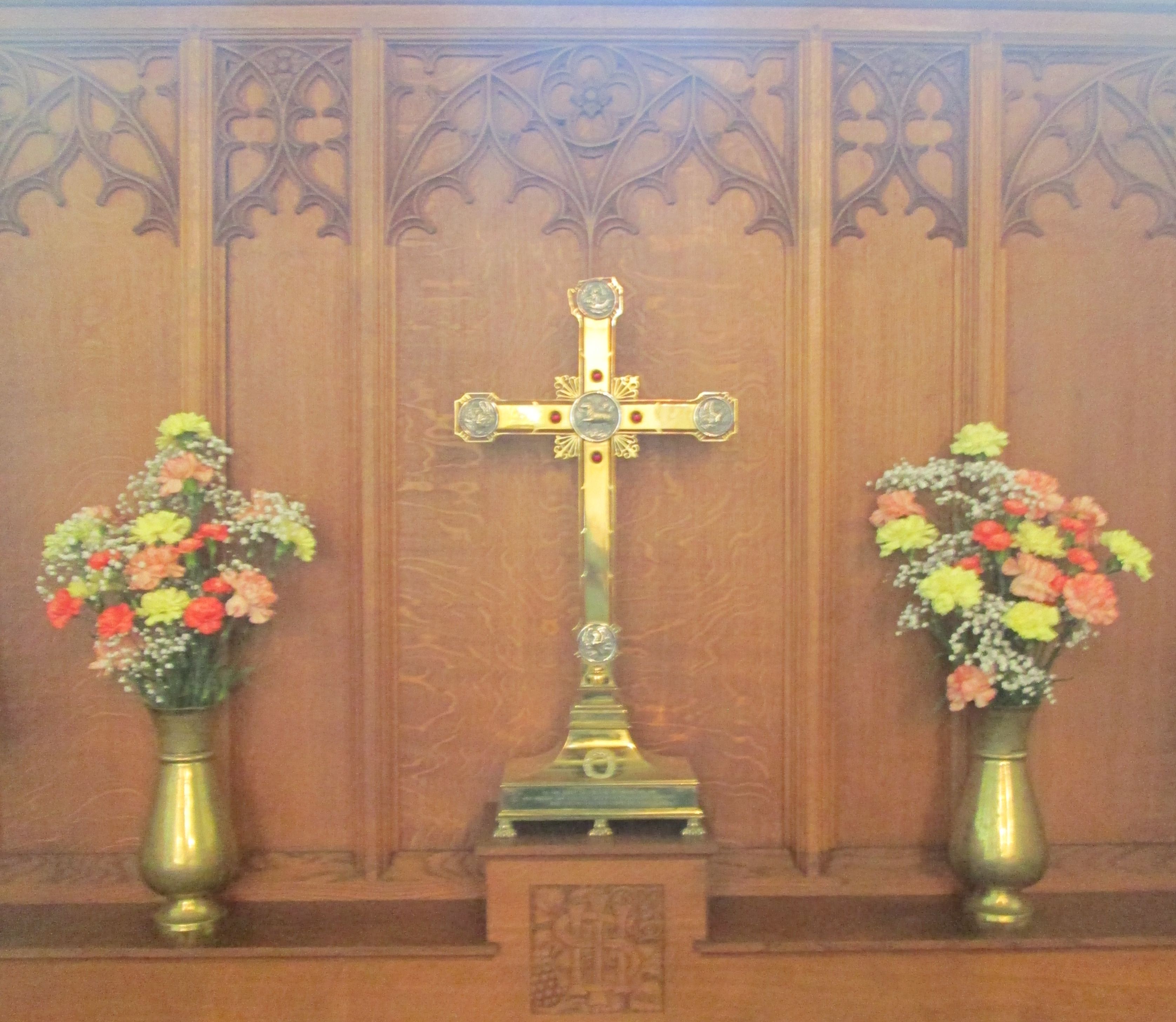 Rev Ilar Edwards (1924-1930)
Rev Ilar Edwards (died Jan 1930)
Rev James Jones was followed in 1924 by Rev Ilar Edwards whose social work among the poor during the hard days of the depression earned him great gratitude. Unfortunately, after only six years, his ministry was cut short and he died in January 1930 aged 59. One of his daughters married the deacon of Gower, DM Luther Thomas. She spent most of her young days in Ystradgynlais.
The large cross upon the altar of St. Cynog's bears a memorial inscription to the Rev Ilar Edwards. He is buried in Saint Cynog's cemetery (Area B R20 G08), which grave is labelled with his full name William Ivar Edwards and also contains the remains of his wife, Mary Ann, who died at the age of 90 in 1962.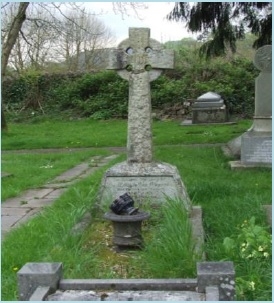 Rev DL Williams (1930-1959)
Rev D.L. Williams was inducted Rector in 1930 and remained until his retirement in 1958. He was an Honorary Canon of Brecon Cathedral and Rural Dean of East Gower. During his incumbency the church was enlarged and beautified by the addition of the well appointed clergy and choir vestries, the organ, the Altar and reredos. He was also responsible for the gift of the magnificent Church Hall by Mrs Colonel Gough, Ynyscedwyn.
Rev Hywel M Hughes (1959-1968)
The Rev Hywel Hughes who was inducted on June 24 1959 at a memorable service when the church was filled to capacity and a sumptious supper of welcome was provided afterwards in the Church Hall.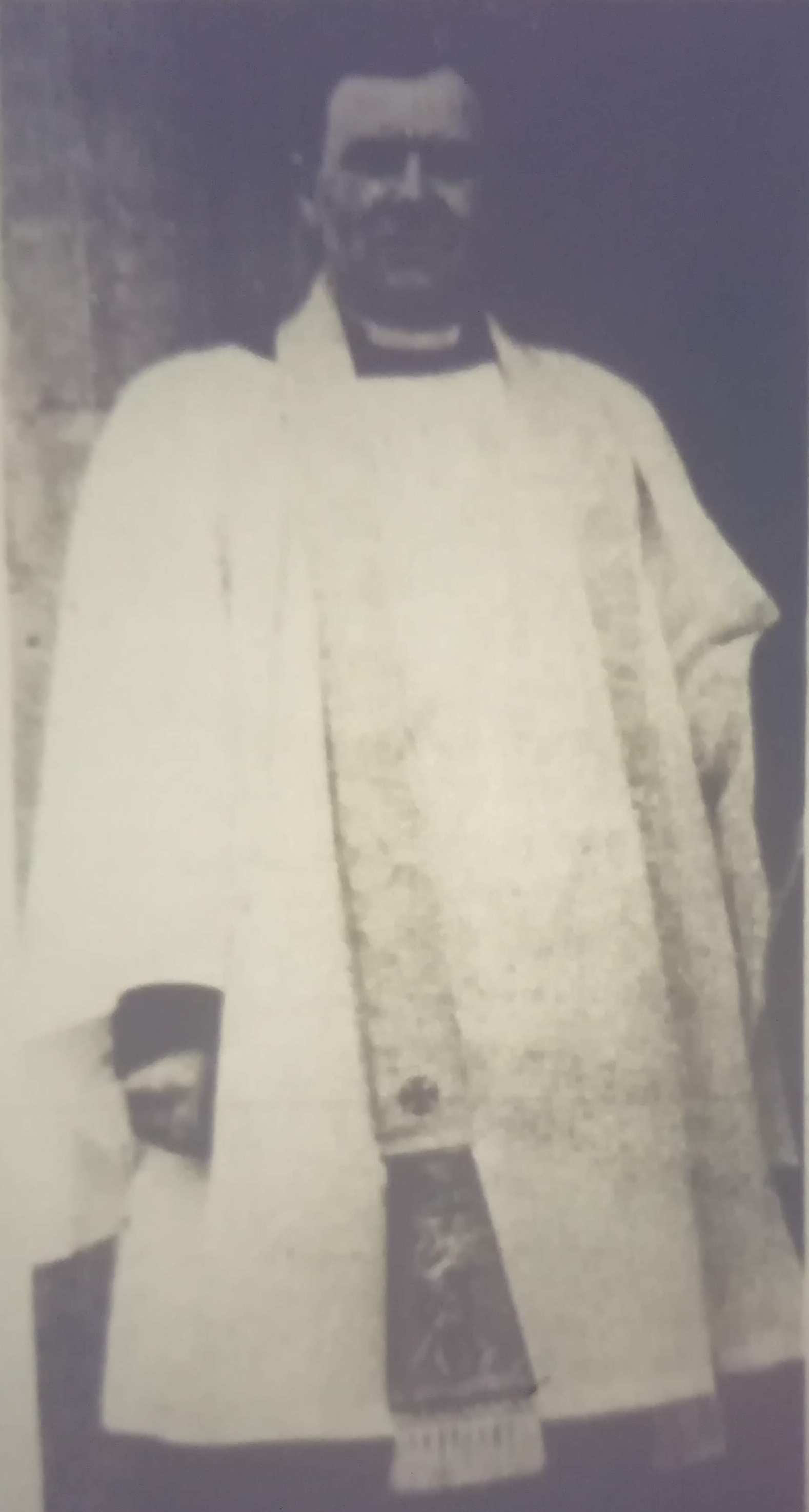 RECTOR LEAVING

The Rev Hywel Maldwyn Hughes, Rector of Ystradgynlais since 1959, has been appointed to be Vicar of Killay, Swansea, by the Swansea and Brecon Diocesan Board of Patronage. He succeeds the RRev H. Llewelyn Jones, a native of Ystalyfera, who died six weeks ago.
Mr Hughes, aged 48, and a graduate of the University College of Wales, Swansea, is a native of Morriston, where he served his first curacy before going to Builth and later becoming Minor Canon of Brecon Cathedral.
From 1953 to 59 he was Rector of Llanfeigan with Llanthetty (Breconshire). It is anticipated that Mr Hughes will take up his new appointment in two months' time.
Rev Geraint Evans (1968-1991)
The Reverend David Geraint Evans was inducted into the ministry at Saint Cynog's in a ceremony reported in The Voice newspaper of Thursday 3rd October 1968.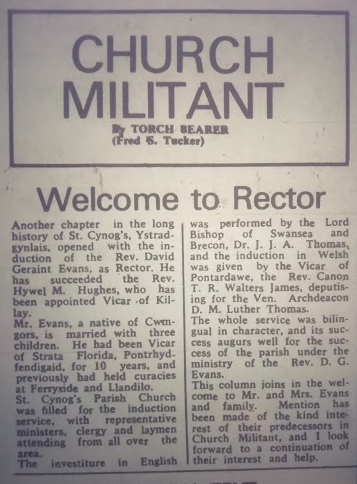 WELCOME TO RECTOR

Another chapter in the long history of St. Cynog's, Ystradgynlais, opened with the induction of the Rev. David Geraint Evans as Rector. He has succeeded the Rev Hywel M. Hughes who has been appointed Vicar of Killay.
Mr Evans, a native of Cwmgors, is married with three children. He had been Vicar of Strata Florida, Pontrhydfendigaid, for 10 years, and previously had held curacies at Ferryside and Llandilo.
St. Cynog's Parish Church was filled for the induction service, with representative ministers, clergy and laymen attending from all over the area.
The investiture in English was performed by the Lord Bishop of Swansea and Brecon, Dr J.J.A. Thomas, and the induction in Welsh was given by the Vicar of Pontardawe, the Rev Canon T.R. Walters James, deputising for the venerable Archdeacon D.M. Luther Thomas.
The whole service was bilingual in character, and its success augurs well for the success of the parish under the ministry of the Rev D.G. Evans.
This column joins in the welcome to Mr and Mrs Evans and family. Mention has been made of the kind interest of their predecessors in Church Militant, and I look forward to a continuation of their interest and help.

Rev Aled Huw Thomas (1992-1994)

Rev Keith Evans (1994-1998)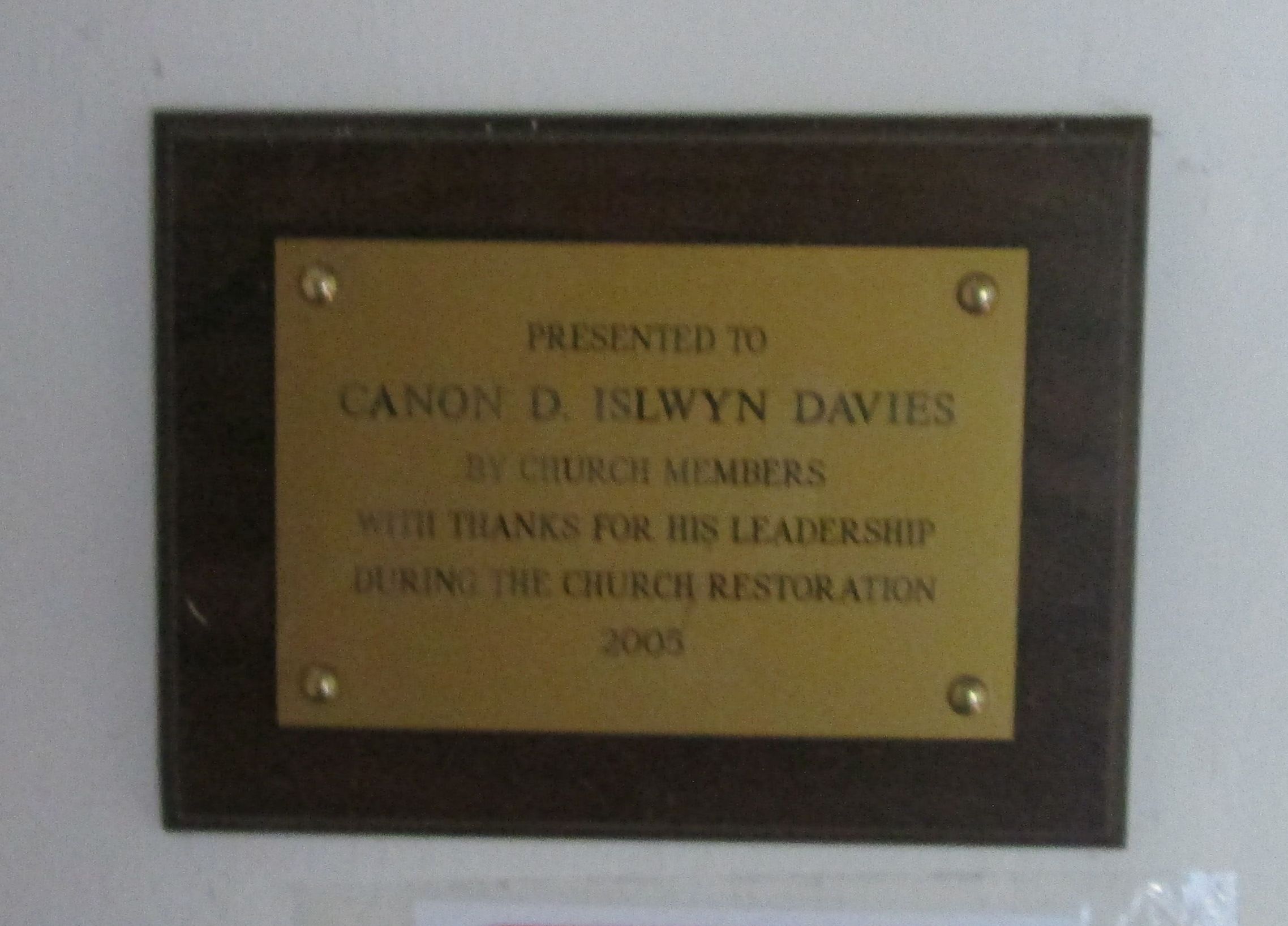 Rev Islwyn Davies (1999-2013)
Rev Islwyn Davies (died early 2013); his funeral was held at St Cynog's Church, Heol Yr Eglwys, Ystradgynlais on Saturday 26 January 2013 at 11 am with the Bishop of Brecon and Swansea conducting the service.




He is remembered on this third party website :-
3ww-aircadets.org.uk/archive/in_memory_of_i_davies_2013.htm.
Rev Dewi Roberts (2013 - 2022)
Since 2016, Ystradgynlais has been part of the Ministry Area of the Upper Tawe Valley which consists of the churches of St Davids, Ystalyfera, St Cynog's, Ystradgynlais, St John the Baptist, Callwen, and Capel Colbren.
Rectors of Ystradgynlais old church
Thanks to Rev Dewi Roberts we have the following list of the Rectors, or Vicars, of Saint Cynog's Church, Ystradgynlais from 1490 until it was replaced with the new churh in 1861.

(Bolded names click through to their own webpage)

1490 - Thomas, Bishop's Chaplain.
1493 David ap Gwallter.
1514 Thomas ap Griffith.
1583 Lewis Thomas.
1601 John Llywelyn.
1634 Charles Herbert.
1666 John Collins.
1687 Richard Portrey.
1714 James Powel.
1739 James Portrey.
1742 John Seys.
1780 James Gough Awbrey.
1796 Fleming Gough
1835 Timothy Davies.
1846 Walter Jones Williams
1856 Dr Thomas Walters

The Rev Thomas Walters oversaw the construction of the new church in 1861, and continued to serve as Rector of Ystradgynlais until 1874.
Near the altar are memorial plaques to members of the Gough and Aubrey family, including one which mentions the Reverends James Gough Aubrey, and Rev Fleming Gough:-
Text from this includes:-

Also of the Revd Fleming Gough of Ynyscedwyn, brother of the above named () and Rector of the parish of Ystradgynlais for 35 years who died at Ynyscedwyn the 27th October 1839, aged 79
The "above named" is Richard Gough Aubrey, Esquire of Ynyscedwyn Manor who was nephew of Rev James Gough Aubrey. Richard Gogh Aubrey died January 26th 1803 [sic] aged 55 [?]
---
All copyright remains with the original copyright holder, and all original research is copyright Val Trevallion, YEARGroup and is put online as a free community project by Wolfian Design.
You can contact the Ystradgynlais and Ystalyfera History and Heritage websites by emailing: webdesign@wolfianpress.com
or Val Trevallion by emailing yeargroup@hotmail.co.uk.