Gurnos, Ystradgynlais
From the Spring 1949 edition of 'Y Gurnosydd' came a series of articles on the geography and geology of the local area. Included in this was a map of Gurnos, including the railway lines, and the position of Gurnos School (marked in red).
---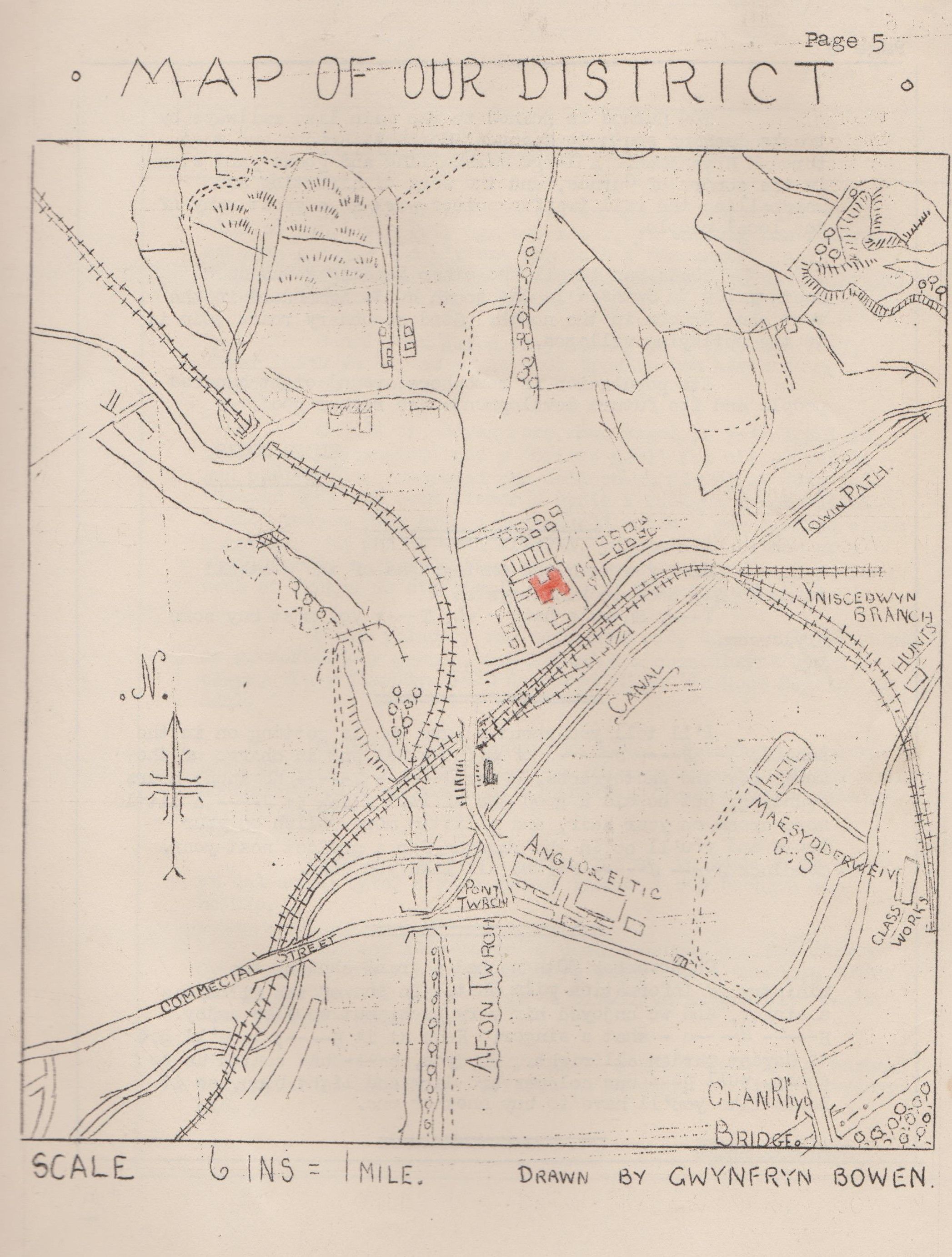 GEOGRAPHY OF GURNOS
Page 4

The position of Gurnos is three quarters of the way up the Swansea Valley where the river Twrch joins the River Tawe.
It is in a hollow place surrounded by mountains. On the east and south are the Drym and the Varteg mountains, between which a pass leads into Neath. On the west are the Alltygrug Mountains and the Palleg moor on the North between which a road leads to Ammanford and through which the Twrch flows to join the Tawe. The Palleg moor rises to the North East and the lower slopes are wooded.
The most common trees are the oak and alder together with ash, birch and hazel. Beech, chestnut, sycamore, elm and poplars have been planted on the Gough Estate which has the most fertile land in Gurnos. The locality stands almost on the northern edge of the anthracite coalfield.
The people of Gurnos do all sorts of jobs such as coal mining, farming, clock making and tinplate working. There are no longer any coal mines in the Gurnos and the miners work at neighbouring collieries but a clock factory has been built there and the people of Gurnos are beginning to learn a new trade.
Farming in the Gurnos is an important industry. It is mixed sheep and dairy farming providing the locality with milk and meat.
The Gurnos tinplate industry has declined but many of its people are still employed in nearby tinplate works. Together with all this the Gurnos has all the other various trades like shop keeping, building and other services. The Gurnos has good communications with other parts of South Wales by rail, road and telegraph. The canal once joined Swansea to the upper parts of the valley but this is no longer in use and has become clogged with rubbish.

Page 6

The Gurnos is joined with the mainline railways by tracks leading south to Swansea, north to Brecon and west through Brynamman. A large marshalling and goods yard stands in the centre of Gurnos and the work of directing and marshalling the rail traffic gives work to a great many of the local people.
Roads run to all the other leading towns in South Wales - to Swansea in the south-west, Ammanford in the west and Brecon in the North. Good secondary roads join it to the outlying villages.
Its population is somewhere around 800 people and its future developments are rather good.

Elgar Jones Form 4A