Tro'rgleien School, Cwmtwrch
Tro'rgleien Primary School was constructed in 1872 and closed on December 12th 1972.
---
First World War
The Labour Voice newspaper of 10th April 1915 included the mention that an ex teacher of the Cwmtwrch Schools had been assigned to a Royal Navy training ship as assistant master:-
OLD CWMTWRCH BOY

It is interesting to note that Mr D.T. Morgan, late of the George IV inn, has been appointed assistant-master on the Training Ship, "Exmouth" off Grays, Essex. Mr Morgan will have about 500 boys under his care. He was at one time a teacher at the Cwmtwrch Schools, where he was highly esteemed.
Head Teachers
From the South Wales Voice newspaper of Saturday 26th January 1935 came the news of the retirement presentation for the Headmistress of Tro'rgleien Infants School after 27 years service, Mrs Rachel Davies:-
Cwmtwrch Headmistress Honoured
Miss Rachel Davies Presented by Residents and Pupils

Gifts of a bookcase by the public and a silver tea service and a waiter by the staff and pupils, were made to Miss Rachel Davies, (Gwenynen Gwys), on Tuesday evening at a public presentation meeting held at the Welfare Hall, Upper Cmwtwrch, to mark her recent retirement as Headmistress of Tro'rgleien Infants School after 27 years service. There was a very large gathering which testifies to the esteem in which Miss Davies is held in the district. A feature of the event was that the presentation of behalf of the public was made by Mrs Thomas, aged 82, the oldest lady in Cwmtwrch.
Mr Lewis Williams, Chairman of the public presentation committee, presided and was supported by Mr William Edmonds, treasurer; Mr Willie Owen, secretary; Miss S G Evans, Ystradgynlais, the new Headmistress; Messrs D V Williams, Headmaster, Tro'rgleien; Charles Edwards, Headmaster Gurnos; John Thomas, Headmaster Ynyscedwyn; Emlyn Jones, Reverend W P Thomas, Gwilym Cynlais, Hywel Gwine, and Telorydd.
The Chairman paid a tribute to Miss Davies for the service given by her to the community and said that everyone was sorry the time had come for her to hand over the reins of office. The record she held was one of which she could be proud. They all welcomed Miss S G Evans, the new Headmistress to the district and wished her every success.

MIXED FEELINGS
Mr Charles Edwards said there were mixed feelings that evening; they were glad to see such a fine public tribute being paid to Miss Davies, and at the same time there was general regret of her retirement. It was evident that Miss Davies' services had been and were being valued by the large gathering present. Retirement meant the closing of a chapter in one's life, and that was always a sad things to do. But it afforded the ability and opportunity to look back upon the years with happy recollections: of duty well done, and what was more important the knowledge that one's efforts had been appreciated. Whoever had been responsible for choosing Miss Davies' bardic name, Gwenynen Gwys, had been endowed with a brain wave, for she was a veritable bee in her activities and she did full justice to the title. Although Miss Davies had given up her schoolwork, she would not be idle, for she had other centres of interest in which she could be very active for many years to come. The gifts would bring back happy memories of the years she had spent at school.

A LOYAL COLLLEAGUE
Mr John Thomas, Ystradgynlais, said that he had never worked with Miss Davies as a teacher but he had heard a great deal of her from teachers who had been with her. Everyone spoke of her loyalty as a colleague and that was one of the best ways to gain a knowledge of a person - to work with him or her. It was a sorry day in the history of a teacher when he or she bade farewell to the school and pupils that had become part of his or her daily life. He had known Miss Davies for many years through her work on behalf of the National Union of Teachers and found her a good worker.
The Reverend WP Thomas, Beulah, remarked that he had not known Miss Davies for many years but it was evident to him that she was highly esteemed in the district. He heard nothing but praise for her and her teaching methods. There were many present that evening who had attended school under Miss Davies, while their children were now pupils at the same school. The residents were to be congratulated on having paid a tribute to Miss Davies now, and had not delayed matters until it was too late. The tribute that was being paid to her was well-deserved.

PUBLIC PRESENTATION
There was a charming ceremony when Mrs Thomas, aged 82, the oldest resident of the village handed over the bookcase on behalf of the public with a neat speech.
Responding, Miss Davies referred to the great developments and improvements that had taken place in all directions during the years she had been at Cwmtwrch. She tried to do her best and was glad that her services were appreciated. Educational facilities were better now than they had been for years and that was proved by the results and successes attained.
Dealing with the advantages of education, Miss Davies said present day children had greater opportunities than their fathers. It was not so many years ago that boys who showed great promise had to work in the coalmines as their parents could not afford to give them higher education. It was the duty of parents to give their children the best education possible. She appealed to them not to send the boys to work in collieries if they could possibly afford it, but find them other and better positions.
Miss Davies thanked the parents for the confidence played in her and said she had always tried to justify that faith.

SCHOOL GIFT
Handing over the silver tea service on behalf of the staff and pupils of the school, Mr D Varteg Williams, Headmaster said his was not a pleasant task as it meant saying farewell to one with whom he had worked for many years. A feature of the work at the Cwmtwrch school was the co-operation that existed among the staffs of the mixed and infants schools. Miss Davies took a personal interest in her pupils and that was reflected in the success attained by them. The day on which children were passed up from the infants to the mixed departments was a memorable one to them, and it was noticeable that after their first day in the "big school" they always told their beloved Headmistress of their experiences.
Mrs M A Thomas handed over a silver tray and referred to the work done by Misss Davies in establishing clinics in the district. They would be monuments to her efforts on behalf of the mothers and children.
Bardic effusions were given by Hywel Gwine, Cadifor, Abram Wyn, Owain Gwys, Mair y Wern, Gwilym Morganwg, Gwilym Cynlais, and the Reverend W P Thomas.
The following took part in a miscellaneous programme: Miss Sal Evans, Cwmtwrch; Wynnie Griffiths, Veronica Williams, Mr William Pritchard, Betto Griffiths, Mr Telorydd Nicholas, Mrs M A Thomas, Mr J Penry Davies, JP, Mrs Mary Williams, and verses composed by Gwilym Morganwg and Master Ieuan Thomas were sung by Boles' Choir.
Mr Urie Williams sang "Hen Wlad fy Nhadau" to terminate the proceedings.

From The Voice newspaper of April 1st 1960 came the news of the death of Mr D. V. Williams, former headmaster, who was mentioned above in the 1935 article.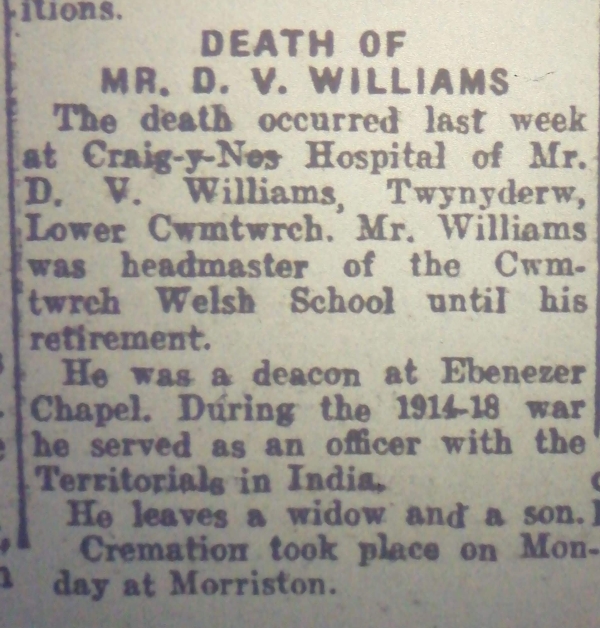 DEATH OF MR D V WILLIAMS

The death occurred last week at Craig-y-Nos Hospital of Mr D.V. Williams, Twynyderw, Lower Cwmtwrch. Mr Williams was headmaster of the Cwmtwrch Welsh School until his retirement.
He was a deacon at Ebenezer Chapel. During the 1914-18 war he served as an officer with the Territorials in India.
He leaves a widow and a son.
Cremation took place on Monday at Morriston.

On Saint David's Day 1967, we know that Tro'rgleien had both a Headmaster, Mr David Williams, and a Headmistress, Mrs Sal Evans. This probably represented a division between Junior (and potentially overall) and Infants, responsibility.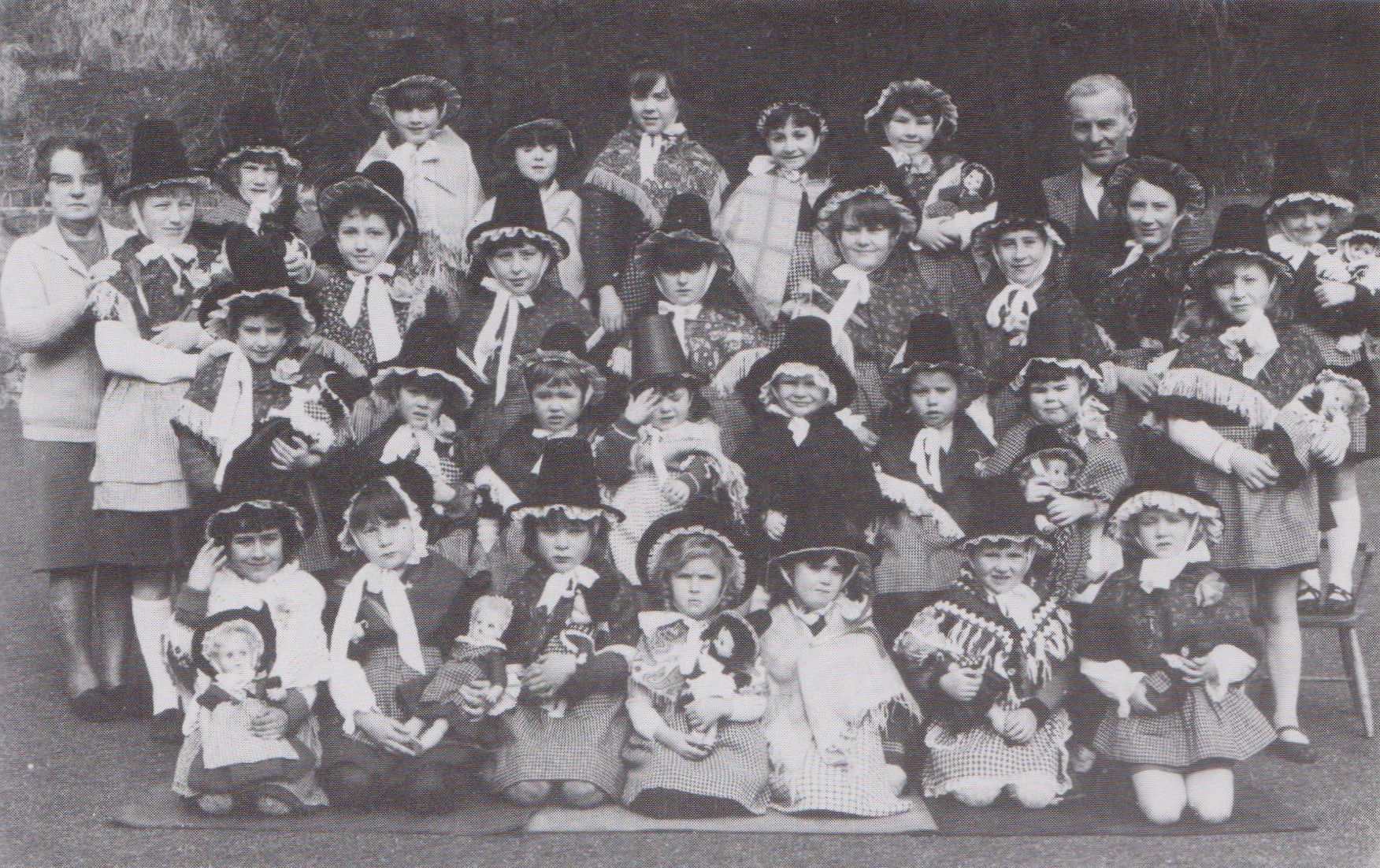 Location of Tro'rgleien School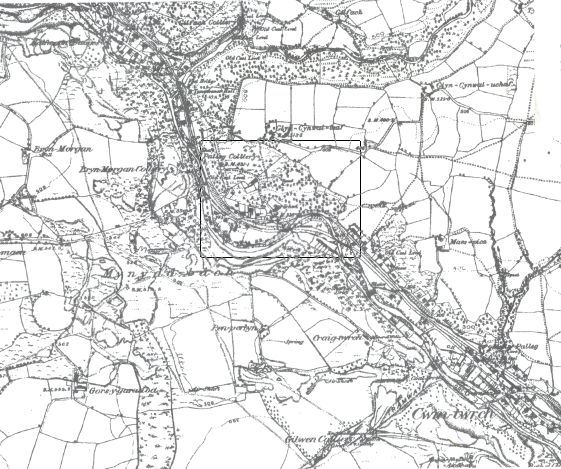 Tro'rgleien School was located at the upper end of Lower Cwmtwrch, off to the right where the road follows the river in a bend to the left. This can be seen within the marked-out rectangle on this 1891 map.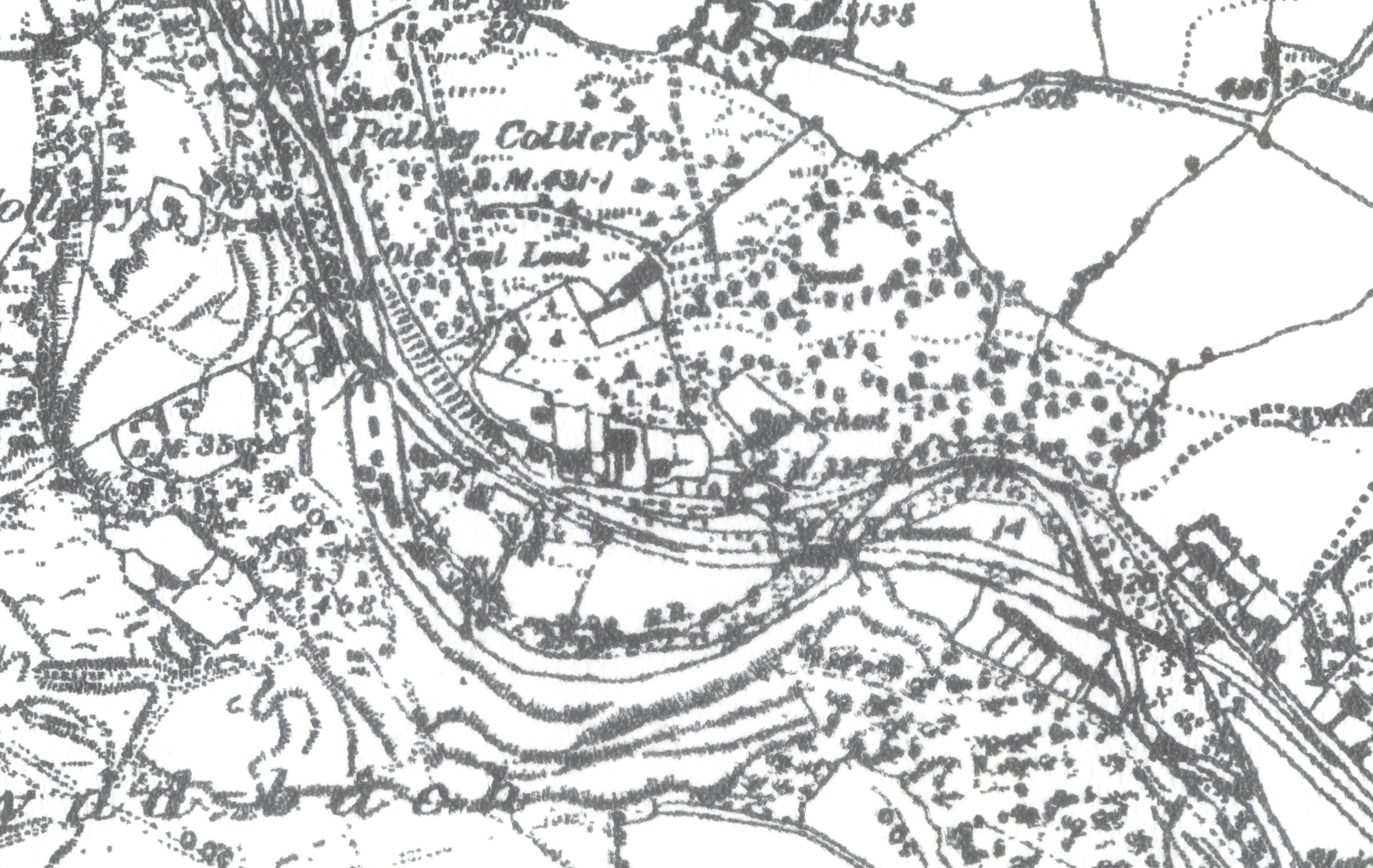 This zoom-in on the map shows Tro'rgleien School marked as "School".
A comparison below shows the school's location on the old map, and I have added it in lime green to the modern Google Map of the area. However, it appears to have been demolished within the last couple of years.