Howell and Hamilton Morgan
From a well-known Abercrave family, uncle and nephew Howell and Hamilton Morgan both served in the First World War. Using sources including the Llais we piece together their service, and look at the day that Hamilton Morgan landed his bomber on the Drum Mountain, to the great excitement of the locals. Alderman Morgan W Morgan was the brother of Howell, and the father of Hamilton.
Thank You to W. Stuart Davies for the photograph of the aircraft on the mountain, the photograph of Howell Morgan's Maxim Machine Gun company, and the photograph of H Company in India in 1916; also for information associated with each photograph.
Morgan W Morgan
Alderman Morgan W Morgan and his wife lived at Bryntawe, Abercrave, which is now The Copper Beech public house. As their son, Hamilton Morgan also of course lived there.
From the Llais 25th April 1914 came news of Alderman Morgan W Morgan's operation:-
We learn with regret of the illness of Alderman M W Morgan, J.P Bryntawe who has been suffering from a kidney complaint for some time which necessitated a serious operation at a Swansea Nursing Home on Monday. Latest reports to hand indicate that the Alderman is progressing as well as can be expected
From the Llais 2nd May 1914:-
ALDERMAN MORGAN'S OPERATION
It is gratifying to know that Ald. M W Morgan, J.P Bryntawe, who, as reported in "Llais Llafur" last week-end had to undergo an operation in Swansea, is progressing very well indeed, although it will be some time before he can return home.
From the Llais 23rd September 1916 we hear that Alderman and Mrs Morgan had been in a carriage accident, which is a reminder that this was still the common way to travel on the roads.
We greatly regret to hear of the accident that befell Alderman Morgan W Morgan (High sheriff of Breconshire) and Mrs Morgan Bryntawe, whilst paying a visit to their son Lieutenant Hamilton Morgan of the Brecknocks, stationed at Tenby. Whilst on their return journey last Monday they collided with a horse and trap on the Carmarthenshire Road and Mrs Morgan was thrown out and sustained a fractured arm. Mr Morgan and the rest of the party escaped with a severe shaking.
Howell Morgan
Howell Morgan and his wife took up residence at Maesycoed, Ystalyfera, in 1914. Before that he lived at Tymawr, Caehopkin.
From the Llais 18th July 1914 comes the last peace-time announcement regarding Howell Morgan, the brother of Alderman Morgan:-
Mr Howell Morgan, youngest son of Mrs Morgan Tymawr and a brother of Alderman M W Morgan JP will soon be leaving Abercrave to take up his residence at Maesycoed Ystalyfera.
From the Llais 25th March 1915 comes information on the deployment of Howell Morgan to Aden (now in Yemen)
News reached Ystalyfera on Wednesday of an exciting experience which befell three local officers who are now stationed in Aden. It appears that some weeks ago Capt. Woodliffe (Ystalyfera), Lieut. Howel Morgan Abercrave, and Lieut. Butcher went out for a day's pleasure on a little sailing boat. After they had been out some hours a gale sprung up, with the result that the sail was blown over board. They drifted about all night and until 8 o'clock next morning, when they were picked up by the police launch, which had been out three hours in search of them.

Howell Alfred Morgan ex-Tymawr Abercrave who lived at the now demolished Maesycoed, Ystalyfera. He was a captain in the Breconshire Battalion of the South Wales Borderers and in command of their Maxim machine gun troop. They saw action in Aden in 1914/15 and then moved to Mhow, Central India.
Thank You to W Stuart Davies for the photograph
From the Llais 12th August 1916 comes a news report that the children of the Sunday school of Tai'rgwaith Church, Gwauncaegurwen enjoyed a day out at Maesycoed, Ystalyfera, being entertained by Howell Morgan's wife and her helpers.
The Sunday school children, together with their mothers, of the Tai'rgwaith Church, Gwauncaegurwen, spent a very enjoyable afternoon last Thursday, when they were entertained to tea and games by Mrs Howell Morgan at Maesycoed, Ystalyfera. The children did ample justice to the piles of good things prepared for them, afterwards playing games with a zest only granted to the young. Races were held on the lawn the winners of which obtained prizes kindly given by Mrs Morgan. Before leaving the grounds for the train, Mr Stanton, Tai'rgwaith, proposed a hearty vote of thanks to Mrs Morgan and her helpers, and to the absent Lieut. H. A. Morgan (who is in India), for a most delightful afternoon. In a neat little speech Mrs Moore seconded the proposition which was carried accompanied by cheers for Lieut. and Mrs Morgan.
Rev. D S Williams, brother of Mrs Morgan and curate at Tai'rgwaith superintended the proceedings on behalf of Mrs Morgan.

H Company of the Brecknock Battalion, South Wales Borderers taken in Mhow, Central India in 1916.
There were eight companies in the Battalion which was a Territorial Battalion, and H Company drew men from Ystradgynlais, Brynamman and Seven Sisters. They saw action in Aden at the start of the war and then moved to India in 1915.
Thank You to W Stuart Davies for the photograph
From the Llais [?] 2nd August 1919 came this report on local sports, showing that both Howell and Hamilton Morgan survived the war with their health:-
Officials at Recreation Ground Captain Howel Morgan Maesycoed and Mr Hamilton Morgan Bryntawe. Sports were held under the auspices of the D and D S and S of the locality.
After this at the close Dr Watson and Mr M W Morgan presented each ex serviceman with a walking stick inscribed: "For Service in the Great War" Abercrave July 19th 1919
The South Wales Voice of December 3rd 1954 reports on the death and funeral of Mrs Jennie Morgan, wife of Captain Howell Morgan, J.P., who is listed amongst the mourners:-
MRS JENNIE MORGAN OF YSTALYFERA
CROWDS AT FUNERAL SERVICE

A large congregation attended the services at the funeral of Mrs Jennie Morgan, wife of Captain Howelll Morgan, J.P., of Maesycoed, Ystalyfera, who died on November 21st.
Burial took place on November 24th, at Abercrave Church after a service at Saint David's, Ystalyfera.
Ministers officiating were: Revs T W Davies, Vicar, Ystalyfera; W. J. Jones, Vicar, Abercrave; Walters James, Vicar, Pontardawe; H Roderick, Vicar, Morriston; D. L. Williams, Rector, Ystradgynlais; Bonsall Edwards, Vicar, Callwen; T Kelly, Curate, Ystalyfera.
Family mourners were: Captain Howell Morgan, J.P., husband; Captain and Mrs Morgan-Kilner, son-in-law and daughter; Mr William Williams, brother; Mrs H.O. Williams, sister-in-law; Messrs W.E. and J.L. Morgan, brothers-in-law; Mrs Elizabeth Smith, aunt; Mesdames D. D. Clee, M. Williams, M. Thorne, M. Morgan, Councillor A. E. E. Smith, cousins; Mrs L. Hopkins, Misses B. Morgan, S. Morgan, J. Morgan, G. Lewis, E. Lewis, Mrs Betty Evans, Mr and Mrs A. Mildon, Mr and Mrs Ashford Price, Mr and Mrs Sidney Lewis, Mr and Mrs M. James, Messrs Peter Morgan, David Rowlands, William Mildon (godsons, nieces, and nephews)...

---
Hamilton Morgan
Hamilton Morgan, son of Alderman Morgan W Morgan, and nephew of Howell Morgan, served in the Royal Flying Corps (later the Royal Air Force) in Egypt, France, and Italy during the First World War.
From the Llais 26th May 1917:-
On Leave - Alderman and Mrs M. Morgan, Bryntawe, were pleasantly surprised on Saturday to receive a flying visit from their only son, Second Lieutenant Hamilton Morgan, Royal Flying Corps. He has seen service in Egypt for some time, but expects to be sent to France shortly. He returned on Monday, but on reaching Croydon was informed that his leave had been extended to seven days.
From the Llais 14th May 1918
Flight Lieut W J Hamilton Morgan RAF eldest son of County Alderman Morgan W Morgan JP and Mrs Morgan Bryntawe Abercrave is confined to bed with illness at a hospital in a Riviera town. His squadron was drafted to Italy from France in October last at the beginning of the Austro German offensive.
From the Llais 8th June 1918:-
We are pleased to learn of the progress of Lieutenant Hamilton Morgan, son of Alderman and Mrs M W Morgan Bryntawe, who is lying in an Italian hospital suffering from the effects of poisoning. Seven other officers were also victims.
From the Llais 29th June 1918:-
Flight Lieutenant Hamilton Morgan Bryntawe is home from Italy where he has been in hospital for some time. He has now gone to Llandrindod to recuperate.
From the Llais 3rd August 1918 came the story of Hamilton Morgan's landing his aeroplane on the Drum Mountain, Ystradgynlais:-
Great excitement prevailed in the vicinity on Sunday last when an aeroplane, piloted by Flight Lieutenant Hamilton Morgan son of Alderman and Mrs M W Morgan Bryntawe, appeared. His visit was not a long one and he returned to Shrewsbury via Llandrindod, where he alighted.

On Tuesday the aeroplane appeared again but this time descended on the mountain slope near Bryn Oer. As soon as the news spread, hundreds of spectators appeared on the scene, some bringing lunch, making it quite a picnic. Lieutenant Morgan and his friend the observer lunched at his home and returned in about two hours time. Several snapshots were taken before its departure. We are given to understand that another visit is expected in the near future.

All eyes at Ystalyfera were turned skywards on Tuesday, when Lieutenant Hamilton Morgan, Abercrave made some flights over the place. Pantteg people vowed that the machine came as far as Pantteg, and no further, whilst some men on Tirbach Colliery were equally certain that the aeroplane turned round over the Swan Bridge! The graceful movements of the plane caused many to remark that if they had the opportunity they would fly too! One old lady said she would go up if the airman promised to do nothing but fly respectably, and undertook not to loop the loop.

(Lieutenant Morgan was an old Ystradgynlais county schoolboy and was the first British airman to cross the Austrian lines in Italy)
From the Llais 17th August 1918:-
Hundreds of people gathered together on the mountain above Gwaunclawdd Colliery on Saturday to witness another aeroplane flight. Flight Lieutenant Hamilton Morgan, son of Alderman and Mrs Morgan Bryntawe, was the pilot. After having lunched at his home he returned back to Shrewsbury. The crowd of onlookers were greatly interested in the manoeuvering, more so because Lieutenant Morgan is an Abercrave boy and the only competent airman in the place.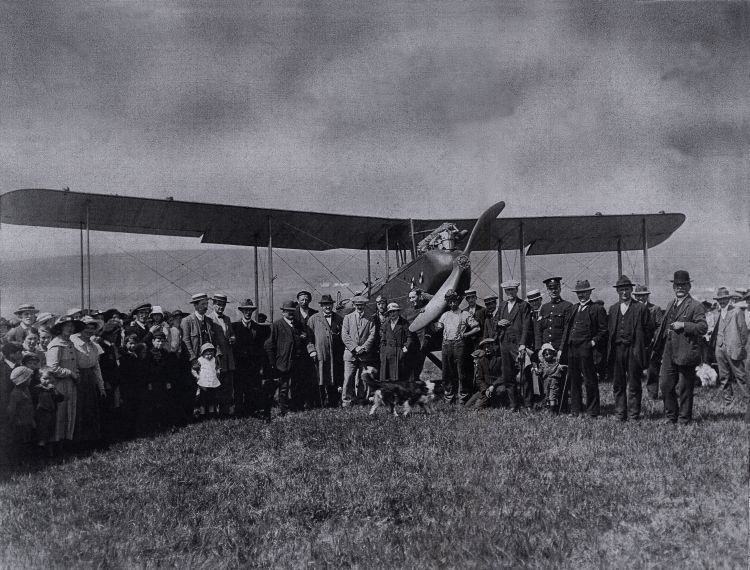 Hamilton Morgan with his DH6 bomber on the Drum Mountain, Ystradgynlais, above Caehopkin.
He is standing in front of the fuselage, just behind his sister. His bomb aimer/assistant is the one with his hand on the propeller.
Thank you to W Stuart Davies for the photograph