W.J. Thomas
Headmaster of Cynlais School
W.J. Thomas passed away in March 1946 at the age of 83 and in his obituary it stated "For nearly 45 years, Mr Thomas had been headmaster, first of the old Oddfellows street School, and later of the new Cynlais School". Logically, this would place him before the others in the list, even though he was not the first to pass away.
From the South Wales Voice 23rd March 1946:-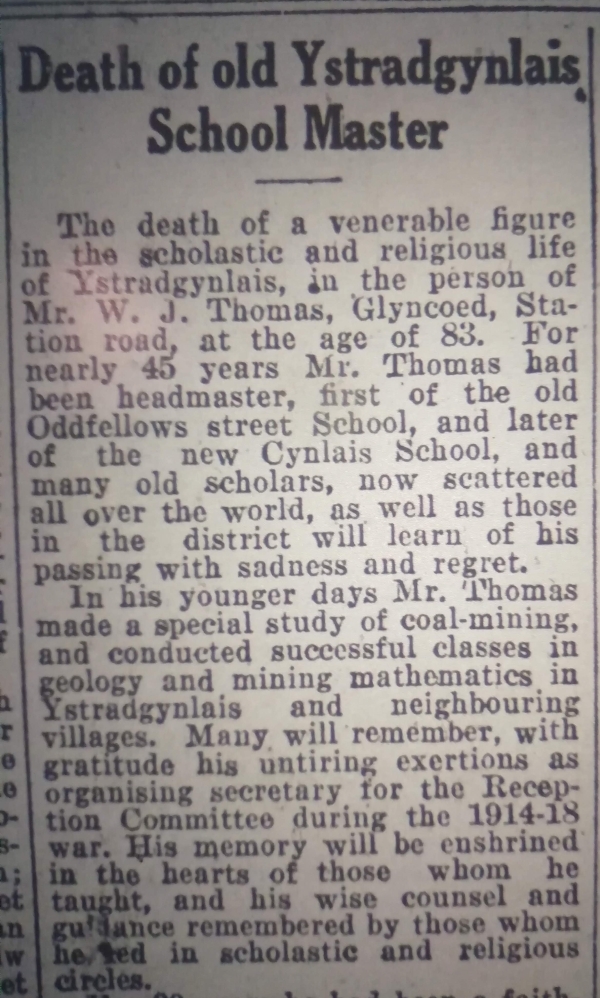 DEATH OF OLD YSTRADGYNLAIS SCHOOL MASTER

The death of a venerable figure in the scholastic and religious life of Ystradgynlais, in the person of Mr W.J. Thomas, Glyncoed, Station Road, at the age of 83. For nearly 45 years, Mr Thomas had been headmaster, first of the old Oddfellows street School, and later of the new Cynlais School, and many old scholars, now scattered all over the world, as well as those in the district, will learn of his passing with sadness and regret.
In his younger days, Mr Thomas made a special study of coal-mining, and conducted successful classes in geology and mining mathematics in Ystradgynlais and neighbouring villages. Many will remember with gratitude his untiring exertions as organising secretary for the Reception Committee during the 1914-18 war. His memory will be enshrined in the hearts of those whom he taught, and his wise counsel and guidance remembered by those whom he led in scholastic and religious circles.
For 30 years he had been a faithful deacon at Tabernacle Chapel; the treasurer for 17 years, and treasurer for seven years. He also filled the offices of president and statistical secretary of Henaduriaeth Gorllewin Morganwg.
The funeral took place on Monday, the burial being at Carmel burial ground, Pentredwr, Llansamlet, his parents' burial place. Ministers officiating were: Revs R. Beynon, Abercrave; D.R. Beynon, Ystalyfera; W.P. Jones, Cwmtwrch; Glyndwr Jones, Penrhos; W Nantlais Williams, Ammanford; D. Emlyn Rowlands, Llansamlet. Also present were Revs D.L. Williams, rector, and Bonsall Edwards.
Mourners: Mrs A. Thomas, widow; Mrs Davies, Llanelli, sister-in-law; Mr W. Rees, Swansea, brother-in-law; Mr Tudor Rees, Swansea; Mr Trevor Rees, Cardiff; M and Mrs Silas Morris, Mr John Morris, Llanelli; Rev T.S. Bowen, Mathry, Mr W.H. Bowen, Llanelli, Mr and Mrs Anthony Pugh, Mrs John, Gorlas, nephews and nieces; Rev and Mrs John Beynon, Mr and Mrs Rees Williams, Mrs T. Lewis, Mrs Howells, mrs T. Williams, Llansamlet, Mr T. Sims, Mr Henry Beddoe, cousins.
The bearers were Messrs M.E. Davies, C.L. Edwards, J. Morgan, J.R. Evans, J.H. Evans, T.T. Rees, J. Thomas, E. Williams.
Also present: Rev R.M. Harries, Mr Rhys Powell, Mrs J.H, Evans, Mrs T.T. Rees, Mrs H. Owen, Mr H.J. Powell, Mrs J. Thomas, Mr W.J. Thomas, Mr G.R(?). Jones, Mr D Jeffreys, Mr T Jones, J Davies, W Lake, G Jones, G Powell, H Walters, C George, Mrs E Jones, Mrs S Lake, Miss J Morgan.
The funeral arrangements were by Gomer D. Lodwick.
Floral tributes were from his sorrowing wife, Agnes; Bill, Diana and Gwyneth; Trevor, Lil and Leighton; Tudor and Marian; Rachel, Mary, Silas and John; Parch John and Mrs E.R. Beynon, and Winnie; Mr and Mrs John Morgan, Glynderwen; Mr and Mrs J.H. Evans, Ystradfawr; Mr and Mrs T.T. Rees, Ardwyn; Charles and Edith Edwards, Neuadd Wen; Mr and Mrs Hopkyn Owen, Arddol; Mr and Mrs Thomas, Haulfryn; Eglwys y Tabernacle; neighbours, Station Road; Sal, Gwennie, and Dilys; Cwmtawe Teachers' Association.