Tabernacl, Ystradgynlais
Tabernacl Calvinistic Methodist Chapel is on Commercial Street, Ystradgynlais, and was constructed in 1890.
---
Tabernacl Ystradgynlais began as an offshoot of Yorath Chapel, Cwmgiedd in order to deal with the growing population of the area. While it was being constructed, the congregation met in what had been a private house in Gough Buildings (now Rhestr Fawr) and was then styled as Adulam Vestry, neighbouring The Star public house. Adulam Vestry was able to register births, and remained open for a short while after Tabernacl got going, but then closed and reverted to being a private house.

---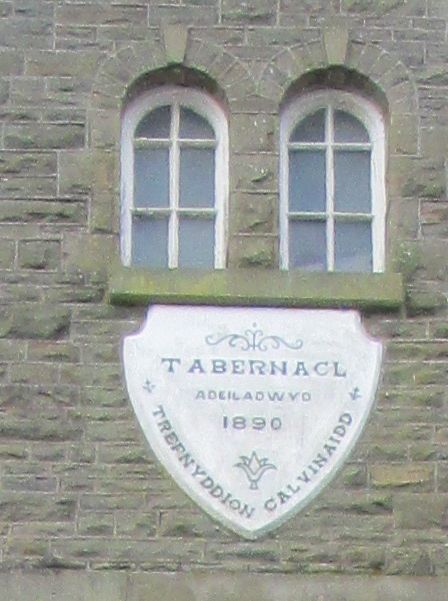 A committee was formed in 1890 to engage an architect and the foundation stone of Tabernacl Calvinistic Methodist Chapel was laid by Mrs Fleming Gough.

---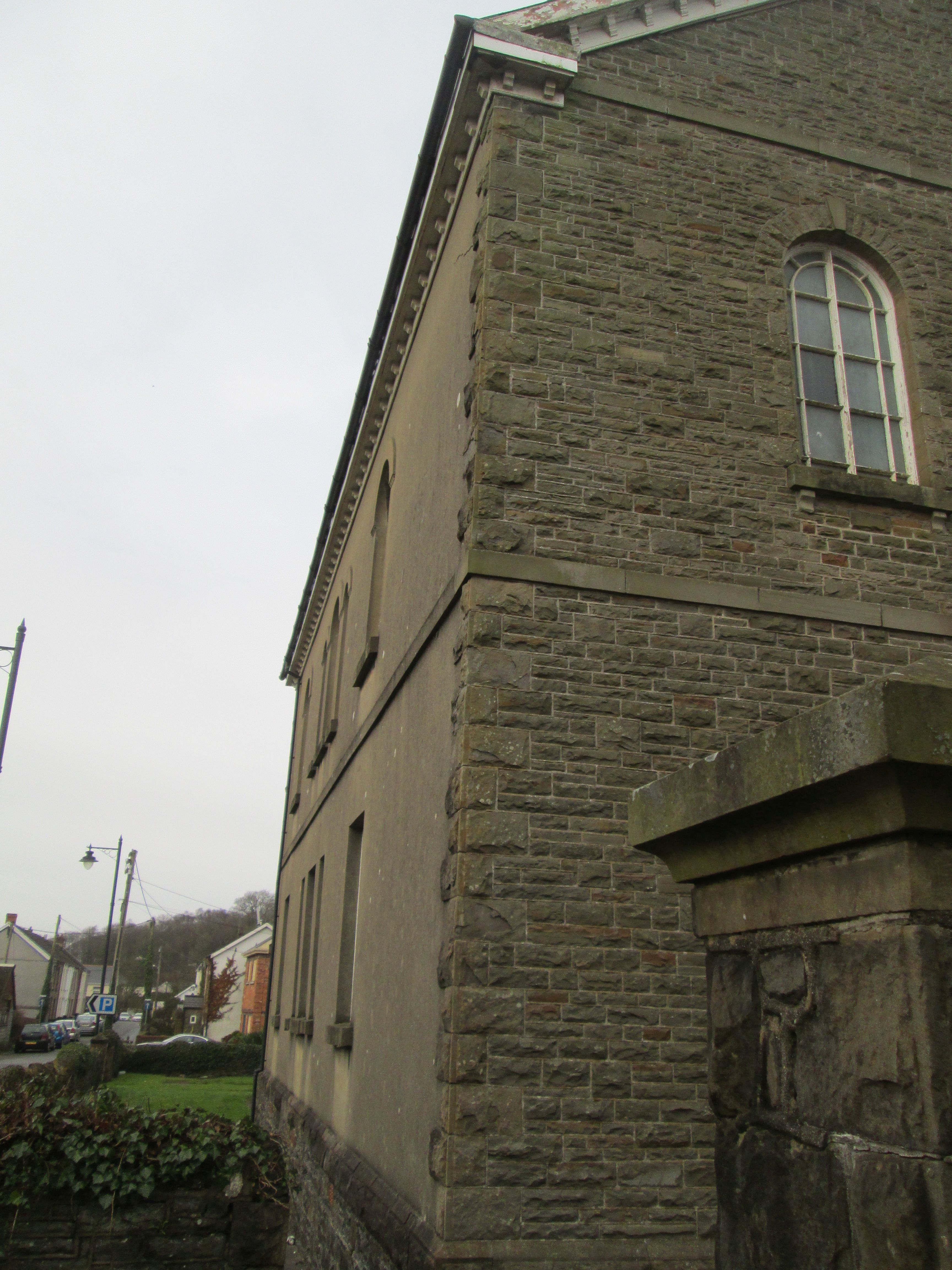 Tabernacl Chapel is on the corner of Commercial Street and Heol Maes-y-Dre, Ystradgynlais.

---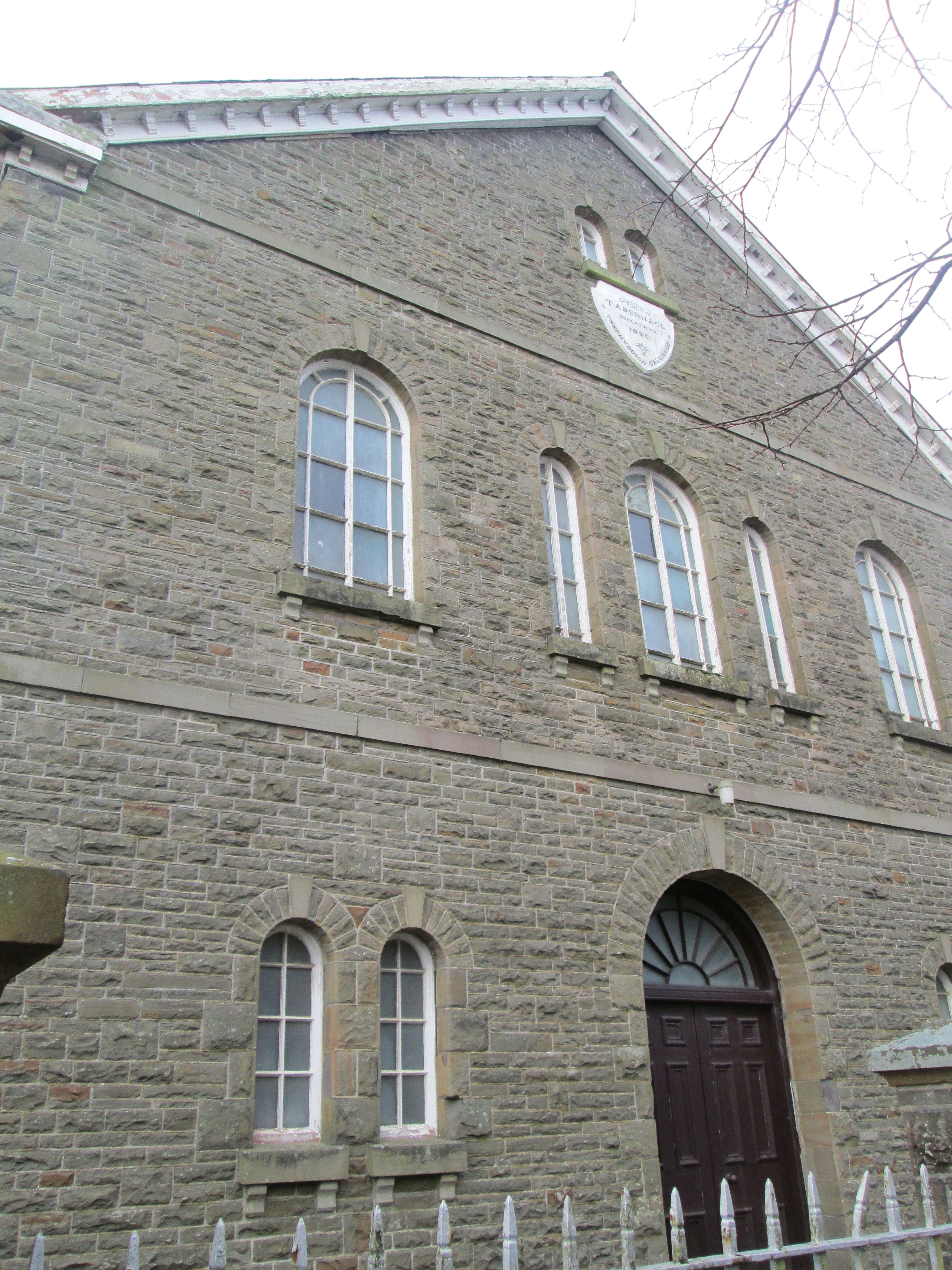 A sideways view along the front
---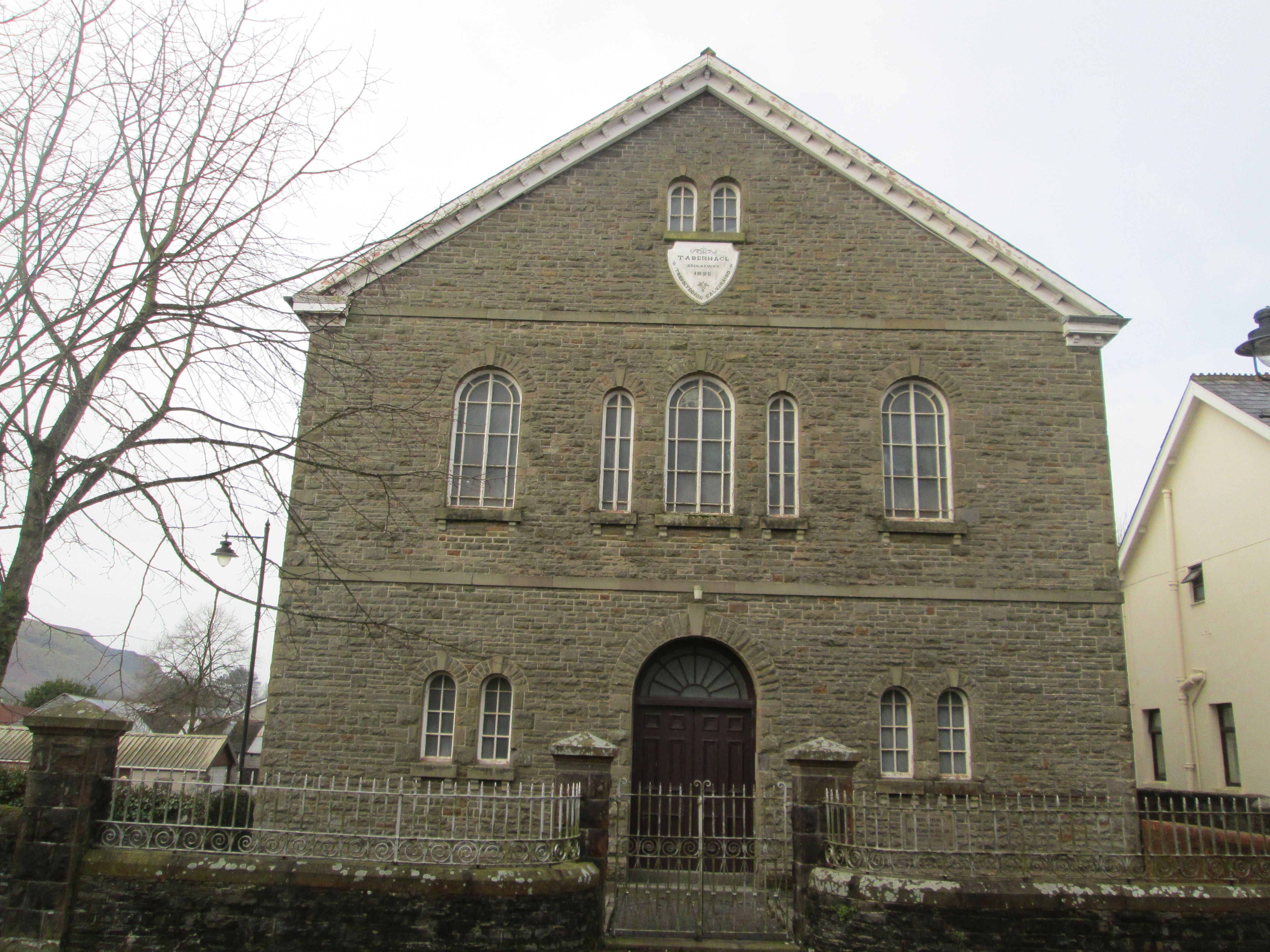 A frontal view of Tabernacl
---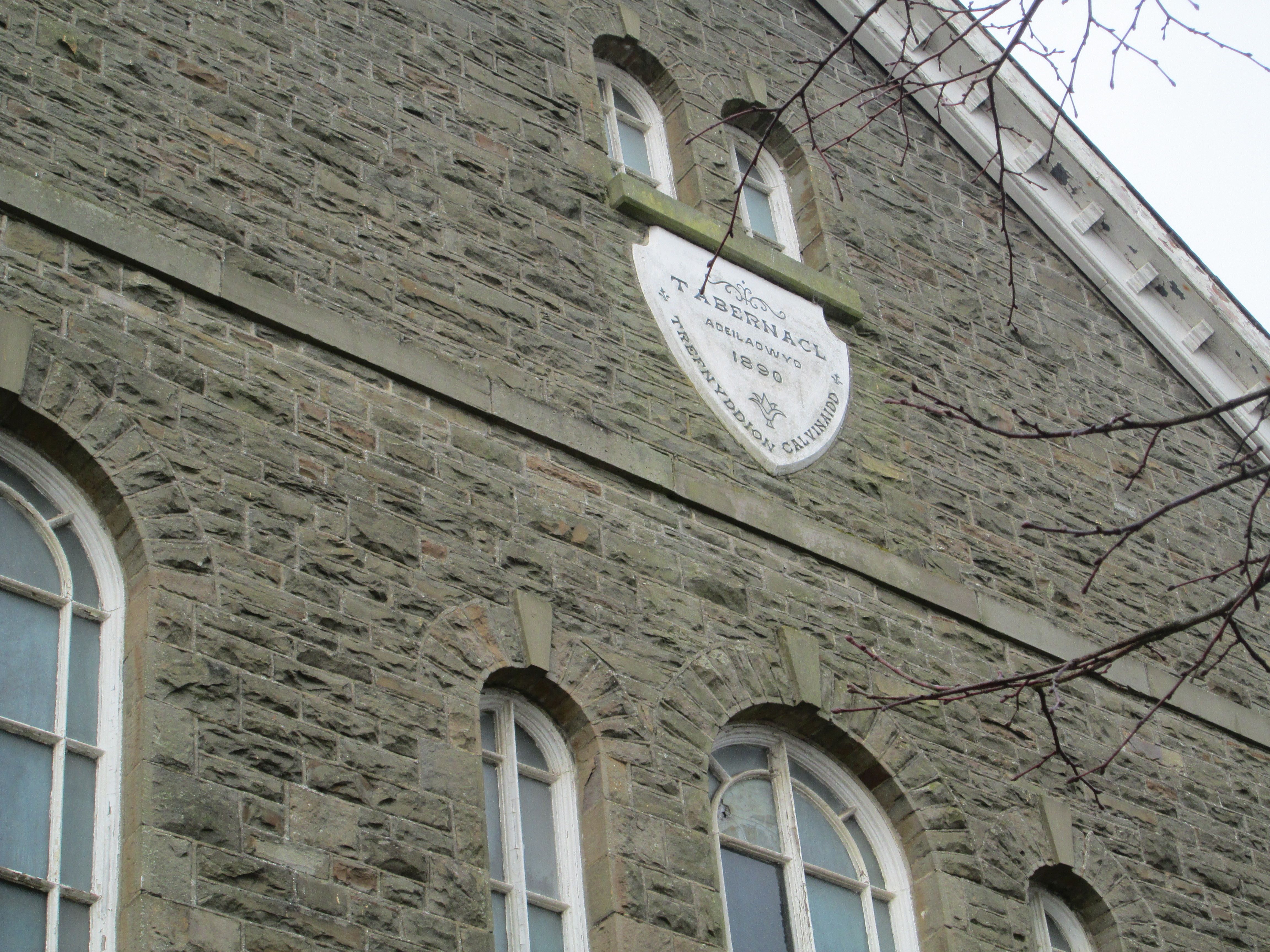 An alongside view focused on the date stone
---
Rear Views of Tabernacl Chapel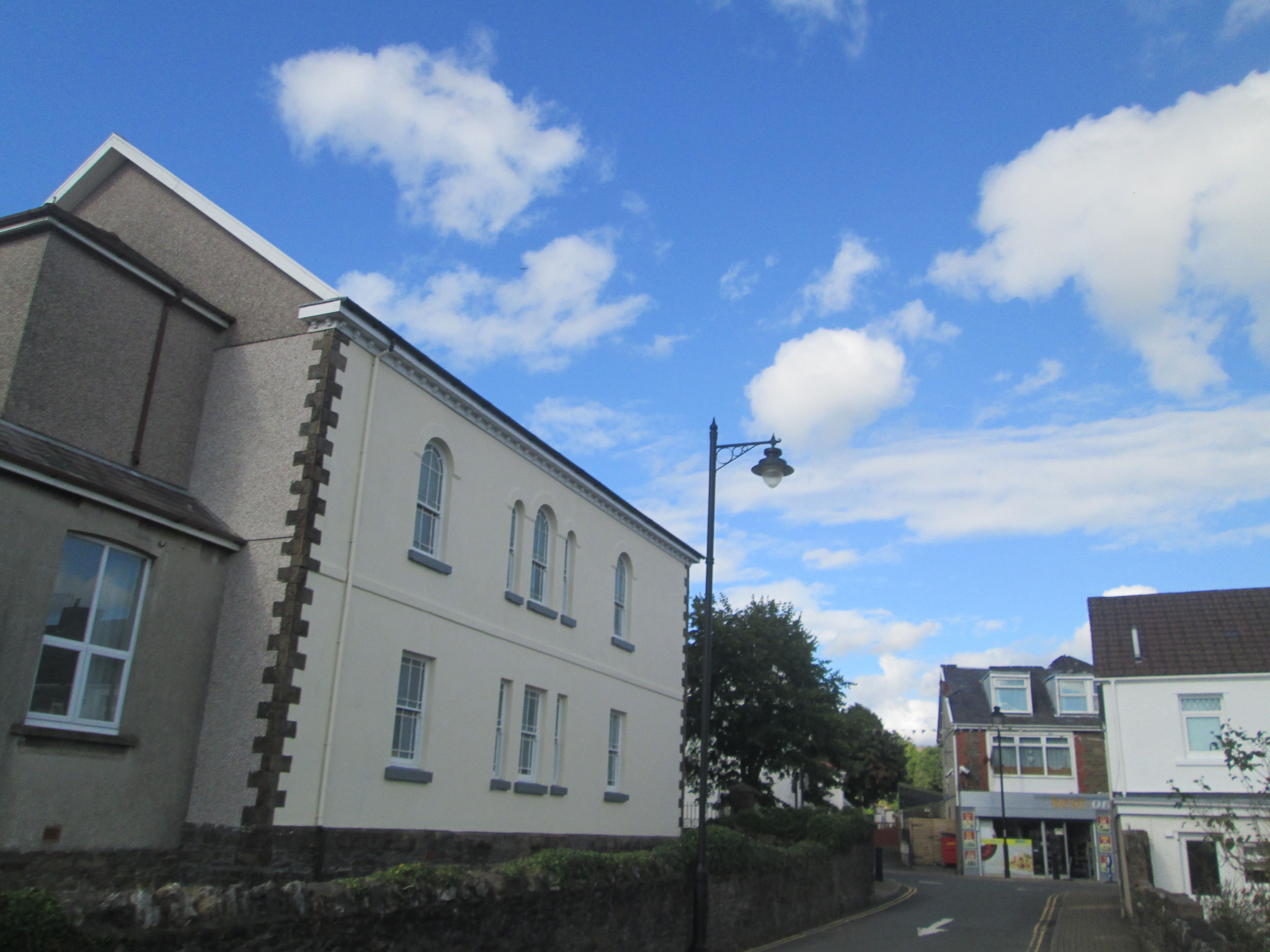 Tabernacl Chapel on Commercial Street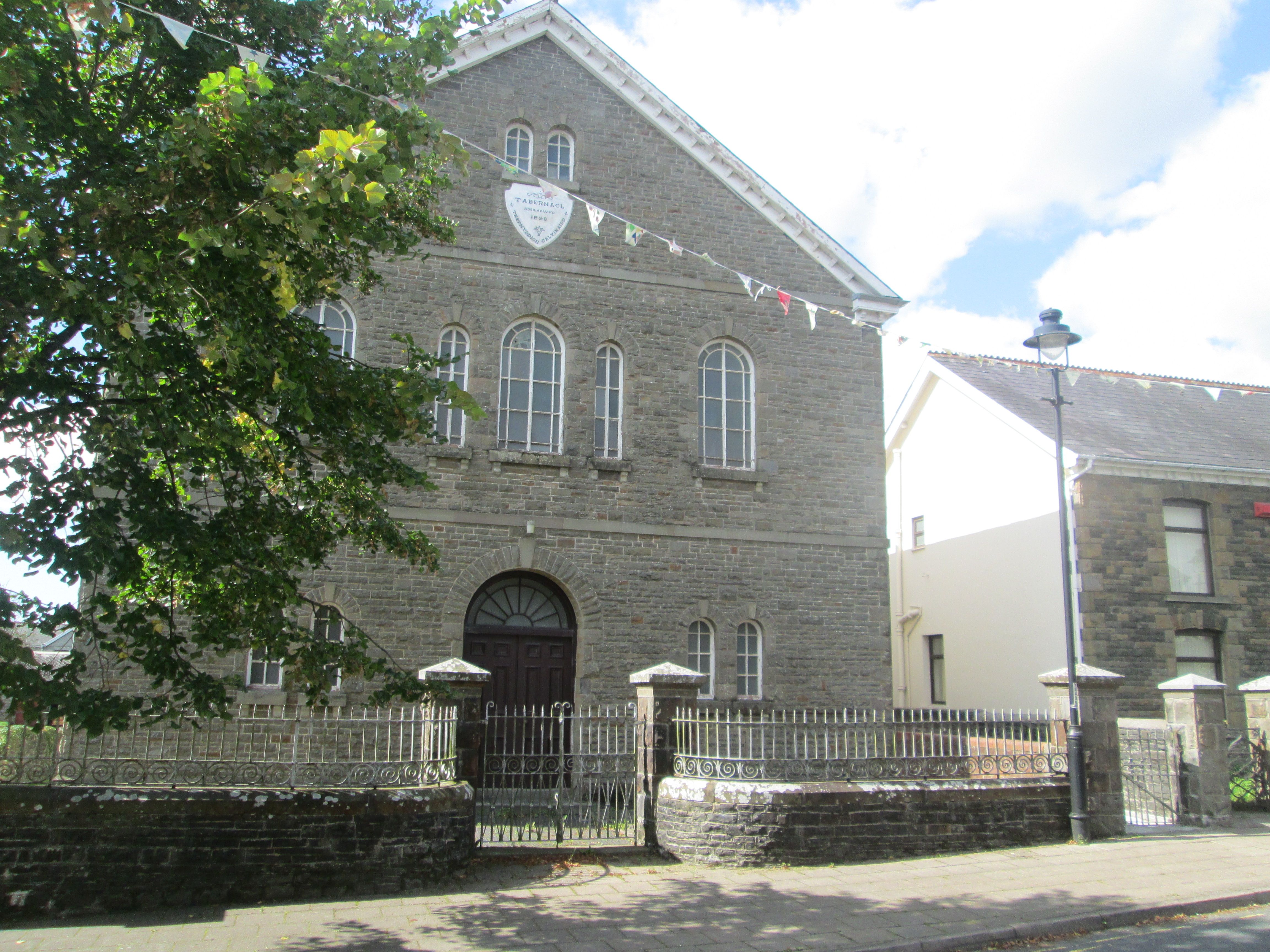 The rear view photographs (first set of 3) show the Tabernacl as viewed from Heol Maes-y-Dre. The front view photographs (second set of 3) show the Tabernacl upon Commercial Street, Ystradgynlais. The building next door to it, on the viewer's right, used to be the manse, but is now a house.
Foundation Stone
Unlike most chapels in the area, such as English Congregational Chapel, Ystradgynlais or Bethania Chapel, Cwmtwrch, Tabernacl has only a single foundation stone set into its front. Probably this is because the person involved was THE local landowner, and it was not thought appropriate that other people should be invited to do the job alongside him.
Ministers of Tabernacl, Ystradgynlais
From the following article, we learn that the Rev Isaac Morris took charge of Tabernacl, Ystradgynlais, after the church had been without a minster since the death of Rev J. Emlyn Jones in August 1923.
From the South Wales Voice 15th March 1930:-
From the following article, we learn that the Rev Gwynfryn Lloyd Davies was inducted as minister of Tabernacl in May 1957. The article also names his predecessor, Rev. W. Gray Edwards, who had left the previous year.
From The Voice newspaper, May 10th 1957:-
YSTRADGYNLAIS
NEW MINISTER INDUCTED

The Tabernacle Chapel, Ystradgynlais, was full to capacity on Tuesday evening when a service was held to induct the Rev Gwynfryn Lloyd Davies, Caerwys, Denbighshire, as minister in succession to the Rev W. Gray Edwards, who left last year to be minister at Bootle, Liverpool.
The new minister is a young man, and his first ministry was at Caerwys, where he spent four years.
He was introduced on behalf of the presbytery of Dyffryn Clwyd by the Rev J.H. Griffiths, M.A., Denbighshire, who spoke in glowing terms of the work done by the Rev Davies at Caerwys.
The Rev Hywel Jones, B.A., spoke on behalf of the district of Dyffryn and Mr Gwilym Mathews, M.B.E., J.P., spoke on behalf of Caerwys, Ddel and Afonwen.
The ceremony was conducted by the president of the West Glamorgan Presbytery, the Rev Phillip K. Evans. The history of the calling of the minister was given by Mr John Thomas, deacon and secretary of Tabernacle Chapel.
Others who took part were the Rev J.R. Hughes, Cwmtwrch, and the Rev. E. Dewi Davies, of Yorath and Moriah, Ystradgynlais. Many members of the three churches in Caerwys had travelled down from North Wales to be present at the service and to wish the new minister and Mrs Davies every success in their new life at Ystradgynlais.
Organists of Tabernacl, Ystradgynlais
The Voice newspaper for January 18th 1968 records forty years service for the organist of Tabernacle (sic) Chapel, Ystradgynlais:-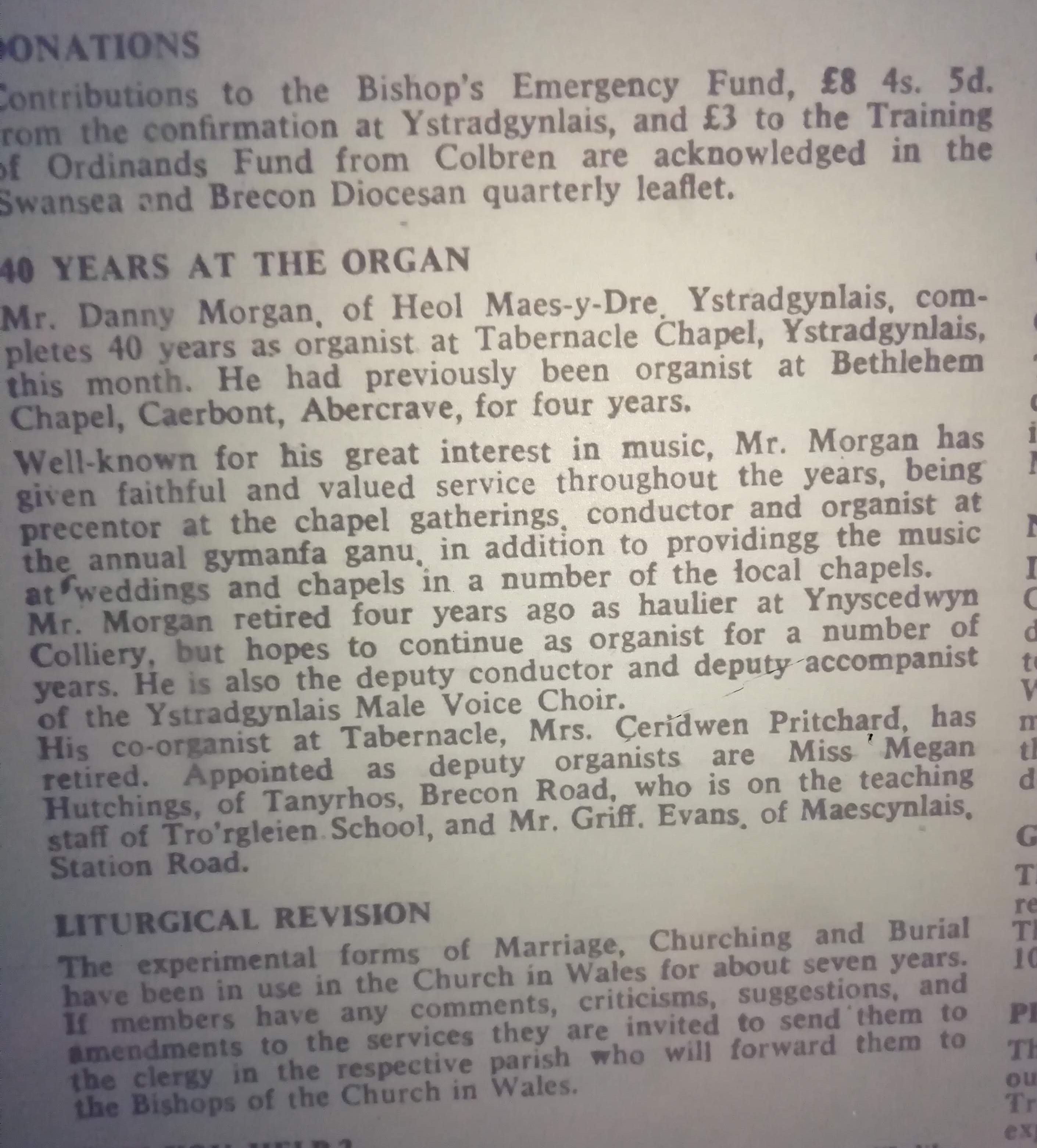 40 YEARS AT THE ORGAN

Mr Danny Morgan, of Heol Maes-y-Dre, Ystradgynlais, completes 40 years as organist at Tabernacle Chapel, Ystradgynlais, this month. He had previously been organist at Bethlehem Chapel, Caerbont, Abercrave, for four years.
Well-known for his great interest in music, Mr Morgan has given faithful and valued service throughout the years, being precentor at the chapel gatherings, conductor and organist at the annual gymanfa ganu, in addition to providing the music at weddings and chapels in a number of the local chapels.
Mr Morgan retired four years ago as haulier at Ynyscedwyn Colliery, but hopes to continue as oeganist for a number of years. He is also the deputy conductor and deputy accompanist of the Ystradgynlais Male Voice Choir.
His co-organist at Tabernacle, Mrs Ceridwen Pritchard, has retired. Appointed as deputy organists are Miss Megan Hutchings of Tanyrhos, Brecon Road, who is on the teaching staff of Tro'rgeleien School, and Mr Griff Evans, of Maescynlais, Station Road.

The former Organist of Tabernacl, Mrs Sarah Ceridwen Pritchard, mentioned above in the 1968 newspaper article, is buried in Carmel Cemetery, Abercrave along with her husband Thomas, who predeceased her by three decades and was the organist at Moriah Chapel, presumably the one in Penrhos, Ystradgynlais. As a note, a funeral held at Carmel in 1944, for Evan Jones, a deacon of Moriah, Penrhos, had as both a pallbearer and the organist for the funeral an Aneurin Pritchard.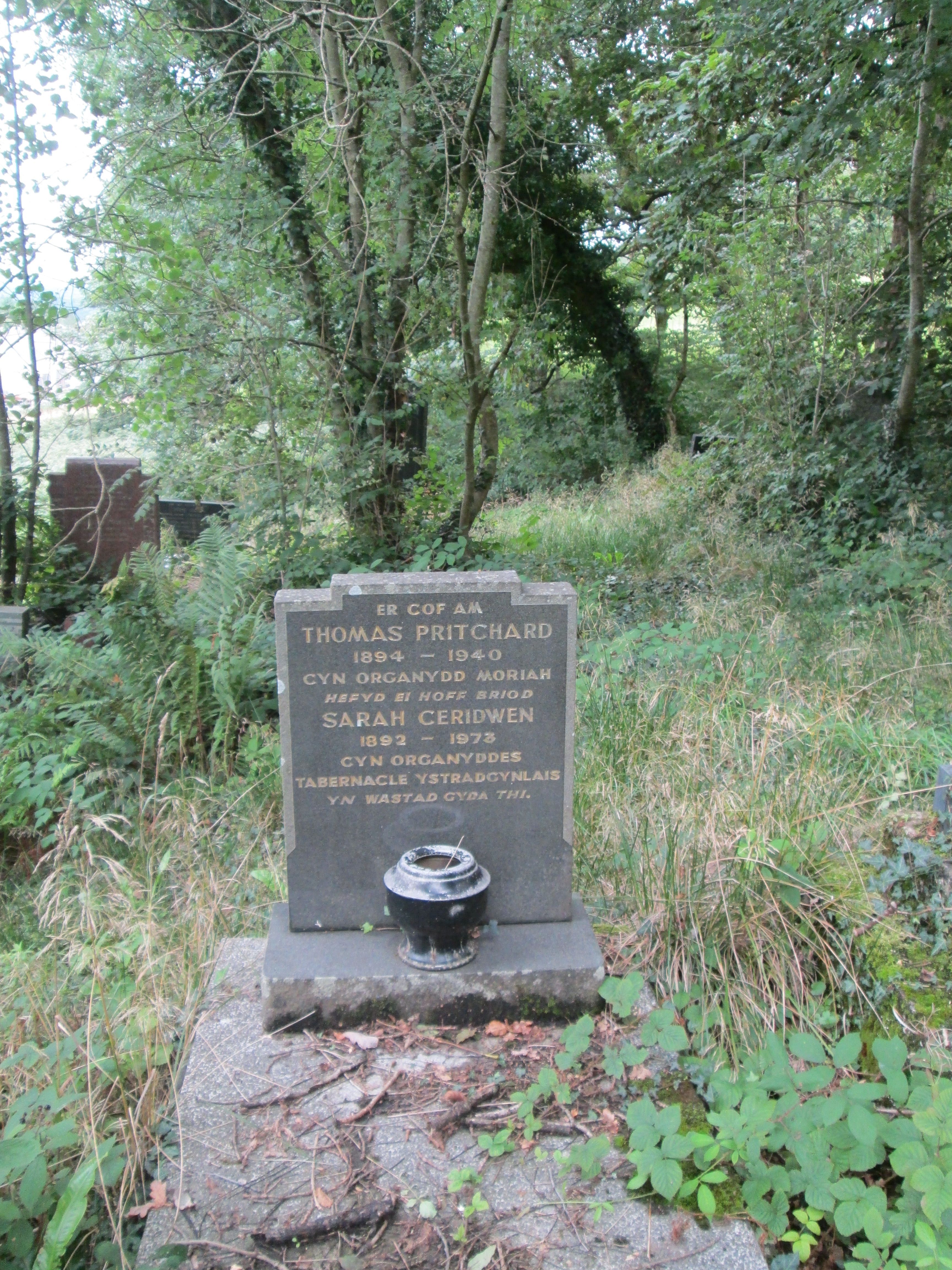 Sarah Ceridwen Pritchard was born in 1892 and died in 1973. The gravestone reads as follows ('her favorite spouse' should be read as 'his beloved wife') :-

---
From the Llais
The Llais newspaper had always included a round-up of happenings at local churches and chapels, even when these were not part of any particular story. Sometimes they advertised forthcoming events, and at other times who was preaching, or had preached there recently.
The South Wales Voice 24th March 1951 records the annual singing festival held at Tabernacl Chapel:-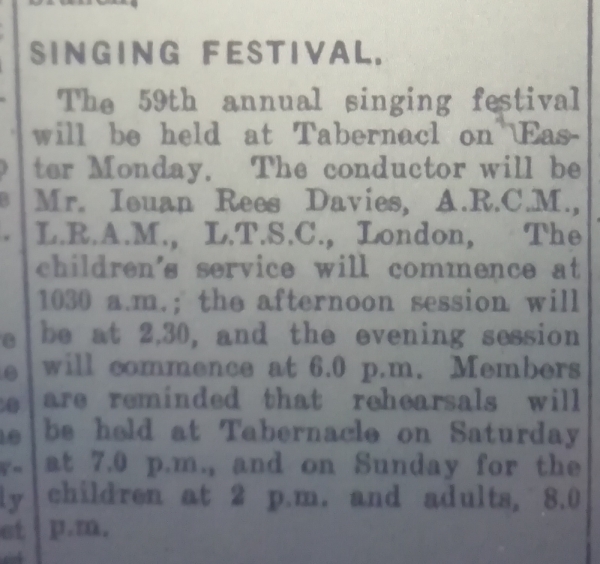 SINGING FESTIVAL

The 59th annual singing festival will be held at Tabernacl on Easter Monday. The conductor will be Mr Ieuan Rees Davies, A.R.C.M., L.R.A.M., L.T.S.C., London. The children's service will commence at 10:30am; the afternoon session will commence at 6pm. Members are reminded that rehearsals will be held at Tabernacle on Saturday at 7pm, and on Sunday for the children at 2pm and adults at 8pm.
---
Capel Tabernacl Ystradgynlais holds regular services and can be connected with on Facebook at https://www.facebook.com/pages/category/Church/Capel-Tabernacl-Ystradgynlais-287136091867403/.