Ystradgynlais Street Names
One source of confusion for people studying the history of Ystradgynlais and district is that some of the street names have changed significantly from those used earlier in the century. In addition, when new streets were created, the question can be asked: Where did these street names come from?
New Street Names 1947
This article from the South Wales Voice newspaper September 20th 1947 explains how three of the street names in the new Gurnos estate have been named after prominent local residents:-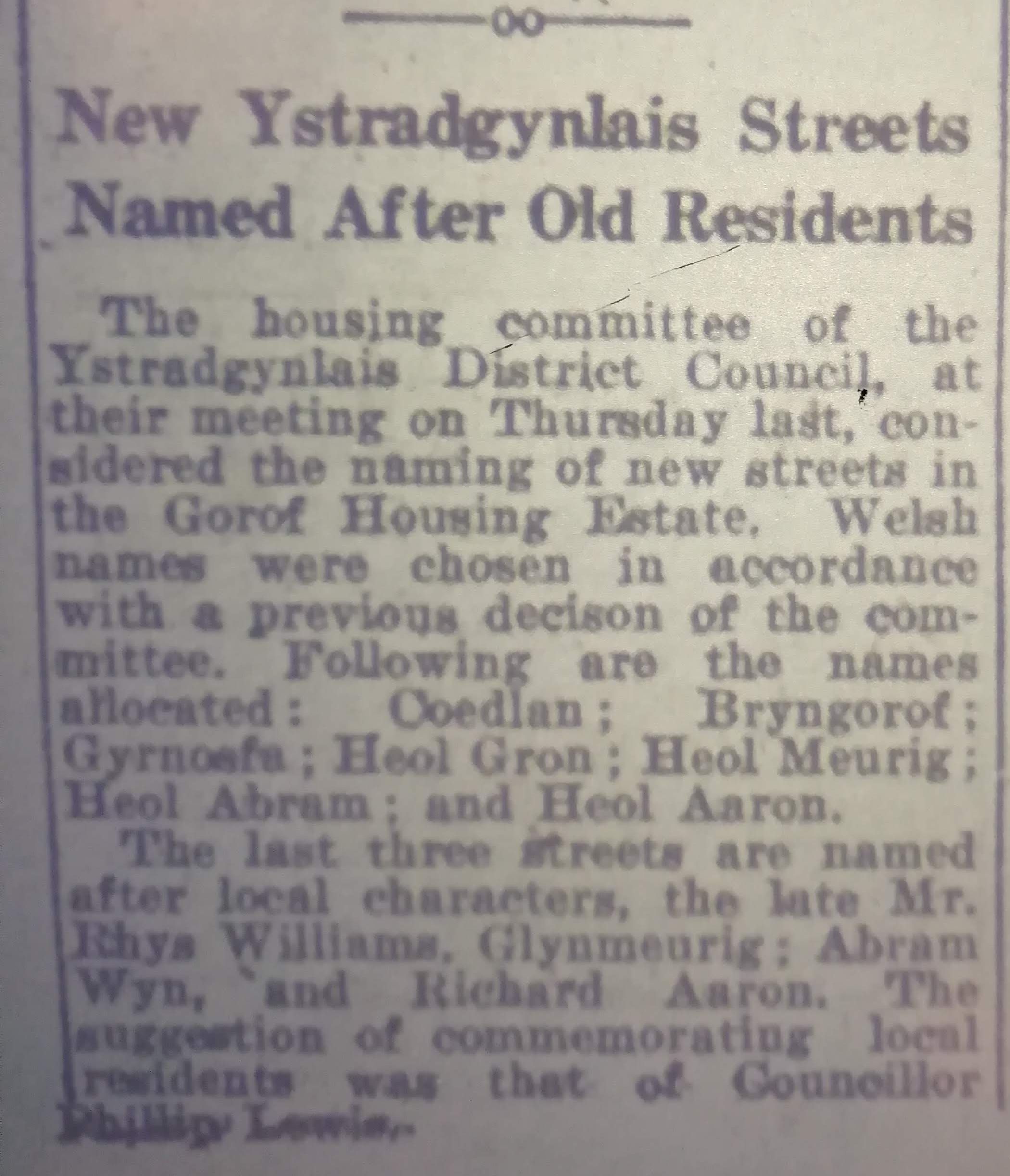 NEW YSTRADGYNLAIS STREETS NAMED AFTER OLD RESIDENTS

The housing committee of the Ystradgynlais District Council, at their meeting on Thursday last, considered the naming of new streets in the Gorof Housing Estate. Welsh names were chosen in accordance with a previous decision of the committee. Following are the names allocated: Coedlan; Bryngorof; Gyrnosfa; Heol Gron; Heol Meurig; Heol Abram; and Heol Aaron The last three streets are named after local characters, the late Mr Rhys Williams, Glynmeurig; Abram Wyn, and Richard Aaron. The suggestion of commemorating local residents was that of Councillor Phillip Lewis.
Street Names Changed 1964
This article from The Voice newspaper, April 3rd 1964, explains how Heol Eglwys and Heol Maes-y-Dre got their names.
THE STREET THAT HAD SEVEN NAMES GETS ONE

Street names were discussed - and changed - at a meeting of Ystradgynlais Rural Council.
The main street near Ystradgynlais Parish Church was said to have seven different names. The council has now officially renamed it Heol Eglwys (Church Road).
The council also decided that premises at Smithfield, Glanley Street, and Glanley Terrace be re-numbered and given one name - Heol Maes-y-dre - and changed the name of the street known as Old Council Houses, Colbren, to Heol Eglwys.
But the first suggestion, from Colbren member Mr John Davies, was that it should be renamed Church Road.
Mr B L Williams: "I would prefer Mr Davies to call it HeolEglwys. Why use an English name when you are living in a Welsh area?"
Mr Davies: "I am prepared to agree to that - either name sounds better than Old Council Houses."


An interesting aspect is that one of the alternative names for what is now Heol Eglwys was probably Brecon Road, as a continuation of the road name from the other side of the Cross.