Bethel Chapel, Cwmtwrch, Ystradgynlais
When Bethel Chapel was built it was within the parish of Llangiwg, before the creation of the separate parish for Ystalyfera, but only yards away from the parish boundary of Ystradgynlais. Geographically it was within the boundaries of Breconshire, and is now part of Powys, hence its being located within Ystradgynlais History, rather than Ystalyfera History.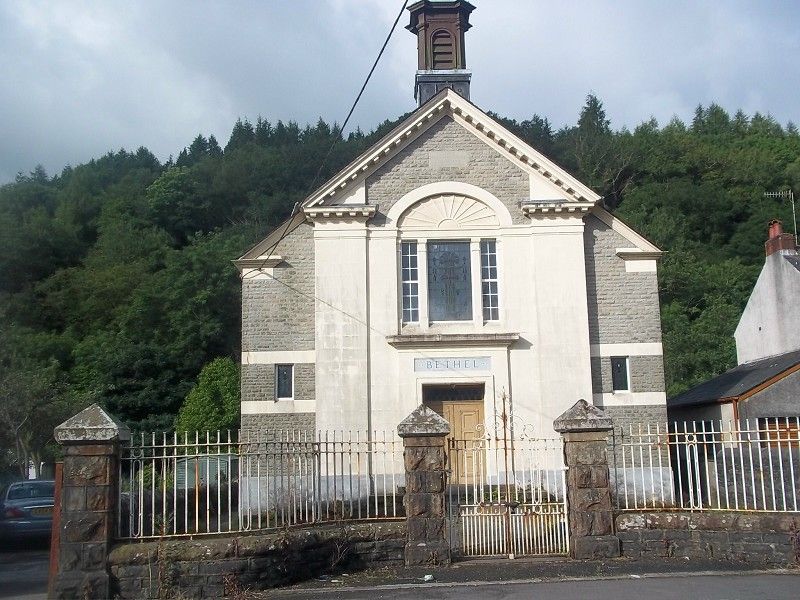 Bethel's history began around 1850, in a dwelling house called Middle Mill, the residence of William John Thomas, who was a deacon of the church in Cwmllynfell. It was established as a branch of the church in Cwmllynfell, and sometimes Mr Pryse of Cwmllynfell would preach there, and sometimes Mr B. Thomas of Gurnos Chapel, Ystalyfera, would do so.

In 1861, before Bethel Chapel was completely finished, it was established as a church independent of the mother church in Cwmllynfell when communion was held in a service officiated by Mr Pryse, assisted by several deacons of his church.

Mr Thomas Griffiths, a trader, and Mr H Rees, of Ystradgynlais both had a big hand in the building of Bethel Chapel. Mr Rees also cared for the chapel as Minister for a few months, but had to give it up due to the abundance of his other work.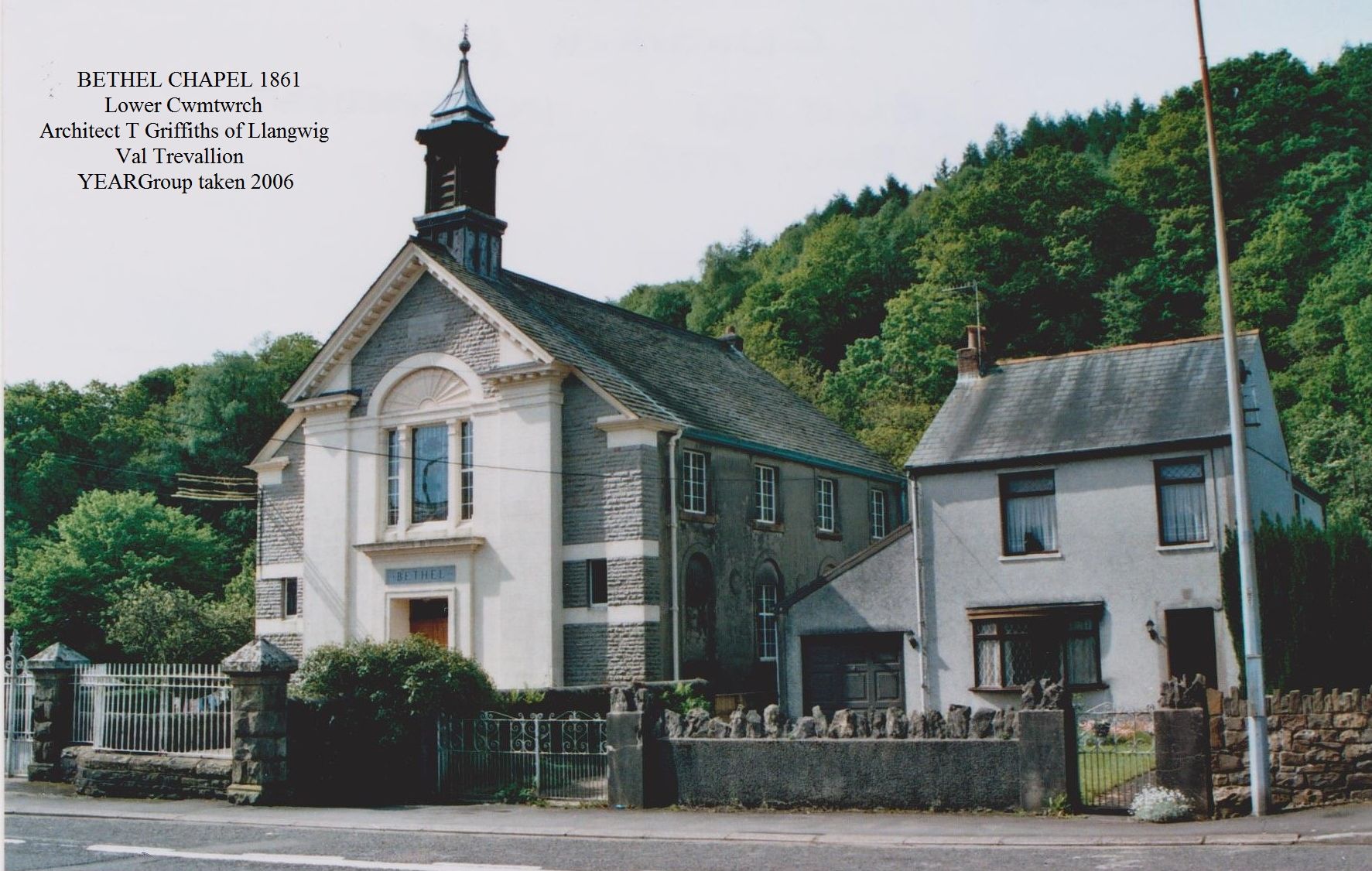 Built in 1861, Bethel Independent Chapel was rebuilt in 1925. When offered for sale in 2010, its physical attributes were described as having 3 opaque windows on each side of the chapel, and two doors at the rear of the chapel which lead to the vestry. There is a large vestry and hall, as well as the chapel, along with boiler and tank rooms, and external outhouses. The Chapels grounds have pathways on both sides with a gate for access to the riverside and woodland.

When you enter the main door of the chapel, stairs on either side give access to the first (upper) floor where there are four windows along each side of the walls.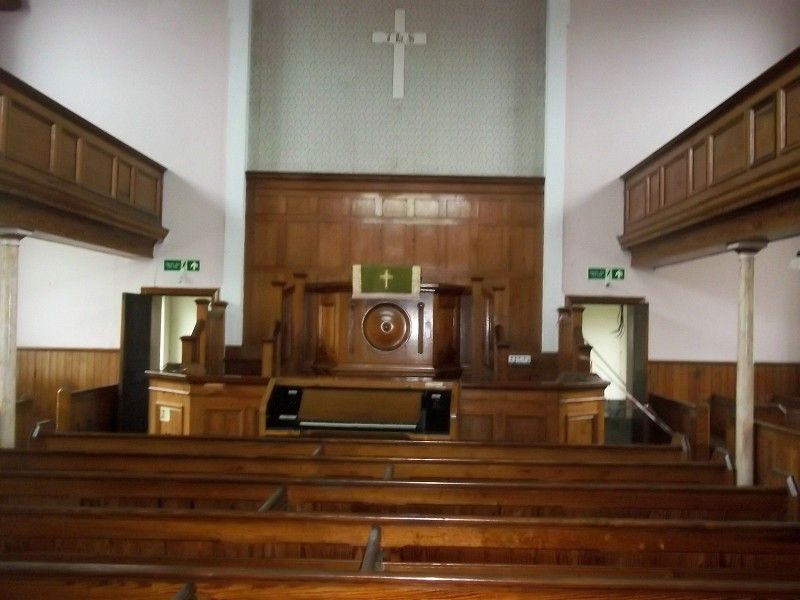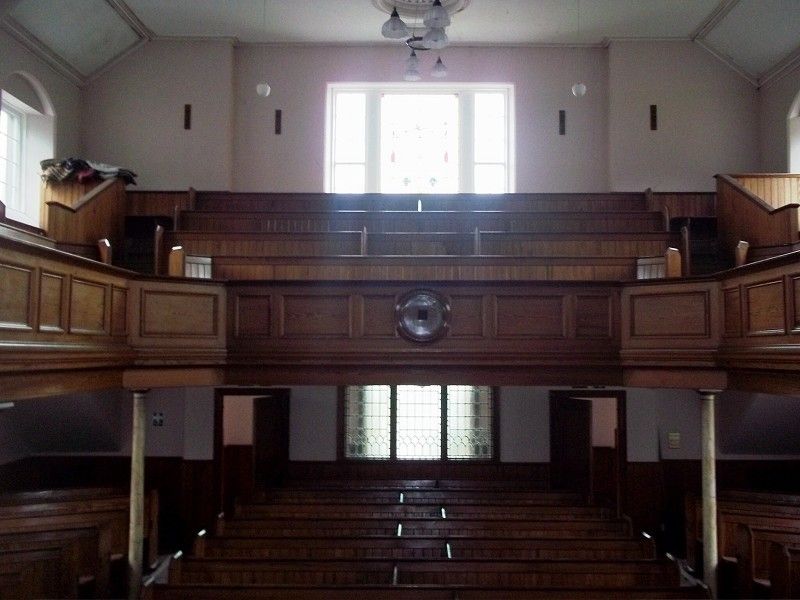 Photographs of the Interior, courtesy of the Vendor
---
From a Welsh text, in translation:-
This chapel is within the parish limits of Llanguwg, in Glamorgan, but within a few dwellings into the parish of Ystradgynlais in Brecon. It lies on the banks of the river Twrch, about half a mile above the Gurnos chapel. This cause was started around 1850, in a dwelling-house called the Felinganol, the residency of William John Thomas, one of the deacons of the church in Cwmllynfell, and he and William Llewellyn prevailed and raised for years like branch of Gwllllynfell. Mr. Pryse, Cwmllynfell occasionally preached to this branch, and Mr. B. Thomas, Gurnos preached there monthly for several years. In the year 1861, before the chapel was completely finished, this branch was formed as an independent church of the mother church in Cwmllynfell, when the sacrament of the Lord's Supper was administered by Mr. Pryse, assisted by several of his church deacons. Mr. Thomas Griffiths, trader, Ystalyfera, and Mr. H. Rees, from Ystrad had a big hand with the construction of the chapel. Mr. Rees also cared for the church as the minister for a few months, but due to the abundance of his workload, he had to take up his care there soon enough. The work and faithfulness of William Thomas, Isaac Williams, John Jones, Owen John, Owen Owen, David Owen, and others, with the construction of the chapel also merit a memorial
Bethesda Chapel, in Ynysmeudwy was clearly of the same denomination as Bethel, Cwmtwrch. In 1901, Bethel's then minister, Rev Joseph Evans, moved to Bethesda, and was there until 1905.
Apparently originally from:- http://freepages.history.rootsweb.ancestry.com/~cwmgors/Cwmllynfell1.html

Bethesda Independent Chapel

Before Bethesda Chapel was built in 1861/2, many religious services and Sunday Schools were held in dwelling houses but monthly communion took place at Alltwen.
Land for building was given at a rent by Griffith Griffiths, Ynysmeudwy Arms.
The Rev Phillip Griffiths, Alltwen, looked after the congregation until he retired.
In 1879 the Rev J T Davies came there, looking after Bethesda and Gosen for 18 years.
A larger chapel was built and opened in 1893 in Curtis Row, a stone at the front of the chapel commemorates the tercentenary of the martyrdom of John Penry (the famous Welsh Puritan).
In 1901 the Rev Joseph Evans came from Bethel, Cwmtwrch, left in 1905.
The Rev T Emrys Jones was inducted in 1907, he left in 1912.
In 1913 Rowland Evans was ordained, he left in 1916, the land under the chapel was bought in his time here.
In 1918, the Rev Richard Owen Hughes came here, he retired in 1923.
In 1925 Mr John Derlwyn Evans came, and stayed until 1943.
Mr D Benjamin Jones was ordained here in 1950, during his time a modern vestry was built.
At present there is no minister (1956)

---
As of 2010, Bethel Chapel has been up for sale as a Grade II Listed Building.
---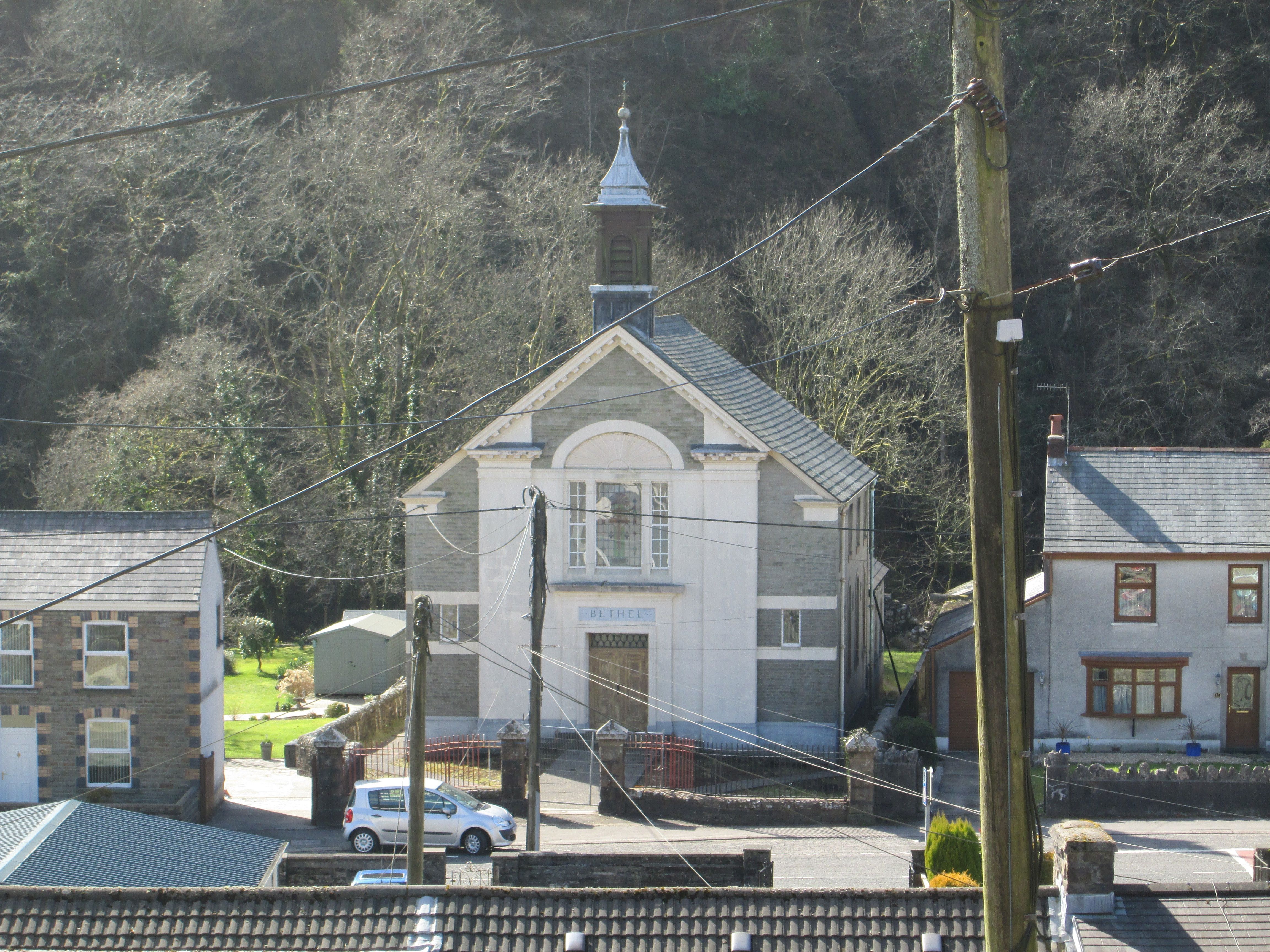 Views of Bethel Chapel, Cwmtwrch, taken in March 2016 show the chapel and cemetery in greater detail.
View More - Bethel Chapel views
---