Saron Apostolic Church, Ystradgynlais
Saron Apostolic Church, Ystradgynlais, was constructed on Ynyscedwyn Road in 1927 and rebuilt in 1990, and it is now known as Church in the Community (CITC).
---
From the Llais
The Llais newspaper had always included a round-up of happenings at local churches and chapels, even when these were not part of any particular story. Sometimes they advertised forthcoming events, and at other times who was preaching, or had preached there recently.

In addition, Saron took out little advertising boxes for events held at their chapel. We present a mixture of both below:-
1947
From the South Wales Voice 8th November 1947:-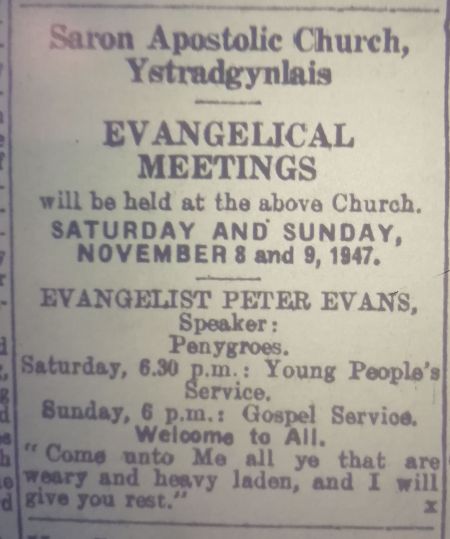 Saron Apostolic Church
Ystradgynlais

EVANGELICAL MEETINGS
will be held at the above Church
Saturday and Sunday
November 8 and 9 1947

EVANGELIST PETER EVANS,
Speaker:
Penygroes

Saturday 6:30pm: Young People's Service
Sunday 6pm: Gospel Service
Welcome to All

"Come unto Me all ye that are weary and heavy laden, and I will give you rest."


1948
From the South Wales Voice 11th September 1948:-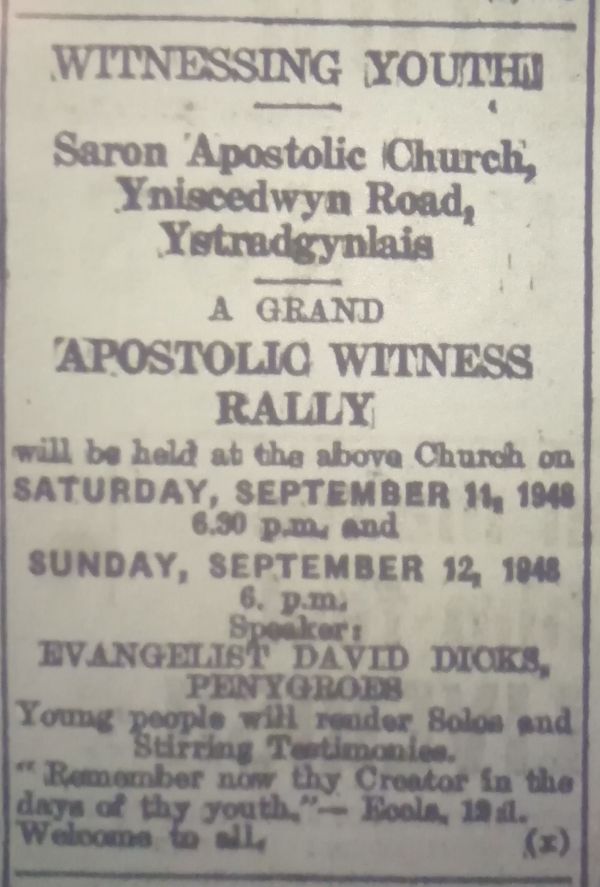 WITNESSING YOUTH
Saron Apostolic Church
Yniscedwyn Road
Ystradgynlais

A GRAND
APOSTOLIC WITNESS RALLY
will be held at the above Church on
SATURDAY, SEPTEMBER 11, 1948
6:30pm, and
SUNDAY, SEPTEMBER 12, 1948
6pm
Speaker
EVANGELIST DAVID DICKS
PENYGROES
Young people will render Solos and
Stirring Testimonies

"Remember now thy Creator in the days of thy youth" - Ecclesiastes 12
Welcome to all.
From the South Wales Voice October 9th 1948:-
Saron Apostolic Church
Yniscedwyn Road
Ystradgynlais

Special visit of
PASTOR JACOB PURNELL
BRYNMAWR
to the above church, D.V.
SATURDAY OCTOBER 9TH 1948, OVER
THURSDAY OCTOBER 14TH, 1948

Pastor Purnell recently made a very successful tour of Canada.
Come with your requests for prayer;
Come with the sick to be prayed for;
Come yourselves to be blessed.
Bible teaching in its Fulness.
Times of Services: Saturday 6:30pm;
Sunday, 11am, 2:30 and 6pm;
Weeknights at 7pm
Do not miss this unique opportunity.
"He is able"

1951
The South Wales Voice of 17th March 1951 recorded the first marriage performed at Saron Apostolic Church:-

APOSTOLIC CHURCH WEDDING

The first wedding ceremony to be performed at Saron Apostolic Church, Ystradgynlais, was witnessed by a large congregation on Saturday. The contracting parties were Miss Betty Heale, eldest daughter of Mr and Mrs B. Heale, 61 Bryn Road, Ystalyfera, and Mr Daniel Thomas, son of Mrs Edwards and the late Mr David Thomas, 27 Lluest, Ystradgynlais. The officiating minister was Rev T.C. Matthews, Swansea, and the organist was Mr Parry Selby, Skewen.
The bride, who was given away by her father, wore a Victorian styled gown of white taffeta under an overskirt of tulle and lace, her veil of Brussels lace was held in place by a coronet of lilies of the valley and she carried a bouquet of red carnations and trailing fern.
The matron of honour, Mrs Arthur Price and the bridesmaid, Miss Evelyn Beckett were attired in blue taffeta gowns with matching accessories. They carried bouquets of pink carnations and trailing fern. The flower girls, Misses Rita Heale, bride's sister, and Norma Thomas, groom's niece wore dresses of pink taffeta with head-dresses to march and carried bouquets of red tulips. The pageboy was John Gratton, bride's cousin. On leavig the church the bride was presented with silver boots by Graham Price.
The best man was Mr Douglas Thomas, brother of bridegroom, and the groomsmen were Messrs L. Davies and W. Thomas, the ushers were Messrs Phillip and Arthur Jones.
After the reception at old Bethany Mission Hall at which 120 guests were present, the happy couple left for their honeymoon which is being spent at Carlisle, the bride travelling in a lavender dress under a donkey brown coat with accessories to match.
Mr and Mrs Thomas are well known in local religious circles.


1965
From The Voice newspaper, October 14th 1965:-
SARON
Special services are being held at Saron Apostolic Church, Yniscedwyn Road, commencing on Saturday over until Thursday. Speaker is Pastor J.B. Clyne, Belfast.

---
Church In The Community (CITC)
These photographs from March 2019 show Church in the Community (CITC) today:-