Peniel Independent Chapel, Ystradgynlais
Peniel Chapel, Penrhos, Ystradgynlais was originally constructed in 1859, and was rebuilt in 1910. It closed in 2006 and was subsequently demolished, a private house now being erected in its place on Brecon Road, Ystradgynlais.
---
Another chapel, no longer standing: Peniel Chapel Ystradgynlais and, although I had never seen it, I knew of its existence because I had found a reference to the chapel when I was writing up one of the fallen of WWII. The body of Sergeant Air Gunner, Alfa Powell, was brought to the chapel from the RAF station before his funeral in St. Cynog's Churchyard, (his family lived at Penrhos before moving to London).

It is thanks to Mrs H Richards for kindly supplying me with the photographs. The lady informed me that she and her husband had been married there some 40 odd years ago.
The interior of Peniel Chapel, Penrhos, Ystradgynlais
(Photographs donated by Howard Richards)
There were in fact 6 memorial stones, three either side of the main entrance but only one retained its inscription: "Gosodwyd y Garreg Han Gan y Parch LEWIS JONES Ty'ncoed Ebril 14 19?? "

This translates as "Stone was placed by Rev Lewis Jones" in April of a year we cannot quite see from the photograph, but could well be 1940.

One of the memorial stones set into Peniel Chapel
(Click to view full-sized)
Whereas the large stone above the doorway was too high for her to photograph, although apparently it read: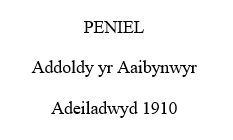 NOTE - This is most likely to read addoldy yr annibynwyr" which would translate as Independent Chapel (roughly speaking!)
PENIEL - Addoldy yr Annibynwyr - Adeiladwyd 1910 which translates as PENIEL - Independent Chapel - Built 1910.
The chapel was on Brecon Road but today the ground has been cleared and a private house built on the site.
So far the only item I have come across regarding any history of this chapel is an extract from THE LONDON GAZETTE dated 4th JUNE 1940:
A separate building, duly certified for religious worship, named Peniel Congregational Chapel situated at Penrhos in the civil parish of Ystradgynlais Lower in Ystradgynlais registration district in the county of Brecknock was on the 28th May 1940, registered for solemnizing marriages therein, pursuant to 6 & 7 Will. IV., c. 85 - Dated the 31st May 1940
ROGER E L THOMAS Superintendant Registrar
The South Wales Voice 22nd June 1940 recorded the first marriage that was solemnised at Peniel Chapel:-
WEDDING:

The marriage took place at Peniel Chapel Penrhos on Saturday last of Miss Eileen Jones, daughter of Mr and Mrs J D Jones Bryngwinnie Penrhos and Mr Emlyn Davies, son of Mr and Mrs William Davies Ynysydarren Gardens Ystalyfera. The officiating clergy were the Rev E T Evans BA Wern and D R Beynon Jerusalem and the organist was Mr Danny Edwards.
The bride was given away by her uncle Mr Idris Jones and wore a turquoise blue dress with black accessories and a bouquet of Mme Butterfly roses and trailing fern. She also wore a unique string of white elephant beads a gift of the bridegroom. Her bridesmaid was her cousin, Miss Tydwen Jeffreys Post Office, who was attired in a bois de rose dress with navy accessories and a bouquet of pink carnations.
Another cousin, little Gwenno Jones of Lluest, presented the bride with a lucky horseshoe. The best man was Mr David Davies Pencoed the bridegroom's brother and the ushers were Mr H T Watkins and Mr Rhys Hughes.
A reception was held later at the bride's home after which Mr and Mrs Davies left for Malvern and Birmingham where the honeymoon was spent. To travel, the bride wore a black edge to edge coat over a floral dress and accessories to match.

This marriage was the 1st to be solemnised at Peniel Chapel and the bride and bridegroom were accordingly presented with a Bible by Mr John Edwards, the senior deacon on behalf of the chapel members.
A happy coincidence was that the bride's cousin, Mr David Vincent Jones, Clairton Pa USA, son of the late Mr W D Jones formerly of Corner Stores Penrhos, was married on the same day.

As stated above, Peniel Chapel was registered for solemnizing marriages in May 1940. An example of such a marriage has been found in the Llais from 7th April 1961:-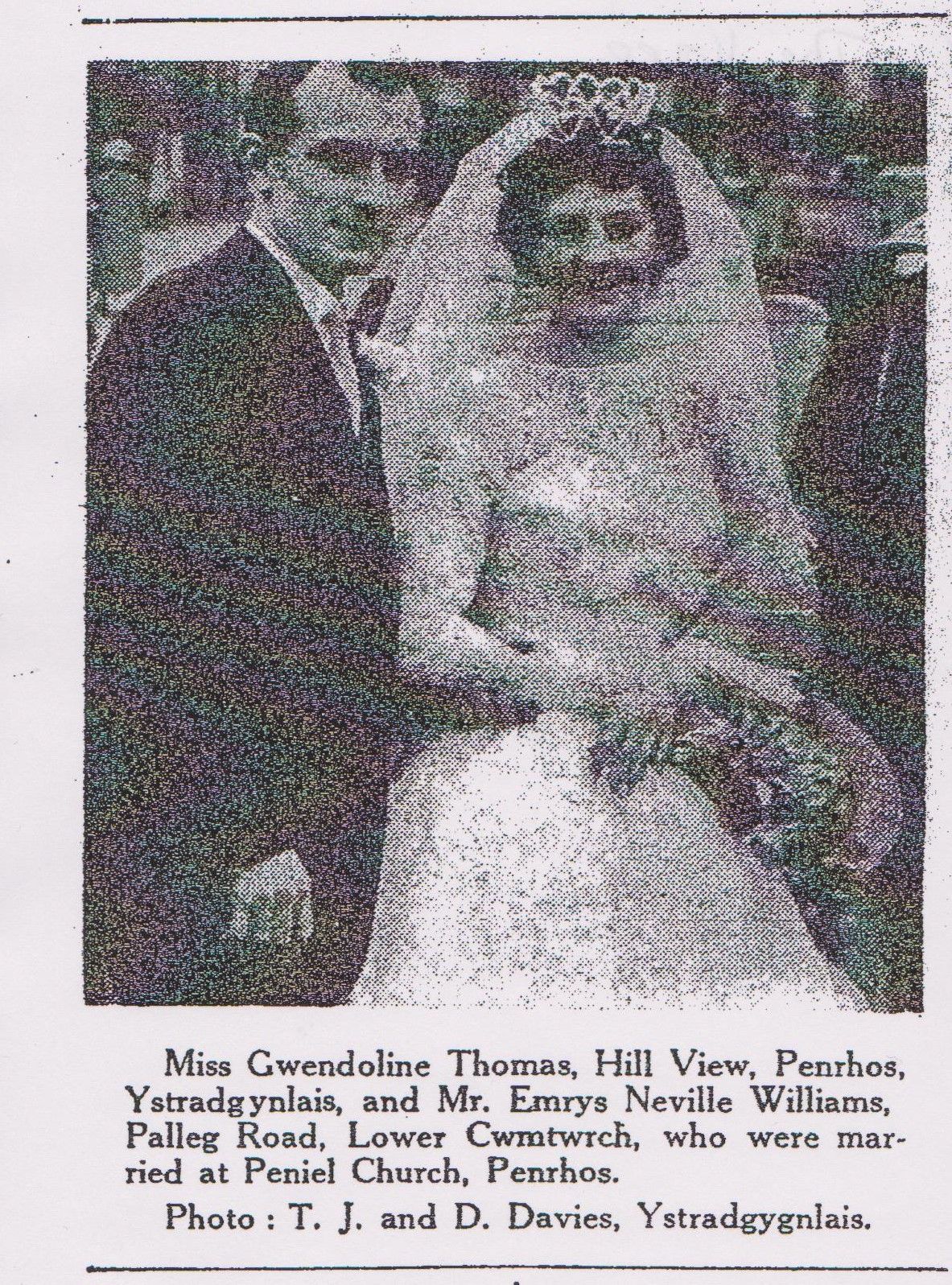 Miss Gwendoline Thomas, Hill View, Penrhos, Ystradgynlais, and Mr Emrys Neville Williams, Palleg Road, Lower Cwmtwrch, who were married at Peniel Church, Penrhos.
---
The Coflein website has an extract on Peniel, saying:-
Peniel Independent Chapel was built in 1859 and rebuilt in 1911. The present chapel, dated 1911, is built in the Arts and Crafts style, with a gable entry plan and large pane flat headed windows.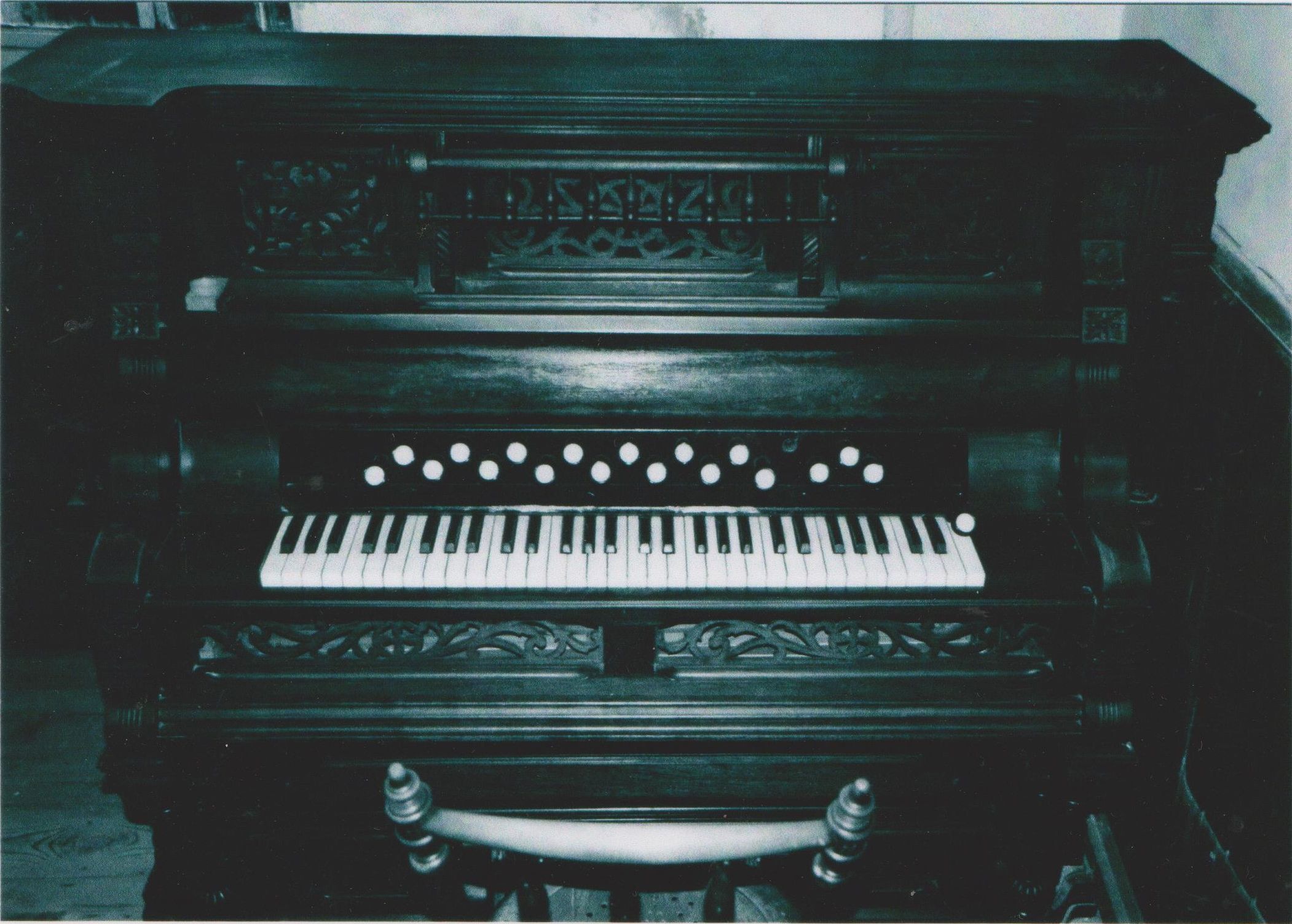 A close-up of the organ at Peniel Chapel, which can be seen in place in one of the interior photographs above.
---
Ministers of Peniel Chapel
We learn in December 1921 that the Rev D Wynn Aubrey has returned from hospital and is convalescing.
From the Labour Voice newspaper, 10th December 1921:-
The many friends of the Rev D Wynn Aubrey, Peniel Penrhos will be pleased to learn that he has returned from hospital and is progressing favourably.
He intends starting his ministerial work in a fortnight's time. He opened the service on Sunday morning last.
In April 1922, the Rev D Wynn Aubrey departed Peniel Chapel for North Wales.
From the Labour Voice newspaper, April 1st 1922:-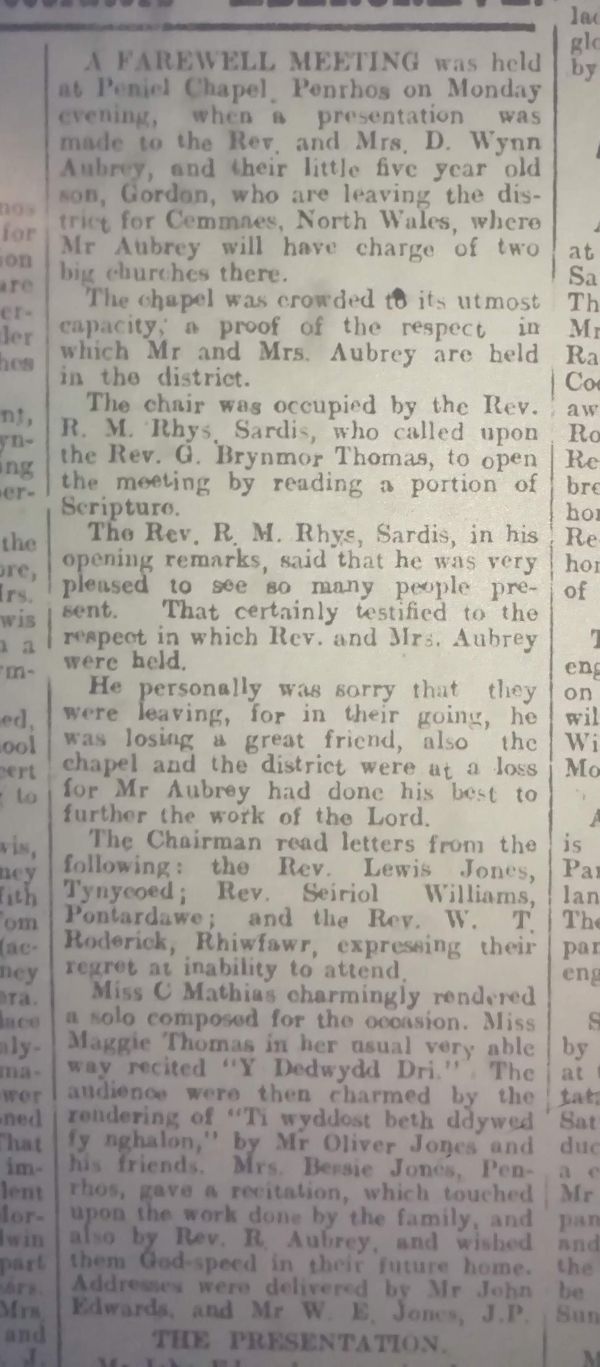 A FAREWELL MEETING was held at Peniel Chapel, Penrhos on Monday evening, when a presentation was made to the Rev and Mrs D Wynn Aubrey, and their little five year old son, Gordon, who are leaving the district for Cemmaes, North Wales, where Mr Aubrey wil have charge of two big churches there.

The chapel was crowded to its utmost capacity, a proof of the respect in which Mr and Mrs Aubrey are held in the district.

The chair was occupied by the Rev R M Rhys, Sardis, who called upon the Rev G Brynmor Thomas to open the meeting by reading a portion of Scripture.

The Rev R M Rhys, Sardis, in his opening remarks, said that he was very pleased to see so many people present. That certainly testified to the respect in which Rev and Mrs Aubrey were held.

He personally was sorry that they were leaving, for in their going he was losing a great friend, also the chapel and the district were at a loss for Mr Aubrey had done his best to further the work of the Lord.

The Chairman read letters from the following: the Rev Lewis Jones, Tynycoed; Rev Seiriol Williams, Pontardawe; and the Rev W T Roderick, Rhiwfawr, expressing their regret at inability to attend.

Miss C Mathias charmingly rendered a solo composed for the occasion. Miss Maggie Thomas in her usual very able way recited "Y Dedwydd Dri". The audience were then charmed by the rendering of "Ti wyddost beth ddywed fy nghalon" by Mr Oliver Jones and friends. Mrs Bessie Jones, Penrhos, gave a recitation which touched upon the work done by the family, and also by Rev R Aubrey and wished them Godspeed in their future home. Addresses were delivered by Mr John Edwards and Mr W E Jones, JP.

THE PRESENTATION

Mr John Edwards, as senior deacon, presented Mr and Mrs Aubrey with a wallet of treasury notes, and Mr Oliver Jones, superintendent of the Sunday School, presented little Gordon with a beautiful Bible. Little Gordon's "Diolch yn fawr" brought forth a round of applause.

The Rev Aubrey then thanked the subscribers on his and Mrs Aubrey's behalf for the gifts, and also for their kind expressions. Addresses were also given by Mr Pearson, Brynamman; the Rev Glyn Davies, Tynycoed; and the Rev D J Davies, Ainon.

The meeting terminated with the singing of "Yn dy waith" and a prayer offered by the Rev R M Rhys, Sardis.
In 1942, Caradog Hughes was ordained to the joint pastorate of Bryn Seion, Abercrave and Peniel Chapel, Penrhos.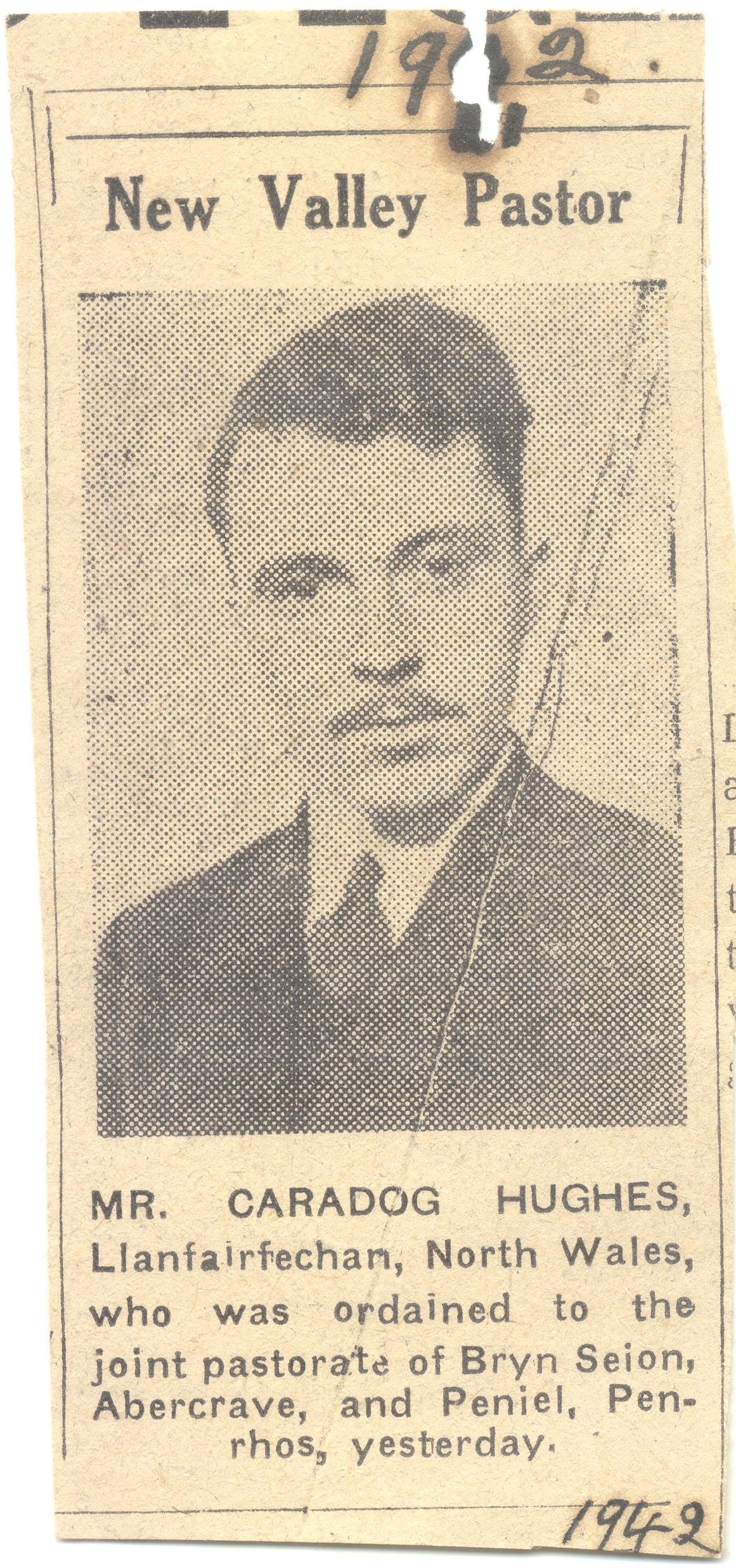 ---
Peniel Chapel in the Llais
The Llais newspaper had always included a round-up of happenings at local churches and chapels, even when these were not part of any particular story. Sometimes they advertised forthcoming events, and at other times who was preaching, or had preached there recently.
From the Labour Voice newspaper, Saturday October 6th 1923 came two articles about Peniel Chapel, Penrhos:-
A good time is assured all who attend the miscellaneous concert at Peniel Chapel on Thursday evening next. The chairman will be Councillor J.D. Morgan, and the following eminent artistes have been booked - Miss Mair Thomas, Cwmtwrch (soprano); Miss Nancy Jones, A.L.C.M (contralto); Mr E. Telorydd Nicholas, Ystalyfera (tenor); Mr W. Davies, Llangeler (bass); Mr David Edwards, A.C.V. (violinist); Phil Bach (elocutionist); and accompanist Madame Jones-Pritchard.
The Rev - Thomas, Onllwyn, was the preacher at Peniel last Sunday.
From the Labour Voice newspaper, 1st January 1927:-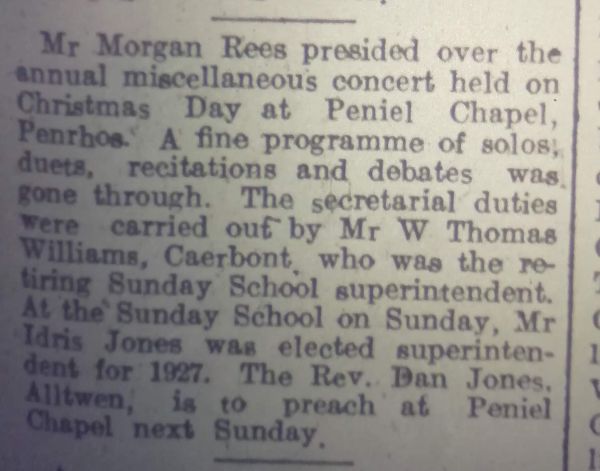 Mr Morgan Rees presided over the annual miscellaneous concert held on Christmas Day at Peniel Chapel, Penrhos. A fine programme of solos, duets, recitations and debates was gone through. The secretarial duties were carried out by Mr W Thomas Williams, Caerbont, who was the retiring Sunday School superintendent. At the Sunday School on Sunday, Mr Idris Jones was elected superintendet for 1927. The Rev Dan Jones, Alltwen, is to preach at Peniel Chapel next Sunday.
From the South Wales Voice newspaper, Saturday December 24th 1932 came a report on a eisteddfod held at Peniel Bach, under the auspices of Peniel Chapel:-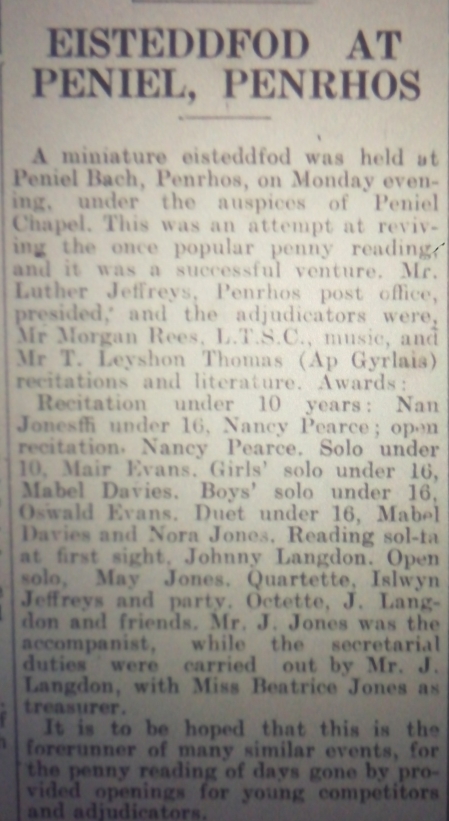 A miniature eisteddfod was held at Peniel Bach, Penrhos, on Monday evening, under the auspices of Peniel Chapel. This was an attempt at reviving the once popular penny reading and it was a successful venture. Mr Luther Jeffreys, Penrhos post office, presided, and the adjudicators were Mr Morgan Rees, L.T.S.C., music and Mr T. Leyshon Thomas (Ap Gyrlais) recitiations and literature. Awards:
Recitation under 10 years: Nan Jones; under 16, Nancy Pearce; open recitation, Nancy pearce, Solo under 10, Mair Evans. Girls' solo under 16, Mabel Davies. Boys' solo under 16, Oswald Evans. Duet under 16, Mabel Davies and Nora Jones. Reading sol-ta at first sight Johnny Langdon. Open solo, May Jones. Quartette, Islwyn Jeffreys and party. Octette J. Langdon and friends. Mr J Jones was the accompanist, while the secretarial duties were carried out by Mr J. Langdon, with Beatrice Jones as treasurer.
It is to be hoped that this is the forerunner of many similar events, for the penny reading of days gone by provided openings for young competitors and adjudicators.

Peniel Bach was a small stone building at Tanywaun, Penrhos, which was used as Peniel Chapel's vestry. It was converted into a garage and workshop for a newly-built adjacent house in 1991.