Capel Newydd, Cwmtwrch
Capel Newydd is located on Heol Twrch, the main road through Cwmtwrch, and is adjacent to Cwmtwrch Post Office, and the footbridge that leads across to the Cwmtwrch Peace Well.
Capel Newydd was constructed in 1930 and closed in 2010, whereupon it was sold and converted to a private house.
---
Capel Newydd was constructed adjacent to the Lion Stores, with Cwmtwrch Post Office, which remained open into 2018, but has since closed.
---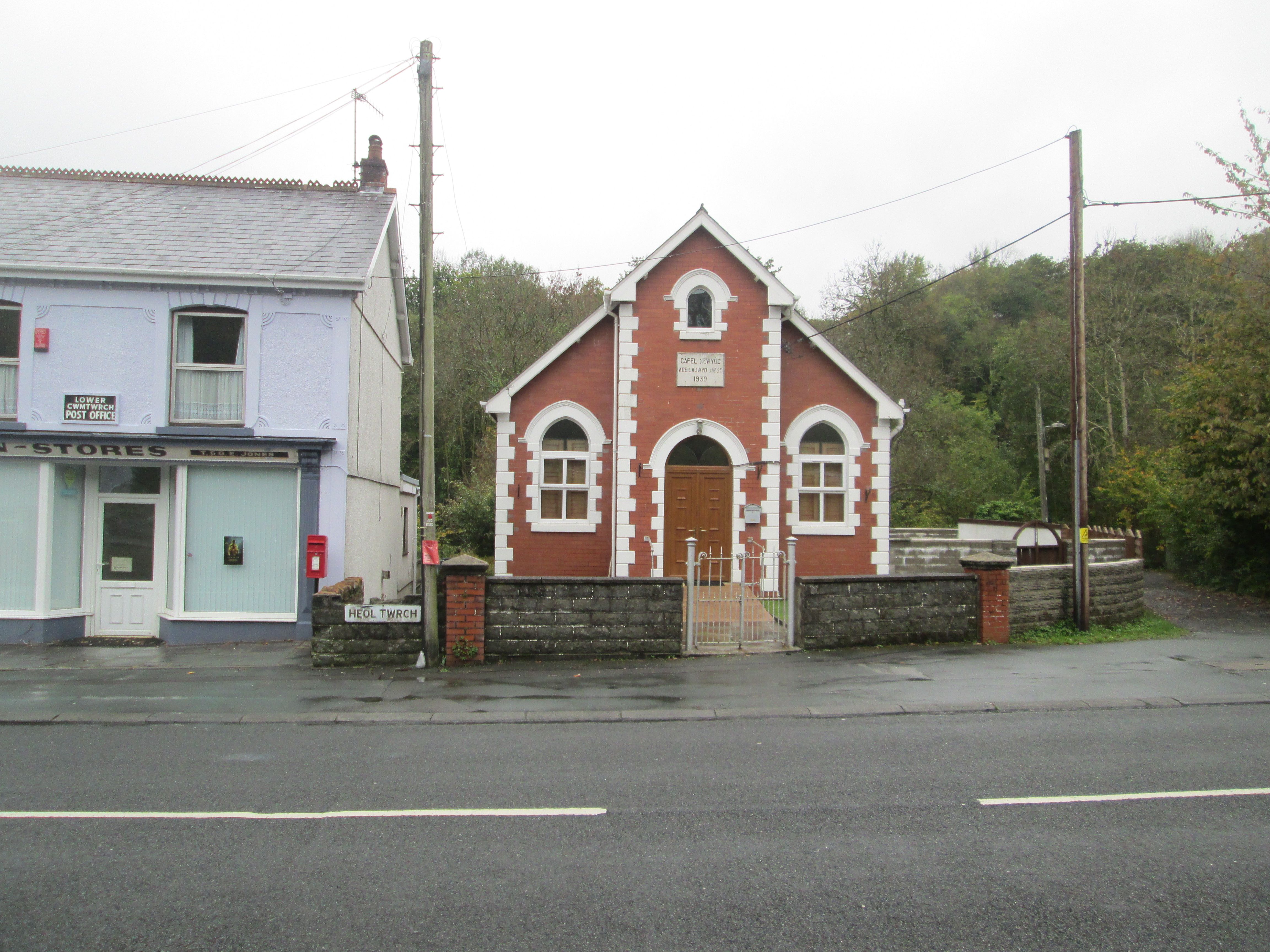 The frontage of Capel Newydd was an impressive mixture of pressed red brick, and patent stone quoins.
---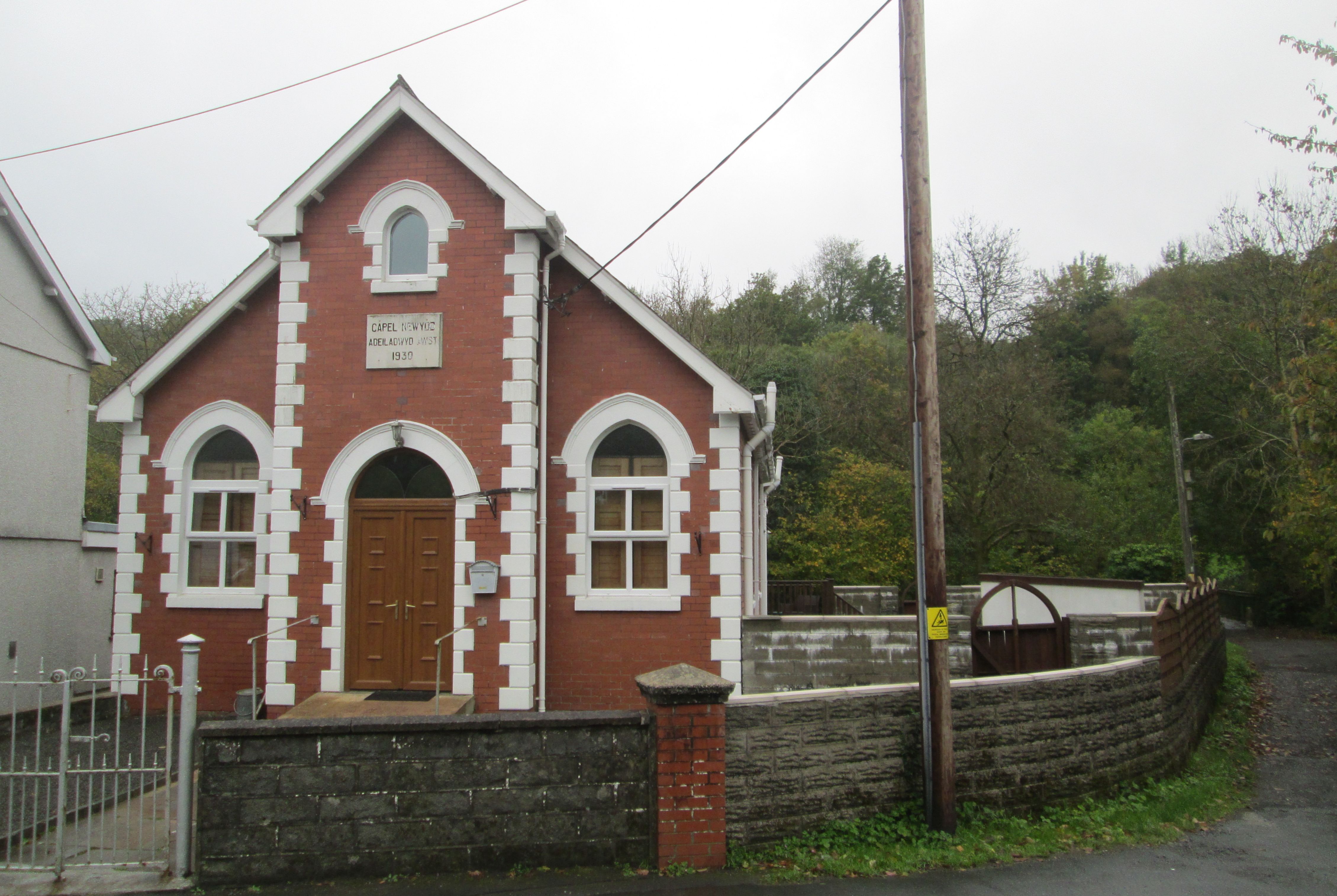 Capel Newydd was constructed adjacent to the path leading to the bridge over the river to the field beyond which was used for esiteddfodau and for political meetings. This field is next to the Cwmtwrch Peace Well, which was constructed in 1919.
---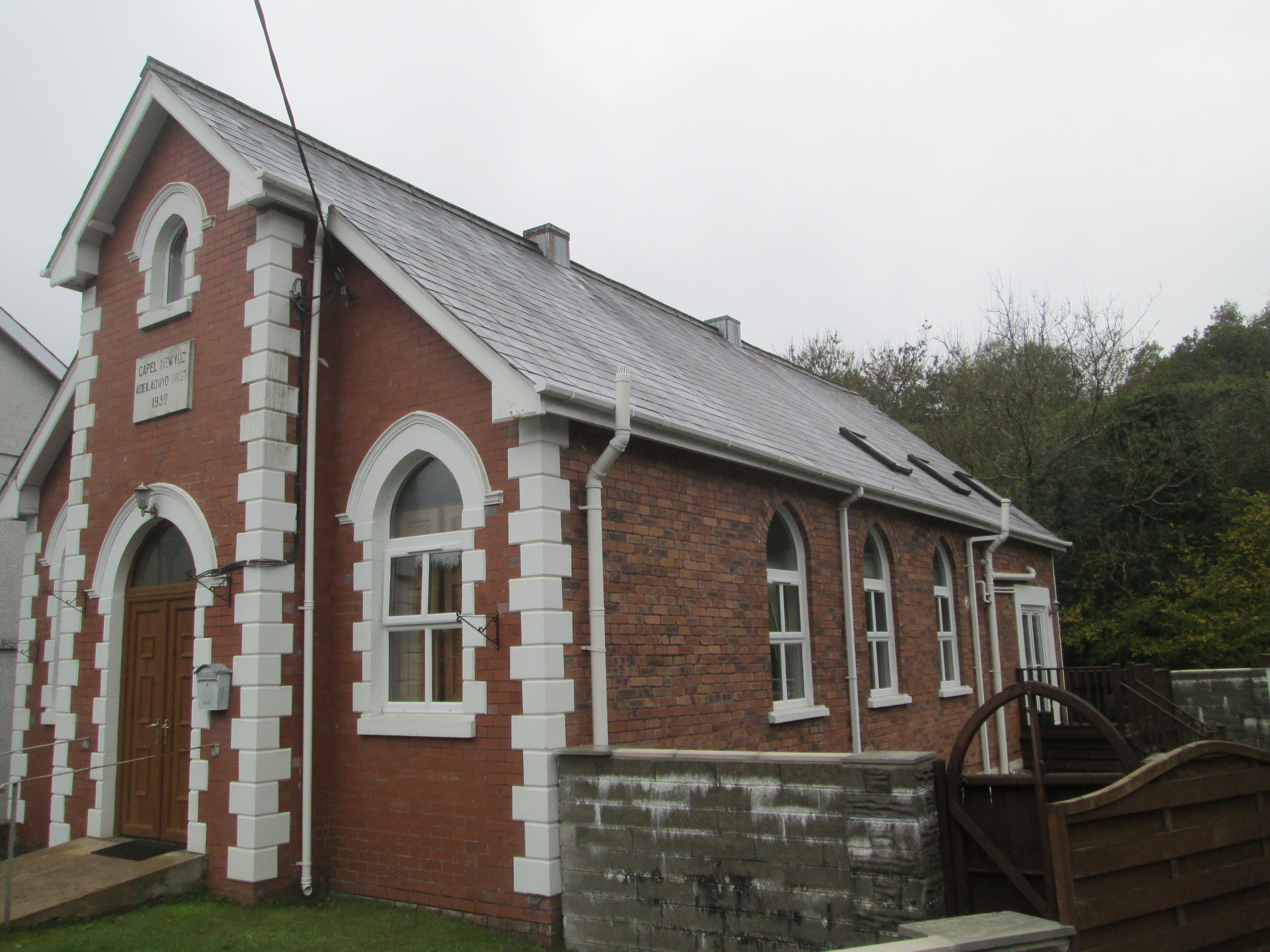 Capel Newydd was constructed by Mr A W Griffiths, Pentwyn, Lower Cwmtwrch and completed in 1930, as per the date stone above the door. It held its first service on 1st January 1931.
---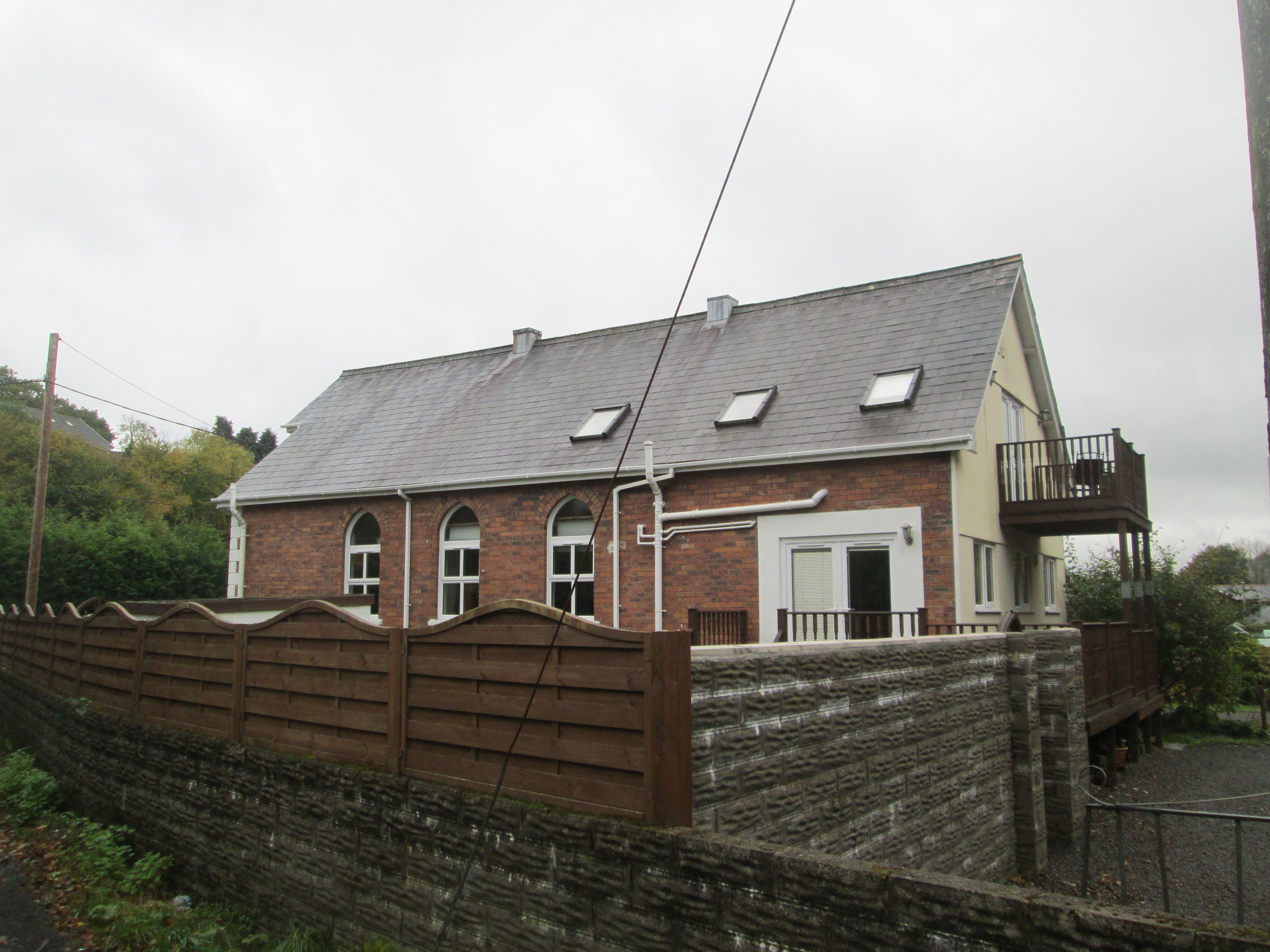 According to the design specification, Capel Newydd could seat 250 people, which must have been a remarkable use of space considering the size of the building.
---
The Opening
From the South Wales Voice Saturday 27th December 1930 comes news of the opening of Capel Newydd in the following week, the first days of 1931:-
NEW BAPTIST CHAPEL AT CWMTWRCH TO BE OPENED ON 1ST JANUARY


The New Baptist Chapel, Lower Cwmtwrch, will be opened on Thursday 1st January. The ceremony will be performed by the senior deacon, Mr W D Roberts and the honour of being the first to enter the new building will be conferred on the senior lady member, Mrs Sarah Lewis.

The service is to commence at 2:30pm and the ministers will be the Reverends Teifion Morris, Fleur de Lys, Idris Davies, Ammanford, and local ministers. There will also be a service at 6:30pm. On Friday evening at 7 o'clock the Rev W P Jones, Bethania, will preach and a baptismal service will take place on Saturday night, when the Rev Teifion Morris will baptise 14 persons. These will be accepted into membership at a communion service on Sunday morning. The preachers on Sunday will be the Reverends Teifion Morris and W D Roderick, Rhiwfawr. Tea will be provided for visitors on Thursday afternoon.

The new chapel is up to date in every respect and was erected by Mr A W Griffiths, Pentwyn, Lower Cwmtwrch, who will present a silver key to Mr Roberts on Thursday. The building will seat 250 persons and is fitted with the latest type heating apparatus. An ante-room is provided beneath the chapel, being fitted with hot and cold water service and is intended for use for social and other gatherings. The exterior walls are of pressed brick with patent stone quoins. Inside the building there are beautiful ceiling panels, which harmonise in the colour scheme with the walls and pews. The baptismal well is situated under the deacons' pew.

No expense has been spared in the construction of the chapel. The membership at the opening will be 110.

The officials are:- Mr A W Griffiths, Pentwyn, Treasurer; Mr D J Lewis, secretary; Mr John Lewis, financial secretary; Mr Rees Powell, precentor; and Mr Gwyn Davies, organist.

The South Wales Voice of Saturday 17th November 1934 looked back on the opening of Capel Newydd:-
Capel Newydd built in August 1930 opened in January 1931.
Deacons: Messrs T D Davies, David Roberts Bryneithin Lower Cwmtwrch, David Davies Bryneithin,
Secretary: Richard Williams
Treasurer: A W Griffiths
Precentor: Councillor Rees Powell, David Lewis Cwmphil, John Lewis Craig Maespica
Organist: Howell Jeffreys
Violinist: Mr Emrys Davies
Mr Owen and John Davies

Arthur William Griffiths died at Craig-y-Nos [castle] hospital, near Penycae on 16th October 1966, and was buried in Beulah Cemetery, Lower Cwmtwrch.

Because he was so instrumental in the creation of Capel Newydd, Lower Cwmtwrch, we have created a separate page for him, which can be viewed here:- Arthur William Griffiths
---
From the Llais
The Llais newspaper had always included a round-up of happenings at local churches and chapels, even when these were not part of any particular story. Sometimes they advertised forthcoming events, and at other times who was preaching, or had preached there recently.

Those for Capel Newydd went out under the sub-title "Capel Newydd"; many were in Welsh, but a few were reported in English:-
1932
From the South Wales Voice 31st December 1932:-
CAPEL NEWYDD
At the New Chapel on Sunday morning next, Mr D.T. Roberts, senior deacon, will give an address on "Paradise." Services in connection with the Sunday school will be held in the afternoon and evening.
The anniversary services take place on Sunday January 8th when the special preacher will be the Rev Luther Jones of Whitchurch, Cardiff.

1945
From the South Wales Voice February 24th 1945:-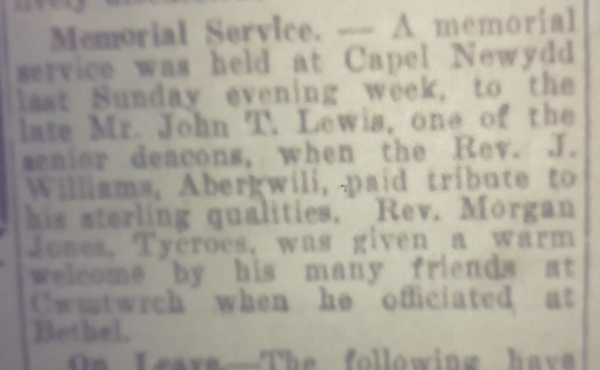 Memorial Service - A memorial service was held at Capel Newydd last Sunday evening week, to the late Mr John T. Lewis, one of the senior deacons, when the Rev J. Williams, Abergwili, paid tribute to his sterling qualities.
From the South Wales Voice 6th October 1945:-
Capel Newydd - The anniversary services held at Capel Newydd Sunday last were attended by large congregations throughout the day. The special preacher was Dr Tegfan Davies, Ammanford.
1946
From the South Wales Voice 15th June 1946:-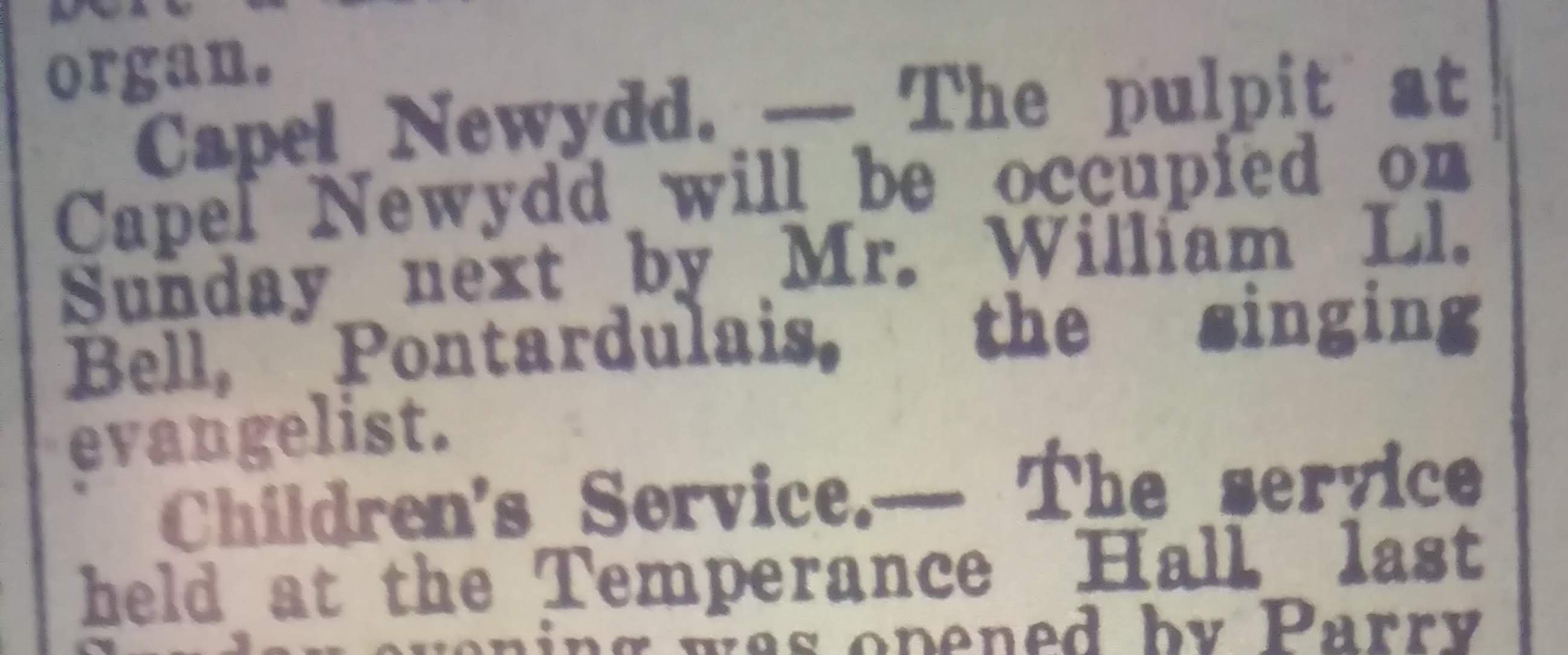 Capel Newydd - The pulpit at Capel Newydd will be occupied on Sunday next by Mr William Ll. Bell, Pontardawe, the singing evangelist.
1947
From the South Wales Voice 20th September 1947 comes this box advertisement by Capel Newydd for a forthcoming event:-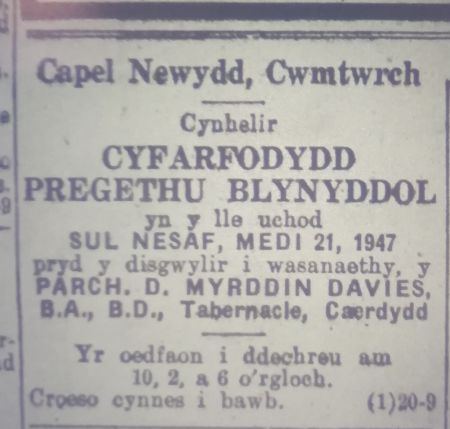 1948
From the South Wales Voice 25th September 1948 came an advert for a forthcoming event at Capel Newydd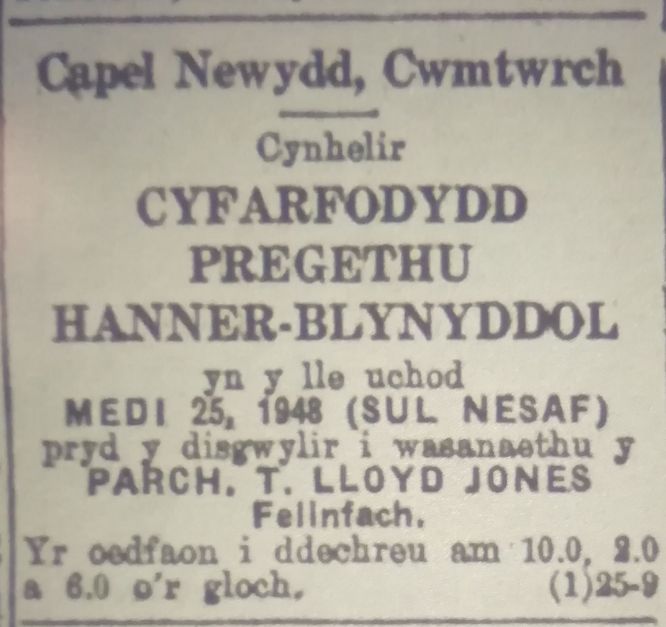 Capel Newydd, Cwmtwrch
To be held
Semi-annual preaching meetings
in the above place
next Sunday
25th September 1948
when it is expected that the preacher will be
Rev T Lloyd Jones
of Felinfach
They start at 10, 2, and 6 o'clock
1952
From the South Wales Voice Friday 21st November 1952 came the news of the death of Capel Newydd's oldest deacon:-
MR THOMAS DANIEL DAVIES

The death occurred on 11th November of Mr Thomas Daniel Davies Brynglas Graigmaespica Lower Cwmtwrch. The deceased who was 81 years old, was a native of Tregaron and came to Cwmtwrch with his parents over 70 years ago. He was a loyal and active member of Capel Newydd, being its oldest Deacon. He had served on the Ystradgynlais Parish Council for about 20 years and served the community well during his period of office. Mr Davies worked in the coal industry for over 60 years and was last employed at Cwmllynfell Colliery but owing to ill health had to retire about 10 years ago.
He leaves a widow of 82 years of age and three sons and two daughters to mourn.
The funeral took place on Saturday, interment being at Bethania Cemetery.

1965-1966
---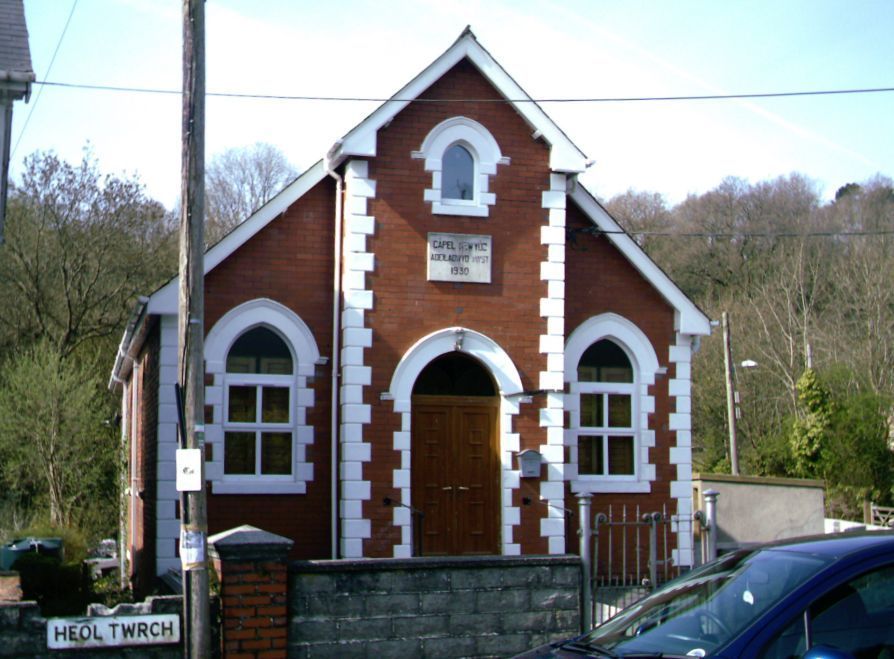 Capel Newydd, 2008