Temperance Hall, Cwmtwrch
EBENEZER CHAPEL AND THE TEMPERANCE HALL
UPPER CWMTWRCH

THE VOICE FRIDAY 30th DECEMBER 1960
HOW CWMTWRCH TEMPERANCE HALL GOT ITS NAME

Ebenezer Welsh Congregational Chapel, Upper Cwmtwrch, recently celebrated its centenary.
It was in September 1860, during the great Temperance Campaign that the Cause started at the Temperance Hall.
Why did they name the new chapel "Temperance Hall" when very few of the members could speak English?
Before building the Temperance Hall, prayer meetings were held by the members who met from house to house. Later school and prayer meetings were held in the loft of a storehouse for the tram road, which was used for taking iron ore and coal down to Yniscedwyn and at Ystalyfera Iron Works before the Midland Railway line was laid.
In 1859, Lord Tredegar gave permission to Canon Walters, Ystradgynlais to demolish the storehouse to build a Church.
The church, St Peters is today a storehouse for the Ystradgynlais RDC.
Having lost their place of worship and not feeling too kindly towards the Church of England, another meeting place was secured at the Long Room of George IV Inn.

PIONEERS
The public house became a House of prayer. The pioneers were Messrs Owen Powell, Griffith T Williams, Herbert Herbert, Jonathan Jones, Thomas Arthur Morgan and Richard Williams.
After building the Temperance Hall (1860), prayer meetings were held in the evening, Sunday school in the afternoon and every Sunday morning the members would walk up to the mother church, the Old Cwmllynfell Chapel by the Riverside, near Cwmllynfell Colliery, the pastor being the Rev John Rees.
Years later as membership increased it was suggested that the Cwmtwrch members should form a separate church, the mother Church promising the daughter £100 as a dowry.

NEW CHURCH
So in 1892, the 171 Cwmtwrch members of Cwmllynfell Chapel formed the new church at the Temperance Hall.
Deacons at Cwmllynfell were Messrs William Rowlands, Aberllynfell, Richard Williams Twrch Villa, Richard Rees Gates, Rhys D Powell and Griffith R Davies, New Road and B T Williams, Clifton House. They became the Diaconate at the Temperance Hall. New deacons elected were: Messrs Isiah Williams and Evan Davies, Gwys, David Rees, Craigtredeg, Henry Jones, Myrtle Hill, and David Davies, Tredeg Farm.

REBUILDING
On 24 March 1892 a committee meeting was held at the Temperance Hall to consider the question of rebuilding the Chapel. To meet the cost, £225 10s was collected that same evening - a considerable sum in those days. Later it was decided to keep the Temperance Hall as a Vestry and build a new chapel.
On Mabon's day, 7th December 1892, work started on the laying of the foundation of Ebenezer Chapel. The building contractors were Mr William Daniel Morgan of Cwmtwrch and Mr John Williams of Ystalyfera and the architect, Mr Alwyn Powell of Gurnos.
The contract price was £1,482.

1894-1938
The first service was held in the new chapel on 27 June 1894, the Rev John Rees, Cwmllynfell officiating. He held the joint pastorate of Cwmllynfell Chapel and Ebenezer until his retirement in 1908.
Mr Daniel Adams, a student from Carmarthen College, was ordained Minister Ebenezer Chapel in 1911, Mr T J Peregrine, Brecon College, accepted a "call" in 1921
. Other ministers were the Rev I Wynne Williams, at present in Bangor, Rev Idris Hopkin Cwmavon, and the present minister Rev Bleddyn Cynwyn Davies who has administered successfully for eight years.

ENTERED MINISTRY
Three Ebenezer members who became ministers have passed away, Rev D P Hopkins Shropshire, Rev Morgan S Hopkins Eli Cardiff, and Rev Lewis Thomas, who was ordained in 1918. He was a Deacon, County Councillor and active in trade union affairs until his death at the early age of 39.
His son is Mr Alwyn Thomas headmaster of Maesydderwen Comprehensive School and a daughter is Miss Doris Thomas Tai Gwalia.

PRECENTORS
The first precentor on record under the ministry of Rev Rhys Pryse, Cwmllynfell, was Mr Lewis Rowlands of Cwmtwrch. He was followed by his son, Mr John Rowlands Abergwys. Another member of the same family, Mr D W Rowlands, became precentor at the Old Chapel Cwmllynfell and the Temperance Hall when the new church was formed and years later was recalled to the new Cwmllynfell Chapel. Mrs Linda Rowlands-Lewis Bryncerdd, New Road is a daughter of Mr D W Rowlands.
For generations, the Cwmtwrch Rowlands have been noted as a musical family.
Other precentors were Mr William Edwards, Messrs Owen Williams, Charles Frederick, Tom Arthur Morgan, Tom E Davies, Mrs Mary Williams and the late Mr David Davies, who conducted the singing at Ebenezer Chapel for over 10 years.

ORGANISTS
The late Mr Griffith Rowlands, Aberllynfell, played the harmonium at the Temperance Hall services, followed by Messrs Daniel J Williams, Lewis Rowlands, Willie Rowlands, Lewis I Williams, L Rowland Williams Port Talbot, Miss Katie Rowlands, Mr David I Edwards, Mr Daniel Rees and Mr Griffith E Williams.
On his retirement about 12 months ago, Mr T Watkin Davies received a presentation after 45 years as organist at Ebenezer Chapel.
The present precentors are Mr L D J Williams and Mrs L Hannah Thomas, children.
Organist is Mrs Mair Williams and deputy organist Mr Keith Williams.

TREASURERS The treasurers were: Mr Thomas Watkins, Paris House, Mr Thomas D Thomas Mount Pleasant, Mr Evan Kinsey, until 1923, when he emigrated to Australia and Mr L Rowlands grocer.

SECRETARIES
Mr Rees D Powell colliery manager Brynhenllys was the first secretary, with Mr Joseph Williams Abergwys, financial secretary.
In 1931, Mr D G Hopkins, Dewi Glantwrch, received a presentation on his retirement after 31 years service as secretary.
Mr Willie Thomas, Abergwys, was appointed and Mr W T Davies Gorseinon financial secretary.
Later Mr Tom E Williams and Mr William Thomas, Park View, became financial secretaries.
Minnie secretaries appointed were Councillor T H Williams and Mr William Edmunds.
On his return from Australia and America in 1942, Mr Evan Kinsey was appointed secretary.
Officers are: Secretary Mr DN Williams, Headmaster Cwmtwrch Welsh School; Treasurer Mr Lewis Kinsey; Minute Secretary Mr Albert Morgan.

The photographs of the interior of the Temperance Hall were kindly donated by Mr Terry Jones who although no longer lives locally has his roots firmly imbedded in the area.

Temperance Hall is now a private residence, having been sold.
---
| | | |
| --- | --- | --- |
| Temperance Hall, Upper Cwmtwrch, stands on the opposite side of the road from Ebenezer Chapel, and is now a private building. | | The interior of the Temperance Hall, Cwmtwrch as used as a vestry to Ebenezer Chapel, showing the stage area. |
| The interior of Temperance Hall, Cwmtwrch, before being sold and is now a private building | | A view of the piano inside the Temperance Hall, Cwmtwrch |
| The seating inside the Temperance Hall, Upper Cwmtwrch, Ystradgnlais | | Along the side, inside the Temperance Hall, Cwmtwrch, Ystradgynlais |
| A close-up of the mural on the wall at the back of the stage at Temperance Hall | | The entrance to the basement storage area of the Temperance Hall |
The mural of the Last Supper was painted by Ross Thomas, who did not have an official roll at Temperance Hall, but helped out when he could.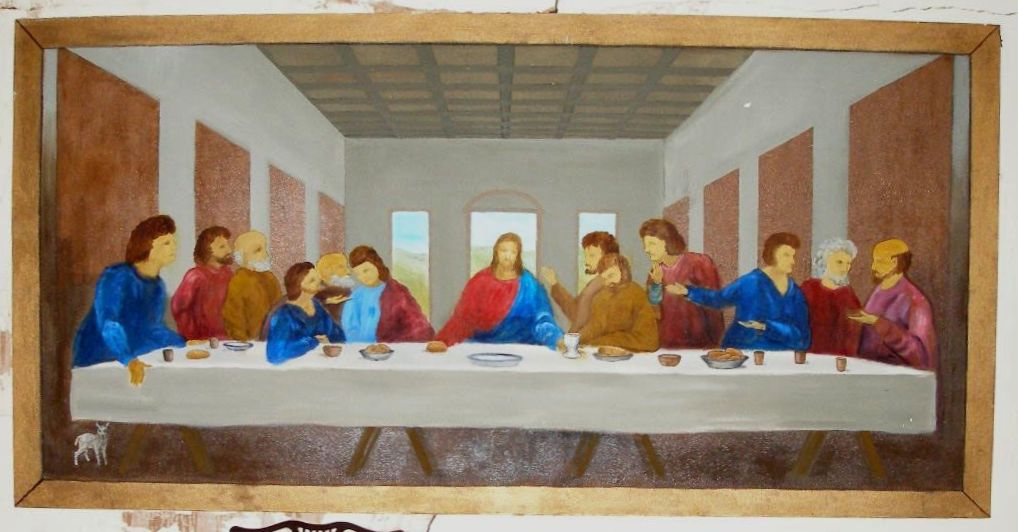 ---
In the Llais
From the Labour Voice newspaper, January 1st 1916:-
An entertainment was held at the Temperance Hall on Christmas evening, when a grand selection of pictures was shown on the screen, while Councillor Lewis Thomas explained the different views to the audience. During the evening songs were given by Mr Lewis Kinsey, Mrs Mary Williams. Selections on the concertina by Mr W Thomas, and a song by Master Glyn Rowlands. Mr Tom W Davies was the accompanist.
From the Labour Voice newspaper, Saturday January 5th 1924:-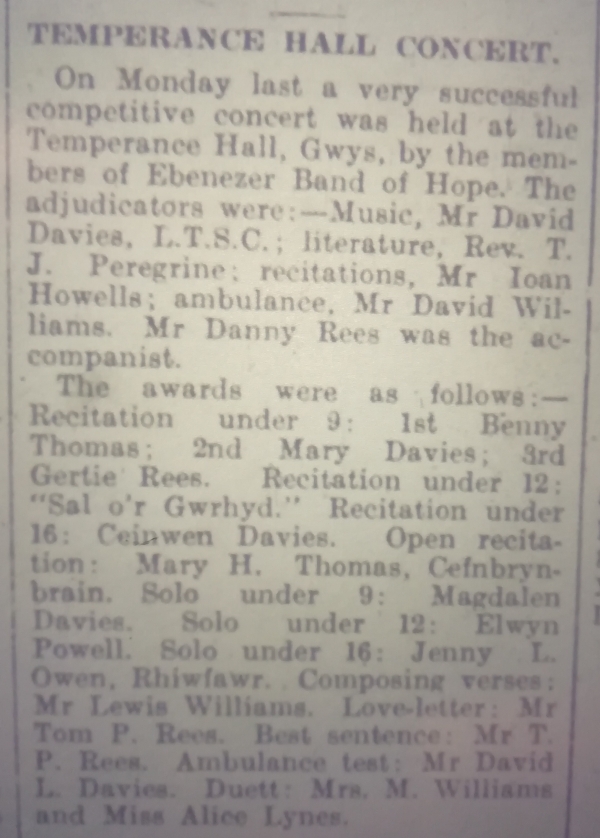 TEMPERANCE HALL CONCERT

On Monday last week a very successful competitive concert was held at the Temperance Hall, Gwys, by the members of Ebenezer Band of Hope. The adjudicators were:- Music, Mr David Davies, L.T.S.C.; literature, Rev T.J. Peregrine; recitations Mr Ioan Howells; ambulance, Mr David Williams. Mr Danny Rees was the accompanist.
The awards were as follows:- Recitation under 9: 1st Benny Thomas, 2nd Mary Davies, 3rd Gertie Rees. Recitation under 12: "Sal o'r Gwryhd". Recitation under 16: Ceinwen Davies. Open recitation: Mary H Thomas, Cefnbrynbrain. Solo under 9: Magdalen Davies. Solo under 12: Elwyn Powell. Solo under 16: Jenny L Owen, Rhiwfawr. Composing verses: Mr Lewis Williams. Love-letter: Mr Tom P Rees. Best sentence: Mr T P Rees. Ambulance test: Mr David L Davies. Duett: Mrs M Williams and Miss Alice Lynes.

From The Voice newspaper, Friday January 13th 1960:-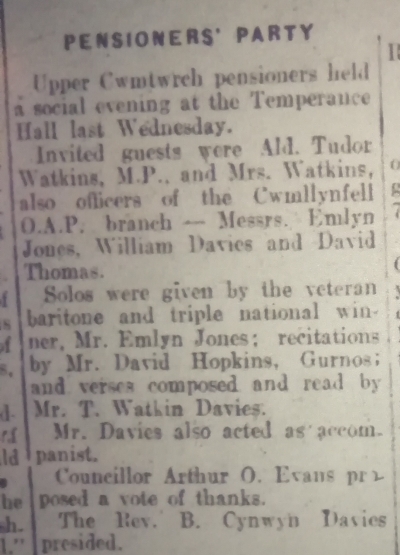 PENSIONERS' PARTY

Upper Cwmtwrch pensioners held a social evening at the Temperance Hall last Wednesday.
Invited guests were Ald. Tudor Watkins, M.P., and Mrs Watkins, also officers of the Cwmllynfell O.A.P. branch - Messrs Emlyn Jones, William Davies and David Thomas.
Solos were given by the vetean bariton and triple national winner Mr Emlyn Jones; recitations by Mr David Hopkins, Gurnos; and verses composed and read by Mr T Watkin Davies.
Mr Davies also acted as accompanist.
Councillor Arthur O Evans proposed a vote of thanks.
The Rev B Cynwyn Davies presided.