Bryn Gwilym Chapel,
Cwmllynfell
Bryn Gwilym Baptist Chapel, Cwmllynfell was located on Is-y-Bryniau, Cwmllynfell, and its history was tied in closely to that of its mother church of Bryn Seion, Upper Cwmtwrch.
Bryn Seion, Upper Cwmtwrch began as a Sunday school for the Baptists, but was incorporated as a separate church in 1897 when Beulah gave the building to the new cause and saw 57 of its own members leave to create the new congregation. By 1902, membership stood at 174, which was to be its maximum, and in that year Bryn Seion created a daughter church at Bryn Gwilym, Cwmllynfell, when 33 of its members left to form the new church.
Ministers of Bryn Gwilym Chapel
It is recorded that initially Rev B. James "took care of these chapels" so he presumably was the minister at this time of both Bryn Gwilym and its mother church Bryn Seion. He is listed as having been the minister of Beulah, Cwmtwrch, so these daughter churches would initially have seen a unity of the Baptist churches descended from that cause.
This likelihood is borne out by his successor, the Reverend George R Davies, who in the Llais of Saturday 23rd November 1918 is reported as having been:-
Reverend George R Davies had been minister of Bryn Seion, Cwmtwrch from 1905-1919, and of Bryn Gwilym, Cymllynfell from 1911 to 1919.
---
According to the OS Map and various Welsh monuments websites, Bryn Gwilym Chapel ought to be found located halfway along the left-hand side as you enter Is-y-Bryniau from Gwilym Road. However, this is the view of there in Summer 2019:-
---
People of Bryn Gwilym Chapel
The Labour Voice for January 11th 1919 records that Annie Rosina Davies preached, in association with Bryn Gwilym Chapel, at Cwmllynfell Independent Chapel, as smaller chapels often borrowed, or hired, the premises of larger one for special events.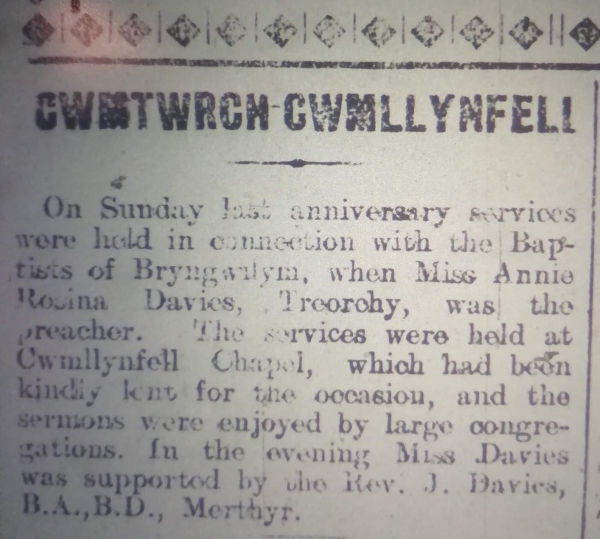 On Sunday last, anniversary services were held in connection with the Baptists of Bryngwilym, when Miss Annie Rosina Davies, Treorchy, was the preacher. The services were held at Cwmllynfell Chapel, which had been kindly lent for the occasion, and the sermons were enjoyed by large congregations. In the evening, Miss Davies was supported by the RRev J. Davies, B.A., B.D., Methyr.
The South Wales Voice of 14th May 1949 reports the death of Mr Vaughan Harries, the senior deacon of Bryn Gwilym Chapel, Cwmllynfell.
.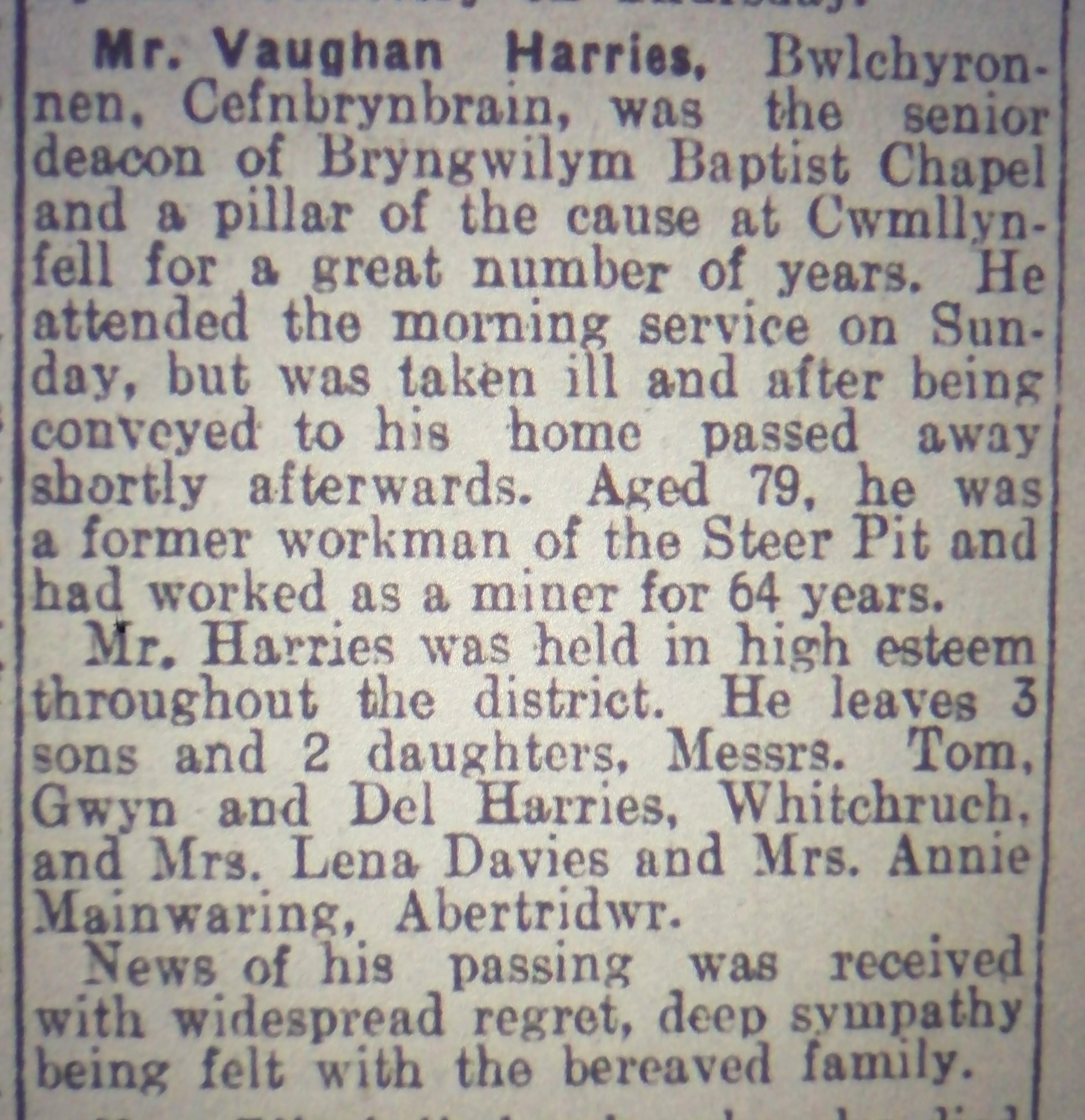 Mr Vaughan Harries, Bwlchyronnen, Cefnbrynbrain, was the senior deacon of Bryngwilym Baptist Chapel and a pillar of the cause at Cwmllynfell for a great number of years. He attended the morning service on Sunday, but was taken ill and after being conveyed to his home passed away shortly afterwards. Aged 79, he was a former workman of the Steer Pirt and had worked as a miner for 64 years.

Mr Harries was held in high esteem throughout the district. He leaves 3 sons and 2 daughters, Messrs Tom, Gwyn and Del Harries, Whitchurch, and Mrs Lena Davies and Mrs Annie Mainwaring, Abertridwr.

News of his passing was received with widespread regret, deep sympathy being felt with the bereaved family.
The South Wales Voice of 21st May 1949 reports on the funeral of Mr Vaughan Harries
MR VAUGHAN HARRIES

The funeral of Mr Vaughan Harries, Bwlchyronen, Cefnbrynbrain, took place at Cwmllynfell Chapel, the Revs T.J. Morris, W.P. Thomas and W.L. Francis officiating.
Fellow deacons at Bryngwilym Chapel acted as bearers.
The principal mourners were Messrs. V. Gwyn Harries, E. Dlefryn Harries, sons; Illtyd V. Davies, Iowerth M. Harries, J. Moy Harries, George Tasker, grandsons; Odo Roberts, Jack Williams, nephews; T. Williams, brother-in-law; L.J. Ford, cousins; Benjamin Thomas, Samuel Morgan, Harry G. Griffiths, H.G. Griffiths and Tom Evans representing The Tick-Tock Social and Recreation Club.
Both Mr T.L. Harries, son, and Mr Owen Harries, brother, failed to attend owing to illness.
Mourners at the house were Mrs L.J. Davies and Mrs A. Mainwaring, daughters; Mrs Gwen Harries and Mrs S.J.T. Harries, daughters-in-law; Miss Nan Mainwaring and Mrs Phyllis Harries, grand-daughters; Mesdames L. Roberts, M. Hopkin, nieces; S.J. Davies and T. Williams, sisters-in-law; S. Morgan, B. Thomas, J. Griffiths, J. Price, L.M. Williams and members of his Sunday School Class at Bryngwilym Chapel.
Mrs G.M. Tasker, grand-daughter, failed to attend owing to indisposition.
From the Llais
The Llais newspaper had always included a round-up of happenings at local churches and chapels, even when these were not part of any particular story. Sometimes they advertised forthcoming events, and at other times who was preaching, or had preached there recently.
From the Labour Voice newspaper, 13th January 1923 :-
The preacher at Bryngwilym Chapel on Sunday was te Rev Thomas Lewis, Aberdare. The preacher at the half-yearly services to be held on Sunday next will be the Rev Hugh Evans, Hafod.
From the Llais newspaper, February 3rd 1923:-
PLEASANT TIME AT BRYNGWILYM

The members of Bryngwilym Sunday school held their quarterly meeting on Sunday evening, under the presidency of Miss Lizzie A. Protheroe. The meeting was opened by Mr Daniel Davies, and solos were rendered by the Misses Phyllis Davies, Ceridwen Williams, Myfanwy Price and Mrs Dewi Davies; duets by Misses Agnes Hughes and Phyllus Davies, Miriam Watkins and May Jones, Lizzie A. Protheroe and Mrs James Williams; dialogue, Masters David and Gwilym Rees Evans. A paper was read by Mr Dewi Davies on "Sunday school Teachers". Recitations, Misses Phyllis P. Davies, Agnes Hughes, Sally Evans, Betty Olive Davies, Claudie Onions, Annie Mary Davies, Mrs Daniels, Messrs David Evans, Daniel P. Davies, Uria Davies, Glanffwrd Davies, Peter Evans, and a chorus was given by the Sunday-school children. The organist was Mr Andrew Morgan.
The pulpit at Bryngwilym on Sunday morning last was occupied by Mr Moses Williams, Bryn. On Sunday next the Rev T. Harries, Pontyberem, will be the preacher

In a peculiar example of the uncertainty of naming conventions, two articles in the same newspaper, the Llais for February 24th 1923 spell the name of the chapel differently:-
A competitive concert will be held at Bryngwilym Chapel on Thursday next (Saint David's Day). The chairman will be Mr W.M. Jones, and the adjudicators - music: Rev T.J. Peregrine, Ebenezer; literature: Mr D.J. Price, schoolmaster. Included in the list of competitions is a prize for the best drawing for the proposed new public hall for Cwmllynfell.
In our report of the competitive concert held at Bryn Gwilym Chapel, about three weeks ago, we stated that the adjudicator of music was Mr Lemuel Powell. This was incorrect, it should have been Mr L.D.J. Williams ("Bobs"), Gwys.
The South Wales Voice of January 6th 1934 recorded an anniversary service at Bryn Gwilym, at which the former pastor of Beulah, Cwmtwrch presided:-
BAPTIST ANNIVERSARY SERVICES

Throughout Sunday last, anniversary services were held at Bryn Gwilym Baptist Chapel. The special preacher was the Rev. Glasnant Young, Llandovery, late pastor of Beulah, Cwmtwrch. His timely sermons were greatly appreciated by the crowded congregations present.