Moriah Baptist Chapel, Coelbren
Moriah Welsh Baptist Chapel, Coelbren, photographed in 2010, one hundred years after its construction. Above the door is enscribed "Moriah AD 1910 Capel Y Bedyddwyr".
---
Construction and Opening
The foundation stones of Moriah Chapel were laid in January 1910, as reported in The Weekly Mail, 29th January 1910. Note that Rev C J Pipe is listed as Abercrave since he is minister of both Nant-y-Ffin and Noddfa, and was provided in this ministry with a house near to the latter chapel, in Abercrave. It is noted elsewhere that Mrs Morgan is Gwenllian Morgan of Coelbren House.
NEW CHAPEL AT COLBREN

At the new Baptist Chapel, Colbren, the foundation stone laying ceremony on Wednesday was performed by Mrs Morgan, Colbren, and the Rev C J Pipe, Abercrave.
The building is situated not far from the railway station, Colbren, and will be the crowning effort of a long and difficult struggle by the Baptists in the neighbourhood. Accommodation is provided for 420. In addition, a minister's room, kitchen &c. are provided. It is built of local stone, with Bath-stone and cement dressings. Internally the whole will be fitted out in selected pitch-pipe joinery, and will be in every way up to date with regard to the lighting, heating, and ventilation. The total cost will be about £1,350.
The building is being erected by Messrs Thomas Bros, Pontardawe from the designs and under the superintendece of the architect, Mr W Beddoe Rees, Cardiff.

The inscriptions upon the foundation stones are recorded below, together with a translation into English underneath. The left-hand stone, as you look at it, is recorded on the left below, and the right-hand stone on the right.
Gosodwyd Y Garreg Hon
Gan
Mrs Gwenllian Morgan
Colbren
Ionawr 26 ain 1910



Gosodwyd Y Garreg Hon
Gan Y
Parch C J Pipe
Ar ran yr Eglwys
Ionawr 26 ain 1910



This stone was laid
by
Mrs Gwenllian Morgan
Colbren
January 26th 1910


This stone was laid
by the
pastor C J Pipe
on behalf of the church
January 26th 1910


The Vestry
Some records state an 1892 date for Moriah, because that is when a vestry was constructed in Coelbren, so that the local children did not have to walk along the Penycae Road to Nant-y-Ffin for Sunday school. Built at a cost of £200, it was constructed of corrugated iron sheets and known thus as 'Ty Sinc' (Zinc House). Between 1894 and 1898 the vestry was leased out by the chapel elders as a voluntary day school for Coelbren, before a permanent school opened there in 1898.

Ty Sinc was leased out in six month payment periods. One of these completed in September 1898, but the new Coelbren School did not open until November 1898, so the leasees had to pay an extra, unnecessary, four months before the lease was terminated at the next payment point of February 1899.

The vestry was later dismantled and relocated at Moriah Chapel, and in 1935 was replaced with a permanent vestry, which was opened on 13th-15th March of that year.

Ministers of Moriah, Coelbren
Moriah Welsh Baptist Chapel, Coelbren was created as a daughter church of Nant-y-Ffin Chapel, Penycae, which was also the parent church of Noddfa Chapel, Abercrave. Thus the minister who laid the foundation stone, and who served at Moriah in its first years was the Rev Charles James Pipe, who had been minister of Nantyffin and Noddfa since 1900.
| | | |
| --- | --- | --- |
| Charles James Pipe | | 1911 - 1913 |
| R. Edwards | | 1913 - 1917 |
| George R. Davies | | 1922 - 1927 |
| William Morris | | 1931 -1943 |
| Elfed S Cox | | 1943 - 1950 |
It is interesting to note that Rev C J Pipe was only minister of Moriah for 2 years, before R Edwards took over. This is the only instance where Moriah differs from Nantyffin in this period, and perhaps marks an attempt to strike out in an independent manner. R Edwards left in 1917, at the height of the First World War and it is possible that Moriah's funds were not as they might have been, with many of its congregation serving in the armed forces. Both Nantyffin, which saw C J Pipe leave in 1917, and Moriah seem to have had an inter-regnum thereafter - George R Davies is reported as being minister of Nantyffin and Noddfa from the end of 1918, but Baptist sources do not list him in an official capacity at Moriah until 1922.
---
Views of Moriah Chapel
Photographs of the interior of the chapel can be found on this third-party website:-
http://www.dulaishigher.com/baptists-at-nantyffin-/moriah-photo-album/
from Gareth Jones' website "Dulais Higher - Some Jones and Morgan families of Banwen, Coelbren & Onllwyn".
---
From the Llais
The Llais newspaper had always included a round-up of happenings at local churches and chapels, even when these were not part of any particular story. Sometimes they advertised forthcoming events, and at other times who was preaching, or had preached there recently.
From the Llais newspaper, March 10th 1923:-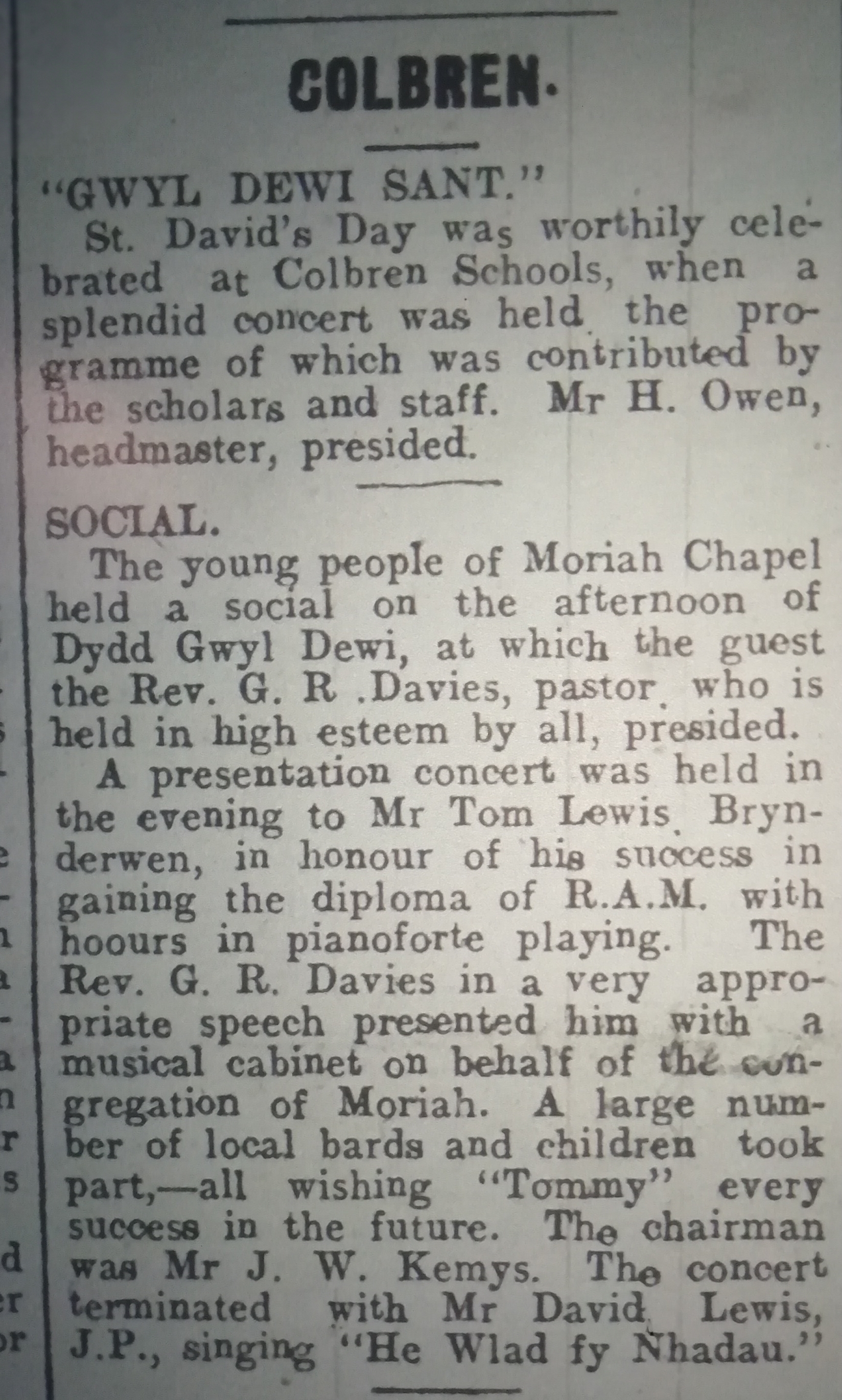 COLBREN
SOCIAL

The young people of Moriah Chapel held a social on the afernoon of Dydd Gwyl Dewi, at which the guest the Rev G.R. Davies, pastor, who is held in high esteem by all, presided.
A presentation concert was held in the evening to Mr Tom Lewis, Brynderwem, in honour of his success in gaining the diploma of R.A.M. with honours in pianoforte playing. The Rev G.R. Davies in a very appropriate speech presented him with a musical cabinet on behalf of the congregation of Moriah. A large number of local bards and children took part - all wishing "Tommy" every success in the future. The chairman was Mr J.W. Kemys. The concert terminated with Mr David Lewis, J.P., singing "He Wlad fy Nhadau".

From the South Wales Voice December 26th 1931:-
COLBREN
MORIAH Y.P.S.

At the weekly meeting of this society on Tuesday evening, an interesting and educative debate took place on "Bod gwastraff yn achosi mwy o dlodi nag a wna anghyflawnder". Mr W. Jones spoke for Anghyflawnder, and Mr D.R. Lewis for Gwasttraff.

LECTURE

At Moriah on Wednesday evening, Mr D.J. Thomas, M.E., Banwen, lectured on "Taith o'r Banwen i'r Almaen ag yn ol". The chairman was the Rev W. Morris, B.A. There was a large attendance, and the lecture was much appreciated.

From the South Wales Voice newspaper, 8th March 1947:-
COLBREN SCHOOL

St. David's Day celebrations took the form of a concert at the school on Friday morning February 28. The children sang a number of Welsh airs and hymns, conducted by the headmaster, Mr W.T. Williams, B.A.
The Rev E.S. Cox, B.A., B.D., who presided, congratulated the children on the high standard which had been maintained throughout the concert. A happy morning was brought to a close with the singing of "Hen Wlad fy Nbadau".