Beulah Chapel, Cwmtwrch, Ystradgynlais
Beulah Baptist Chapel in Cwmtwrch was built in 1834, rebuilt in 1860 and modified in 1903.
---
From the Llais of 19th September 1914 comes the news of the death of a former pastor of Beulah Chapel, passing away at the great old age of 90:-
DEATH OF OLD BEULAH PASTOR 1823-1914
The death took place at Swansea on Sunday of the Rev David William Morris, 64, King Edward Road, at the advanced age of 90. The oldest Baptist minister in Wales, the departed, who was born at Llanstephan, the son of a Calvinistic Methodist minister, in early life joined the Baptist denomination. He was ordained at Stanhope Street Chapel, Liverpool, in 1850, and first preached at Beulah, Cwmtwrch, in 1852. Seven years later he went to Cwmsarnddu, and in 1865 he accepted a call to Philadelphia Chapel, Hafod, where he ministered for five years, afterwards going to Senny Bridge. In 1871 he went to the United States, where he ministered at Scranton Hyde Park. (The Philadelphia Welsh Baptist Chapel Neath Road Pentre Hafod built around 1866, was still standing in 2006 but no longer in use)

Returning to Swansea, he retired from active work, but preached frequently at chapels in the district. He was a popular man, and is ascribed as having a facile pen with a style of his own. He contributed largely to the Welsh press, and wrote several poems and other works.

During service at Beulah Chapel the pastor (Rev W T Hughes) made touching remarks about the deceased's qualities, and moved a vote of condolence with the relatives, which was done by the congregation standing in silence.
The Welshman newspaper of 22nd April 1910 informs us that the then-current minister of Beulah, Rev B James, has accepted a call from Bethel Baptist Chapel, Tumble.
"CALLS" TUMBLE

The Rev B James Cwmtwrch Swansea Valley has accepted a call given to him to undertake the pastorate of Bethel [Baptist] Chapel Tumble and will commences pastoral duties.

The Labour Voice of Saturday 27th December 1924 reports on 40 years in the ministry of the Rev B James, including a round-up of his ministerial career:-
FORMER CWMTWRCH PASTOR
REV B JAMES HONOURED AT TUMBLE

A meeting of all interest and denominations was held at tumble last week when the veteran Baptist minister, the Rev B James, pastor of Bethel and former pastor of Beulah Church Lower Cwmtwrch, was honoured by his church and the inhabitants of the district. The occasion marked the completion of 40 years successful work in the ministry, during 15 of which Mr James had laboured at Tumble with conspicuous success. He has not only attended to his own pastoral charge, the membership under his care having been greatly increased, but he has given wholehearted support to every good cause in the village of Tumble and neighbourhood. He is one of the managers of Group I Council Schools passed through the chair.
The presentation took the form of a cheque for nearly £100, the subscribers comprising members of every denomination, thus testifying to the esteem in which he is held.
The Rev D J Lewis BA Bethesda presided at the meeting and a miscellaneous concert was given. There were many ministers present who added their tribute to the Rev gentleman is good work.
The Rev B James was born at Trecynon Aberdare: When 10 years old his parents removed Abernant Aberdare. He was baptised and commenced preaching at Bethel Abernant under the late Rev John Mills. He entered the Baptist College Haverfordwest in August 1881 and on leaving college he was ordained to the pastorate of the Baptist Church at Aberdulais, where he spent 6 ½ years. In 1891 he moved to Soar Blaenycwm, Rhondda and was there 3 ½ years until he received a unanimous call to become pastor of Beulah Church Lower Cwmtwrch. Here he remained for 16 years. During his ministry he took a keen interest in educational matters and was one of the governors of the Ystalyfera Intermediate School.
In 1910 he received and accepted a call to Bethel Tumble, his present charge. He completed 40 years in the ministry last August.
During his stay in Tumble he has won the esteem and affection of all and he is well known as a popular preacher.

From the Labour Voice newspaper, 19th May 1917, came a report that the current minister was considering leaving:-
The Rev W T Hughes, pastor of Beulah Cwmtwrch, has received an invitation to the pastorate of Calvary Baptist Church, Brynmawr. Mr Hughes has not yet decided. The church at Calvary is unique in the fact that since its inception, 80 years ago, it has only had 3 ministers, the first 2, the Revs Thomas Roberts and John Williams, ministering for the long period of 76 years and the ministry of the Rev F C White BD, until his call to the Memorial Chapel Swansea.
The Labour Voice newspaper of 5th January 1924 reports the Rev L Glasnant Young as pastor of Beulah, and that services were taken the previous weekend by Mr Daniel Jones, who (usually referred to as "Dan Jones") was a lay preacher active in the chapels of the area for over twenty years, into at least the late 1940s.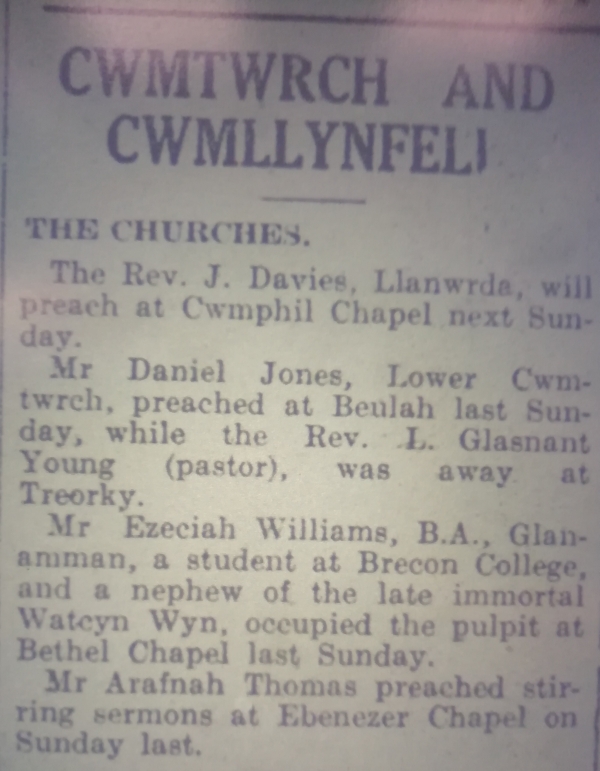 CWMTWRCH AND CWMLLYNFELL
THE CHURCHES

The Rev J Davies, Llanwrda, will preach at Cwmphil Chapel next Sunday.
Mr Daniel Jones, Lower Cwmtwrch, preached at Beulah last Sunday, while the Rev L Glasnant Young (pastor) was away at Treorky.
Mr Ezeciah Williams, B.A., Glanamman, a student at Brecon College, and a nephew of the late immortal Watcyn Wyn, occupied the pulpit at Bethel Chapel last Sunday.
Mr Arafnah Thomas preached stirring sermons at Ebenezer Chapel on Sunday.

---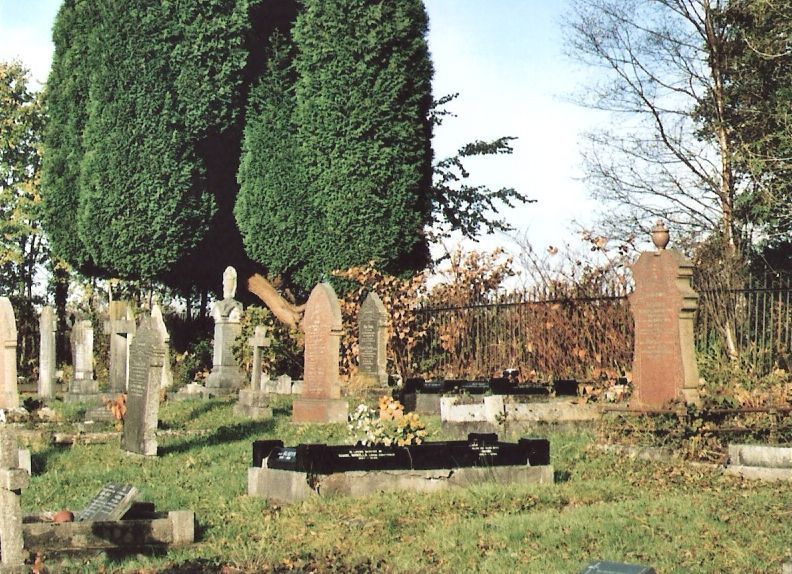 The cemetery of Beulah Chapel contains a number of wargraves and remembrance graves from the First World War.
The Cemetery of Beulah Chapel
---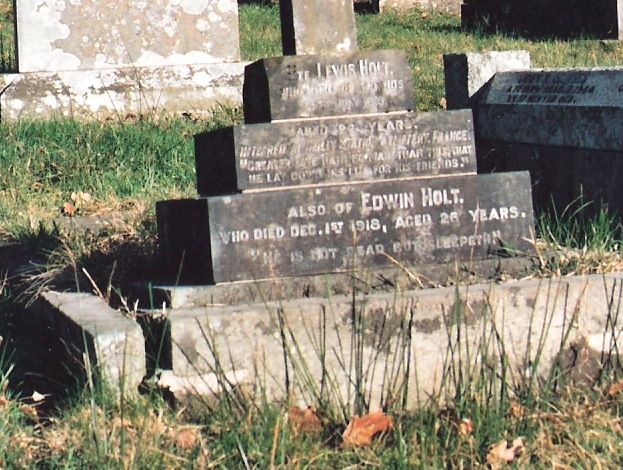 Among the fallen of the First World War, Lewis Holt has a remembrance grave in Beulah Cemetery. He was wounded attacking one of the woods in the Somme offensive, and died in a field hospital shortly after, his body being buried in France.
The Memorial page for Lewis Holt
---
The Reverend W.P. Thomas was inducted into the pastorate of Beulah Chapel in January 1933. A native of Llanelli, he had preached at Anglesey, and then at Tonypandy, before now coming to Cwmtwrch from his most recent position at New Quay.
From the Labour Voice Saturday 29th October 1932:-
NEW PASTOR FOR CWMTWRCH
REV W P THOMAS TO COMMENCE IN NEW YEAR

The Rev W P Thomas, pastor of Bethel Welsh Baptist Chapel, New Quay, who has accepted the call to Beulah Baptist Chapel Cwmtwrch, has tendered his resignation to his New Quay Church.
Mr Thomas, who went to Cardiff 8 years ago, is a native of Llanelly. He is a powerful preacher and an assiduous worker.
He has previously held pastorates in North Wales and Tonypandy. Prior to entering Bangor Baptist College, he was a well known Rugby footballer.
He will commence at Cwmtwrch on the first Sunday in the New Year.

He remained as pastor of Beulah until 1951 when he retired.
---
The South Wales Voice for Friday 25th September 1953 recorded the welcome tea for the new minister, Rev William Jones:-
WELCOME TEA FOR NEW MINISTER

Members of Beulah Baptist Chapel gave a "welcome tea" to their newly ordained minister, the Rev William Jones and his bride. Later, an impromptu concert followed at which the following took part: Mrs M Miller, Mrs Gwen Moses, Bessie Moses and Ann Protheroe.

Mr Ivor Moses presented Mrs Jones with a wedding gift from the children and Mrs Jones suitably responded. Mr Willie Evans and Mr Isaac Levi welcomed the minister and his wife and father in law, to Cwmtwrch; Mr Jones thanked them all. Mr D J Sims presided.
The Rev William Jones had originally worked at Penrhyn Quarry, before serving in World War Two. After the war he studied at Bangor Baptist College. He came from Bethesda in Caernarfonshire to Cwmtwrch in 1953 and went on from Cwmtwrch to a chapel in Blaenfoss, Pembrokeshire in 1958, where he spent he ministered until he retired in 1988, whereupon he moved to Boncath.
---
Beulah Chapel's vestry, located in the current road network directly opposite it in Lower Cwmtwrch, was built in 1893:-
---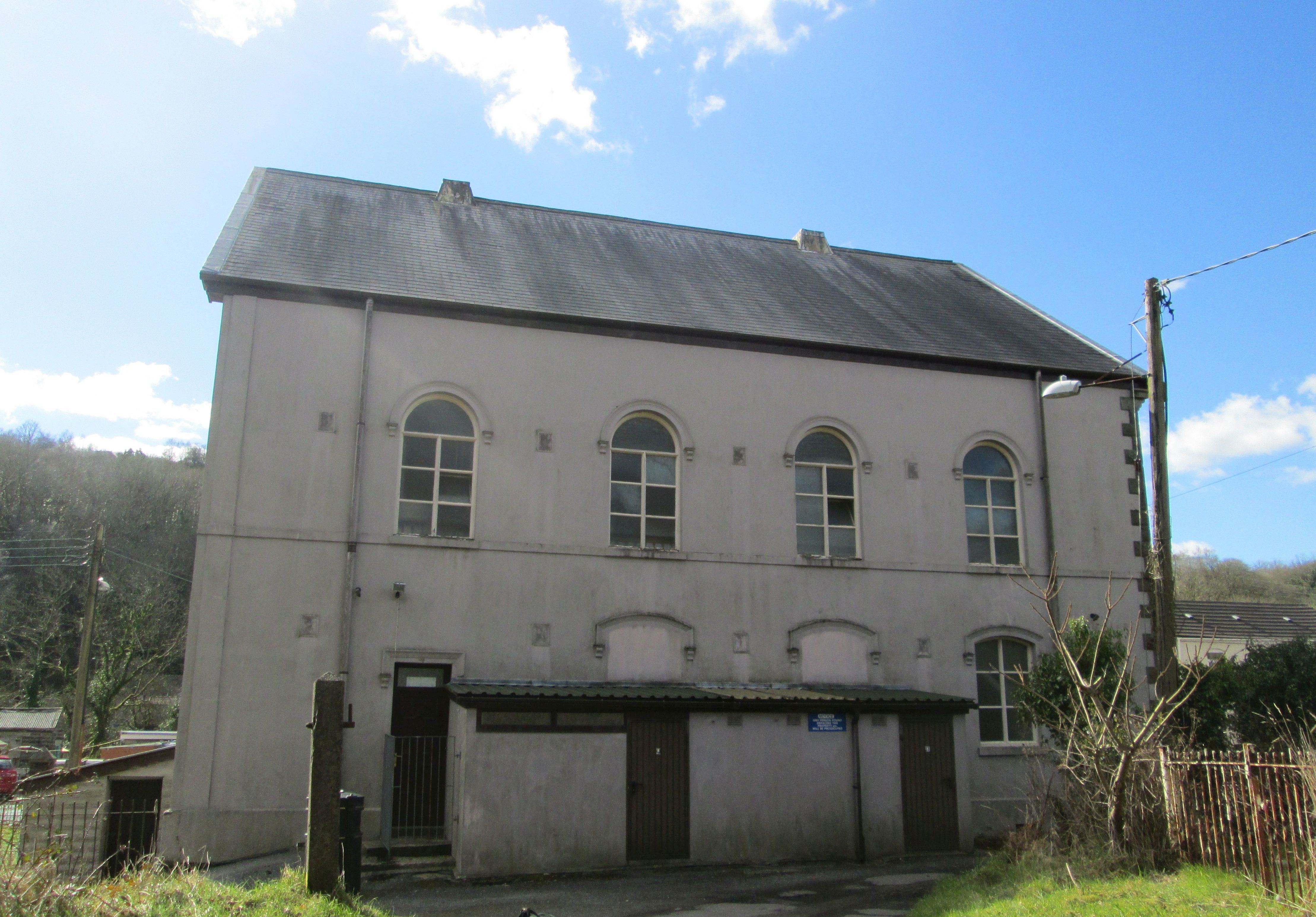 Views of Beulah Chapel, Cwmtwrch, taken in March 2016 show the chapel and cemetery in greater detail.
View More - Beulah Chapel views
---
From the
South Wales Voice
of 14th July 1961 came the news of the inauguration of the Reverend Alun Jones as minister of Beulah, in succession to the Rev William Jones.
NEW MINISTER WELCOMED TO BEULAH CWMTWRCH

The ordination of Mr Alun Jones to the ministry and his induction to the pastorate of Beulah Chapel Cwmtwrch was a cause for much joy and blessing.

Mr Willie Evans extended a welcome to a large congregation who gathered.

Taking part in the initial service was Mr Gwilym Phillips Brynamman who presided; Mr Gwynfor Griffiths, devotions; Rev Gerson Davies sermon; Rev B Cynwyn Davies Cwmtwrch prayer.

The afternoon service of ordination on the following day was presided over by the Rev William Jones and among those who took part were Rev W R Evans Ystalyfera.

At the evening presentation service, welcome was given to Rev Alun Jones by Mrs Morgan Evans and Mrs Gwen Moses Rhiwfawr, Rev Alun J Davies Llansamlet, Rev T Ellis Jones Glanamman, Rev Randall Jones Bethania, Rev Alan John Bethel and Pastor George Griffiths Mission Hall, all of Cwmtwrch and Rev Mon Williams Brynamman.

The new minister, Rev Alun Jones, presided at the evening preaching service.

The Voice newspaper for 9th May 1968 records the arrival of Rev Denis Young as the new minister for Beulah:-
The Rev Denis Young, who has been minister of Caersalem Llanelli since 1960, will be inducted as minister of Beulah Baptist Chapel Lower Cwmtwrch on Tuesday 6th. Mr Young, a product of Drefach and educated at Bangor Baptist Chapel was previously at Blaencwm Rhondda.
His wife, a native of North Wales holds a BA degree and there are 2 daughters at school.