Rosina Davies, Pastor of
Bryn Seion Chapel, Cwmtwrch
DISAMBIGUATION - Annie Rosina Davies chose to go by the name of Rosina Davies throughout her professional career, both as a Baptist preacher and later as a politician. However, if you search Google for "Rosina Davies" most entries that you will find refer to a lady several decades older than her, who was an important independent evangelist in the great Welsh Religious Revival of 1904-05, when the Rosina Davies listed below was only a child. Whether the Rosina Davies who came to Cwmtwrch was named after this lady, or finding that she had a similar name deliberately adopted an identical naming convention in her honour, is unknown.
Annie Rosina Davies was born on 10th November 1895 to John and Ellen Davies. The following details comes from the Welsh Baptist History Journal:-
Annie Rosina Davies was the third surviving child of John Banfyl Davies and was born at Saint Dogmael's, Pembrokeshire. Her family moved several times and her father eventually became a pit mason in the Rhondda Valley. She had little formal education, leaving school at the age of twelve to help her mother at home. The loss of formal education was compensated by attendance at night school and she later attended the Collegiate, Pontypridd.

Her father was the major influence on her life in her early years. Along with others he wrote operas and dramas based on the Bible and Welsh stories and Rosina played a major part in most of them. Although her brothers and sisters were baptized in the chapels they attended, it was her father's wish that she should be baptized at Cilfowyr, the area where she had been brought up. She was baptized at the ge of sixteen on the morning of 27th August 1911 and preached her first sermon that evening on Mathew 8:12.

She preached a trial sermon at Capel Noddfa, Treorci, at Easter the following year. A few local ministers protested but her own minister, William Morris, supported her and told them that they should wait and see what ability she had. She passed the examination for young preachers at the end of 1912, coming first of all candidates in sermon construction and best with S Sorton Davies for proclamation and reading.

Most Sundays she preached in various chapels and in 1913 she became assistant preacher at Noddfa. She presided for the first time at the communion service on 24 October 1914 at Bethel, Ynysfelin, Breconshire. She moved with her family to Gorseinon in November 1923 and became assistant preacher at Bethania, Grovesend, until 1926. She was pastor at Bryn Seion, Cwmtwrch, 1926-28, where she was ordained.
The Labour Voice for January 11th 1919 records that she preached, in association with Bryn Gwilym Chapel, Cwmllynfell at Cwmllynfell Independent Chapel, as smaller chapels often borrowed, or hired, the premises of larger one for special events.
On Sunday last, anniversary services were held in connection with the Baptists of Bryngwilym, when Miss Annie Rosina Davies, Treorchy, was the preacher. The services were held at Cwmllynfell Chapel, which had been kindly lent for the occasion, and the sermons were enjoyed by large congregations. In the evening, Miss Davies was supported by the RRev J. Davies, B.A., B.D., Methyr.
Rosina Davies at Bryn Seion, Cwmtwrch
From the Labour Voice newspaper, printed in Ystalyfera, we learn that Rosina Davies was asked to become minister of Bryn Seion chapel, Cwmtwrch at the start of March 1926, but that she had previously visited the district on her travelling preaching duties. She took up the position a week later, though it seems it was initially intended only to be for three months. The Welsh Baptist History Journal says of what was still a rare event at that time, a woman being chosen as minister:-
In 1926 three women were called to Baptist churches in Wales: Miss Annie Rosina Davies to Bryn Seion, Cwmtwrch, Miss G M Davies to Nazareth, Bryncethin, and Miss Bronwen Hale to Providence, Ynyswen, Treorchy [1].
The Welsh Baptist History Journal had this last appointment wrong, so it has now been corrected to show the true information.
From the Llais
The following excerpts from the local newspaper cover the period 1926 to 1928 when Rosina Davies was minister of Bryn Seion Chapel, Cwmtwrch:-
From the Labour Voice newspaper, Saturday March 6th 1926 came news of the hiring of Rosina Davies by Bryn Seion, Cwmtwrch, initally on a short-term basis:-
The services of Miss Rosina Davies, Gorseinon, has been engaged by Bryn Seion congregation for the next three months. She will commence her ministerial duties on Sunday next. Miss Davies is a powerful preacher, and her previous visits to this district attracted crowded congregations.
From the Labour Voice newspaper, Saturday March 13th 1926 reports on Rosina Davies taking up her ministerial duties, and in the article beneath presumably also referring to her giving a lecture in the village of Cwmtwrch:-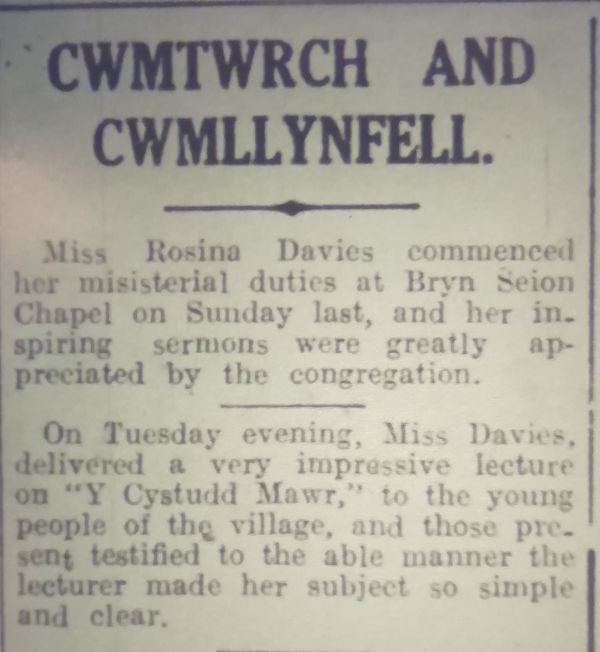 Miss Rosina Davies commenced her ministerial duties at Bryn Seion Chapel on Sunday last, and her inspiring sermons were greatly appreciated by the congregation.
-------------
On Tuesday evening, Miss Davies delivered a very impressive lecture on "Y Cystudd Mawr" to the young people of the village, and those present testified to the able manner the lecturer made her subject so simple and clear.
From the Labour Voice newspaper, Saturday July 3rd 1926 comes a slightly odd article on Rosina Davies, which nevertheless implies that she remains in charge of Bryn Seion, Cwmtwrch, though there apparently was no article in preceding issues about extending her initial 3 month period:-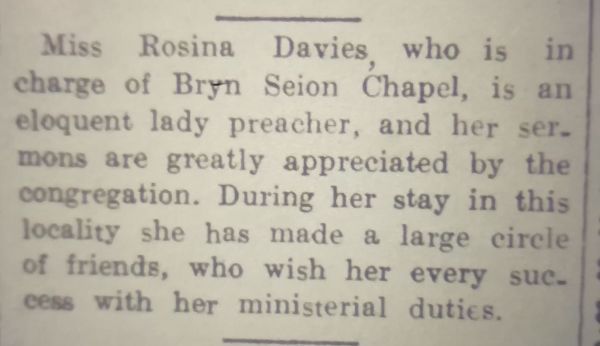 Miss Rosina Davies, who is in charge of Bryn Seion Chapel, is an eloquent lady preacher, and her sermons are greatly appreciated by the congregation. During her stay in this locality she had made a large circle of friends, who wish her every success with her ministerial duties.
From the Labour Voice newspaper, Saturday October 16th 1926 comes the report that Rosina Davies is preaching at Bethesda, Glanamman:-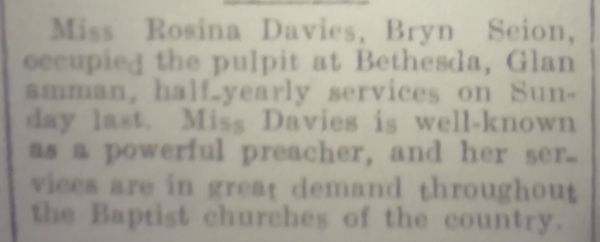 Miss Rosina Davies, Bryn Seion, occupied the pulpit at Bethesda, Glanamman, half-yearly services on Sunday last. Miss Davies is well-known as a powerful preacher, and her services are in great demand throughout the Baptist churches of the country.
From the Labour Voice November 27th 1926 came news that Rosina Davies, the pastor of Bryn Seion, Cwmtwrch, had preached throughout the previous Sunday at Noddfa Chapel, Abercrave:-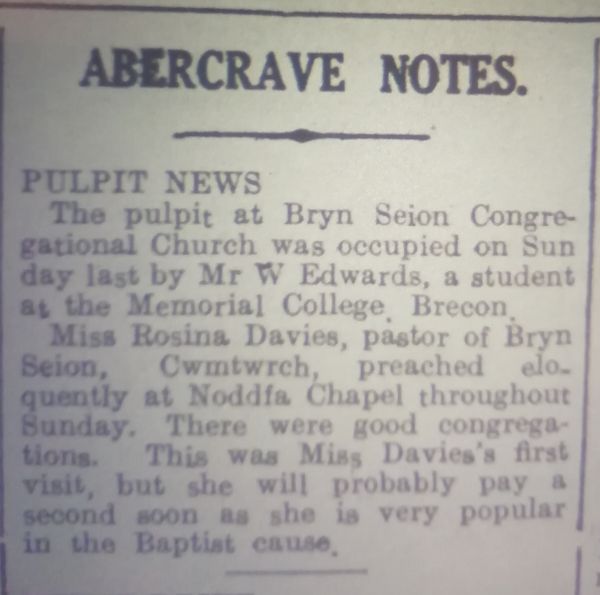 ABERCRAVE NOTES
PULPIT NEWS

Miss Rosina Davies, pastor of Bryn Seion, Cwmtwrch, preached eloquently at Noddfa Chapel throughout Sunday. There were good congregations. This was Miss Davies' first visit, but she will probably pay a second soon as she is very popular in the Baptist cause.



Rosina Davies after Cwmtwrch
The Welsh Baptist History Journal explains her depature in these terms:-
She was obliged to move from place to place with her parents and, after her father's death, she returned with her widowed mother to Saint Dogmael's.
She continued to work in the Baptist ministry, as well as marrying, and entering local politics. She was assistant minister at Blaenwaun, St Dogmael's 1930-1940, and during this period married in 1933 a butcher (described as a "meat purveyor"), David Evan Davies. He was precentor and Sunday School superintendant at Bethania, Cardigan.
Rosina Davies became assistant minister at the same church as her husband, Bethania, Cardigan in 1941, a post she held until 1960 when she would have been 64 or 65 years of age.
The website for 38 High Street, Cardigan by Glen Johnson, describes David Evan Davies as living at this address from 1935, and as being the manager of "Brook and Evans" butcher's shop. It can be assumed that Rosina, as his wife, lived there also. Rosina's father-in-law, John Davies of Penparc, Llangoedmor is recorded as dying there on 10th September 1944 "at the home of his son". Rosina and David Evan Davies are recorded as still living there in 1958.
Rosina Davies was persuaded to enter politics, and by 1939 was a member of Cardigan Borough Council, being the first lady member. In 1943 she became Mayor, a position she held until 1944, being again the first lady Mayor of Cardigan. She continued to serve on the Council until 1951 when she resigned in protest at the Council's decision to allow a boxing match in either the town hall (as per the Welsh Baptist History Journal) or the public market (as per Glen Johnson above).
The South Wales Voice for 24th March 1951 records that Rosina Davies was returning to Cwmtwrch the following Sunday to preach again at Bryn Seion, some 25 years since her departure from there as minister. The identification of her as from "Llandysul" is curious, since while that community is in Ceredigion/Cardiganshire, it is some half hour or 18 miles West of the city.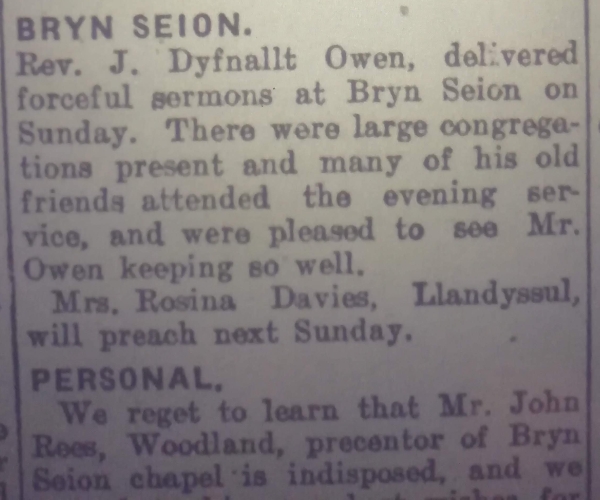 BRYN SEION

Rev J. Dyfnally Owen, delivered forceful sermons at Bryn Seion on Sunday. There were large congregations present and many of his old friends attended the evening service and were pleased to see Mr Owen keeping so well.
Mrs Rosina Davies, Llandyssul, will preach next Sunday.

The South Wales Voice for the following week, 31st March 1951, reports on her preaching.
BRYN SEION
Mrs Rosina Davies, Llandysul, occupied the pulpit of Bryn Seion Chapel on Sunday last, and her eloquent sermons were greatly appreciated by those present.
Rev. Dan Jones, Lower Cmwtwrch, will preach there on Sunday next.
The Welsh Baptist History Journal concludes her life story by noting the following:-
As she did not drive, her husband used to take her to preaching engagements until his death in 1973.

She was an ardent pacficist and wrote an article entitled "Tangnefeddwyr" [perhaps in 1952]. She died at the age of 87 on 3 July 1983.
&nbsp
&nbsp